About 1-5% of FM might actually be an alpha-1-antitrypsin deficiency. This  condition causes run away inflammation that causes COPD but responds to AAT replacement therapy. Cases are presented.
Intravenous Infusions of Purified Alpha-1 Antitripsyn Effectively Controls Symptoms and Reverts Muscle Biopsy Changes in an MZ Alpha-1 Antitripsyn Deficiency and Fibromyalgia Syndrome Patient
Journal of Musculoskeletal Pain June 2010, Vol. 18, No. 2 , Pages 167-172
Ignacio Blanco Blanco, MD Aurora Astudillo, PhD Francisco Domínguez Iglesias, PhD Sabina Janciauskiene, PhD Victoriano Cárcaba Fernández, PhD César Gallo Alvaro, MD Hortensia Canto Argíz, PhD Frederick Joseph de Serres, PhD Enrique Fernández Bustillo, PhD
abstract here
I can always remember being taught one of the rare causes of Chronic Obstructive Lung Disease was AAT deficiency – inadequate blocking of tryptase – which causes run away inflammation in the lungs. I guess this inflammation occurs elsewhere and leads to multiple chronic tender points.
They mention 2 prior published cases:
J Rheumatol. 2004 Oct;31(10):2082-5.
Alpha1-antitrypsin replacement therapy controls fibromyalgia symptoms in 2 patients with PI ZZ alpha1-antitrypsin deficiency.
Blanco I, Canto H, de Serres FJ, Fernandez-Bustillo E, Rodríguez MC.  abstract here
Present case:
onset age 24 with erythema nodosum following delivery  – widespread pains , post exercise fatigue, muscle tension type headaches, variation with weather.

fleeting episodes of erratic multi-joint pain without joint swelling

Diagnosed with FM age 48; much worse with menopause at age 52

Symptoms:
– severe fatigue
– widespead pain
– insomnia
– depression
– short-term memory and concentration impairment
– temporomandibular joint disorder
– sore throat without objective anatomic lesions
– daily morning stiffness.

slightly elevated liver function tests noted – SGOT, SGPT

age 56 – intermittent wheezing – 

AAT serum concentration was slightly decreased to 0.67 grams/liter; (normal 1–2.0 grams/liter]

 her proteinase inhibitor [PI] phenotype was M

1 

Z. – M1 is a common deficiency type and I presume Z means homozygous

 

quadriceps muscle biopsy – scattered muscle and vessels deposits of AAT and ubiquitin, and a moderate muscle atrophy of type-2 fibers.

since poor control of her FM conventionally, 

intravenous infusions of human purified AAT Trypsone  (

Lab. Grifols

Spain) 60 milligram/kilogram/week for six months.
Results on tender points – dropped to near zero except during a placebo period midterm: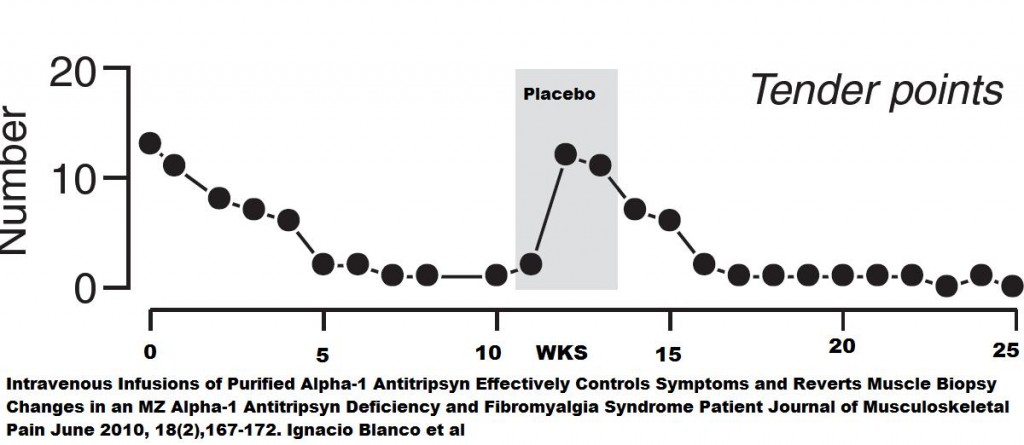 Comment – tragic life wasted in pain. How could have things been better?
Atypical early onset (erythema nodosum)

abnormal liver function tests mild

eventual lung trouble

Low alpha-1 antitypsin levels – but not necessarily that bad

Genetic testing showing alpha-1 antitypsin deficiency variant

Quadraceps muscle testing showing AAT deposits ( muslce pathology is an art – wonder who would have to see to confirm that)

The will to get compassionate coverage for an otherwise very expensive treatment. 

Suspect doing AAT serum levels the big break but wonder how available is..