When NO gas is mixed with Oxygen and inhaled over matter of hours, sickle crisis pain will gradually remit, dipping below 4/10 pain-wise in 3 hours.
Am J Hematol. 2010 Oct;85(10):800-2.
Beneficial effects of nitric oxide breathing in adult patients with sickle cell crisis.
Head CA, Swerdlow P, McDade WA, Joshi RM, Ikuta T, Cooper ML, Eckman JR.
abstract here
A machine is used to mix NO with Oxygen to achieve a 80 ppm NO:
"Medical grade NO, in nitrogen (Datex-Ohmeda) packed as NO (0.08%) and N2 (99.92%) gas for 800 ppm, (INO-Therapeutics, Clinton, NJ) was mixed with oxygen before administration to deliver 80 ppm of NO using the INOvent delivery system." The authors patented this system which takes my respect of their article down a notch but maybe they had to – to ensure they got what they wanted. What it looks like is Medical grade Nitric Oxide – Nitrogen Gas mix is mixed with oxygen 1:10.
placebo controlled – other group had 21% oxygen only
Parenteral morphine was used as well
They speculated:  "inhaled NO may inhibit cell interactions between multiple types of cells and thereby resolve VOC [ Vaso-occlusive crisis]
Oxygen was monitored with an oxymeter; methemoglobin (MetHb) levels were as well but they were not an issue.
Results: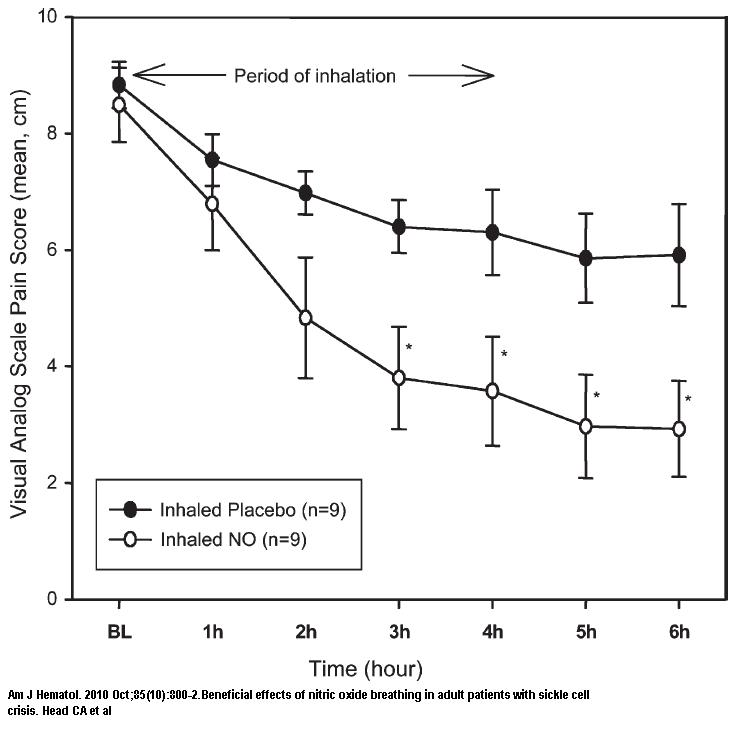 Children tend to relapse after stopping the NO (a previous study) but this didn't happen in adults – suggests children will need at least some NO for some time,
Comment – It took 3 hours to reach a 4/10 which most can stand whereas the control hadn't got close to that even at 6 hours.  Sounds like a good add-on but not a quick fix I'm afraid. michael kors rebajas michael kors rebajas