After a sciatic nerve as accidentally injected, gabapentin and tramadol helped the pain until some recovery came about.
Keskinbora, Kader, and Isik Aydinli.
Treatment of neuropathic pain due to sciatic nerve injury following intramuscular injection with gabapentine in a child."
Pediatric Anesthesia 18.11 (2008): 1134-1135.
no abstract
8 year old given IM penicillin – pain in buttock, numbness in leg – progressively worse with foot drop and allodynia
>gabapentin 400 mg TID and Tramadol 37.5 mg od worked well until nerve damage receded.
On wonders if it was the age or the quick treatment response that aided in this recovery.
A more substantial study was:
Pain. 2008 Aug 31;138(2):255-66.
Gabapentin in traumatic nerve injury pain: a randomized, double-blind, placebo-controlled, cross-over, multi-center study.
Gordh TE et al.
http://www.ncbi.nlm.nih.gov/pubmed/18258368
Gabapentin was worked up to 2400 mg (by some considered insufficient where would go up to 3600 or more if need be)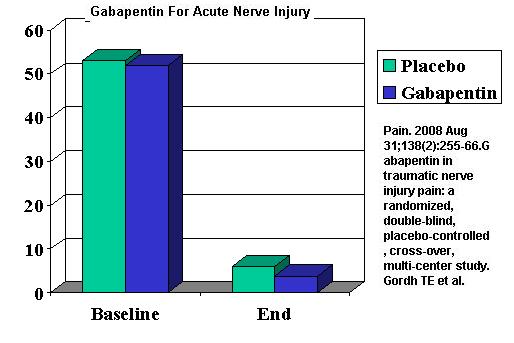 This study suffered from the acute back pain treatment problems – people get often better anyway. The improvement with Gabapentin was statistically significant though.
Recent animal model study confirms that gabapentin helps nerve damage pains:
Neuroreport. 2015 Jun 17;26(9):522-7. doi: 10.1097/WNR.0000000000000382.
Gabapentin alleviates affective pain after traumatic nerve injury.
Griggs RB(1), Bardo MT, Taylor BK.
http://www.ncbi.nlm.nih.gov/pubmed/26011387
12 days after spared nerve surgery
3 days gabapentin
"Gabapentin produced conditioned place preference and reversed mechanical hypersensitivity in SNI but not sham rats at a dose (100 mg/kg) that did not change open-field activity. These results show for the first time that gabapentin provides relief from affective pain without producing sedation, and add to the limited clinical literature suggesting that its use can be extended to treat pain arising from traumatic nerve injury."
Pregabalin has been suggested as beneficial in post traumatic nerve pain, more chronic:
Van Seventer, R., et al.
Pregabalin in the treatment of post‐traumatic peripheral neuropathic pain: a randomized double‐blind trial.
European Journal of Neurology 17.8 (2010): 1082-1089.
http://www.ncbi.nlm.nih.gov/pubmed/20236172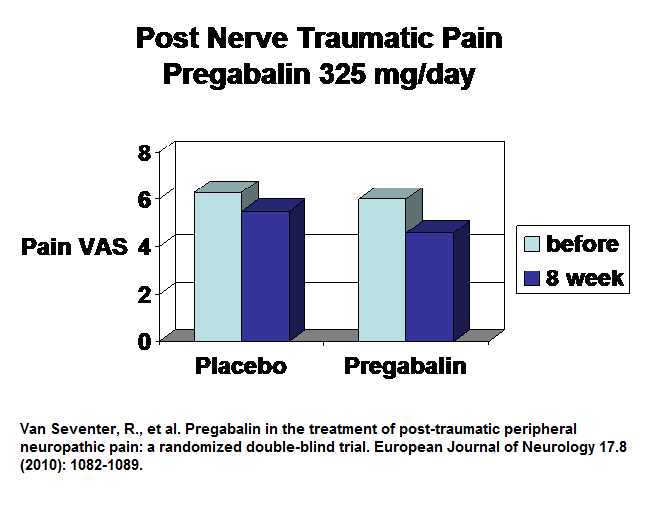 The results drop pain VAS 0.6 more than placebo which is not clinically significant
Comment – in acute nerve injury, use of gabapentin can help but recovery is often good anyway. Various Chinese studies have also shown high dose B12 (1000 u sc. daily) helps recovery of bell's palsy, ulnar nerve transposition recovery, and nerve recovery from glaucoma. michael kors tasche sale michael kors tasche sale