There have been various reports of Infared spot treatment for limb CRPS. The  Infrared laser machine is very expensive – there is a cheap substitute that seems to help
There have been various reports of Infrared therapy helping CRPS:
Photon Stimulation Therapy for Chronic Regional Pain Syndrome: A New Technique
by Jacob Green, M.D., Ph.D., Deborah Fralicker, R.N., William Clewell, Ph.D., Earl Horowitz, D.P.M., and Tim Lucey, B.S.
Disability, August 1999, Volume 8, Number 3
(found reference to here)
ABSTRACT: Complex regional pain syndrome type I, previously known as reflex asymmetry dystrophy, is notoriously difficult to treat. We report on the significant temperature reduction and the side-to-side symmetry noted in one patient treated with infrared photon therapy. We review recently published experience with the photon stimulator in chronic diabetic painful neuropathy and chronic myofascial pain syndrome. Significant temperature symmetries which were the hallmark of these other disorders were likewise similarly affected. Considerations for the acupuncture type of electrochemical process change in non local coupling functions are thought to be responsible. Neuromodulation and neuroaugmentation created by this technology seem to be helpful in the amelioration of this chronic painful condition.
Results of Treatment with the Bales Scientific Photonic Stimulator
by Harry F. L. Pollett, M.D. FRCPC
Cape Breton Healthcare Complex
North Sydney, Canada (found here)
Found helpful but of course patients were on a variety of treatment
I had a case of right arm pains previously helped by stellate ganglion blocks. She had the typical color changes but with use of infrared, the bluish coloration would remit arm warm up some, and the limb would improve temporarily.
I just used an infrared led spotlight: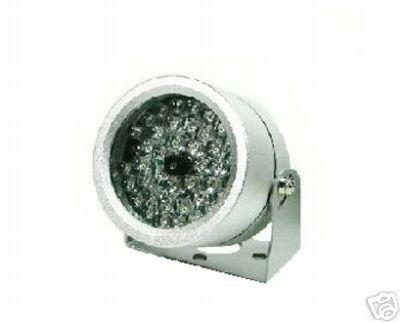 Which I got for 12 dollars at ebay: I searched infrared and illuminator and it came up:
http://shop.ebay.ca/?_from=R40&_npmv=3&_trksid=m570&_nkw=infrared+illuminator
The plan is to hold the light over nerve trunks: For arms I'm guessing:
wrist front –  radial, medial nerves
wrist back thumb base – superficial radial
 elbow middle front – medial
elbow front inner side – radial nerve
 back medial elbow – ulnar nerve
axilla – brachial plexus
lower front side neck – cervical plexus
I would hold unit on each spot for 2 minutes (that's how long for intramuscular stim full effect so….)
According to Dr. Pollett, once the color changes start, one does not need to continue as it will go on- on its own.
I would lend a unit to a CRPS case and have subject try it at home – maybe few times a day – if it worked, s/he could buy own unit off ebay – certainly not a cure but does help decrease pain some…
Anyone with experience in light therapy? michael kors rebajas michael kors rebajas