Yanking out a 3rd molar can damage the associated nerve, but done inferiorly, this just seems to create a numb chin most of the time. Dental implants however, can damage the nerve and leave persistent pain. Article found that early surgical exploration and perhaps nerve  resuturing could significantly improve things.
Int J Oral Maxillofac Surg. 2018 Mar 6. in press
doi:10.1016/j.ijom.2018.02.004.
Iatrogenic trigeminal post-traumatic neuropathy: a retrospective two-year cohort
study.
Klazen Y et al
https://www.ncbi.nlm.nih.gov/pubmed/29523381
Cases seemed to be mostly in lower jaw or nerve to tongue – divided cases into
Inferior alveolar nerve damage (123)
Lingular nerve damage (93)
http://www.mcvitamins.com/causes%20of%20neuropathy/dental-surgery-nerve-damage.htm
Cases and situation:
dental implants were high in causing pain
3rd molar extraction just seems to cause chin numbness 19/24 of the time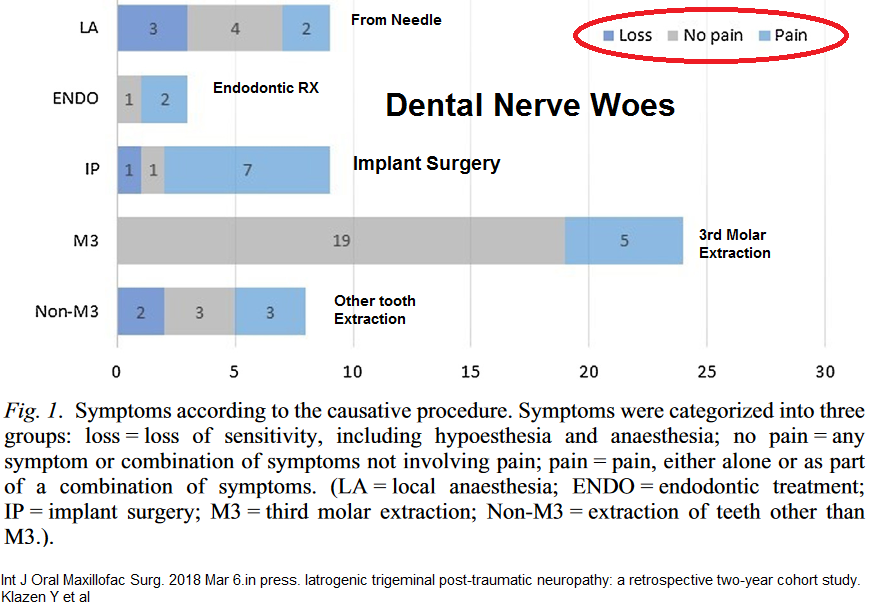 about 1/2 time reassurannce and counselling is sufficient
That half with with more severe neuropathic symptoms, 30% of time surgery was done -"Exploratory surgery improved symptoms and reduced neuropathic area in 18 Lingual  and 15 Inferior Alveolar Nerve patients resulting in improved quality of life"
They felt "In both implant surgery and endodontic treatment, when altered sensation persists after local anaesthesia has worn off, a rapid diagnosis followed by immediate referral is warranted  "
otherwise, they felt  if "no improvement is noted during follow-up over the first 3 months after injury, the patient should be referred to a surgeon to evaluate the need for exploration and surgical repair"
Rest had the following treatments:
cognitive behavioural therapy
meds – I assume pregabalin/amitriptyline/ cymbalta etc.
lidocaine 5% patches
Comment – don't see this in my practice so was new to me how important it can be to surgically refer early for nerve repair. They seem vexed by occurrence of late referrals they saw.