I contend antidepressants help very little in back pain and waiting for it to work before starting painkillers is an unethical abomination. Studies showing any benefit in the last century are laughable because dosages used would not be achievable today. Good studies do show statistical significance but not clinically significant changes. Studies showing benefit used only depressed patients where results might be due to change in depression.
OK lets go over the studies
Jenkins  DGEbbutt  AFEvans  CD Tofranil in the treatment of low back pain.  J Int Med Res. 1976;428- 40
25 mg tid
"far from reaching statistical significance"
Pheasant, H., Bursk, A., Goldfarb, J., Azen, S. P., Weiss, J. N., & Borelli, L. (1983). Amitriptyline and chronic low-back pain: a randomized double-blind crossover study. Spine, 8(5), 552-557.
used amitriptyline 50-150 mg – doses in present day studies are never achieved.
only "9 patients has analyzable data" -I suspect because they were high functioning individuals to start with so did well on analysis
Atkinson, J. Hampton, et al. "A placebo-controlled randomized clinical trial of nortriptyline for chronic low back pain." Pain 76.3 (1998): 287-296.
22% versus 9% reduction in pain amounts to 13% reduction.
If pain is 7/10 this amounts to a 0.9/10; the FDA dose not consider decrease <1/10 a relevant decrease in pain.
Hameroff SR Weiss JL Lerman JC et al. Doxepin's effects on chronic pain and depression: a controlled study. J Clin Psychiatry. 1984;4547- 52
All cases were depressed and had back pain.
achieved a average dose of 200 mg doxepin – a level not achievable in present day – people are having trouble tolerating the new 6 mg tablet for sleep (silenor)
60 patients (mean age 48.6 yrs) with chronic pain of the low back or cervical spine concomitant with clinical depression were studied in a 6-wk, randomized, double-blind comparison of doxepin and placebo.
back pain improved effects could have been due to relief of depression rather than a TCA effect
The Journal of Pain Volume 6, Issue 10, October 2005, Pages 656–661
A Randomized, Placebo-Controlled Trial of Bupropion Sustained Release in Chronic Low Back Pain
Jennifer Katz et al
Alcoff  J Jones  E Rust  P Newman  R
Controlled trial of imipramine for chronic low back pain.
J Fam Pract. 1982;14841- 846
too old to get article
worked up to 150 mg which will not get today
no sample size calculations
>10% withdraw leaving heightened responders to warp stats.
no intention to treat analysis
P values given without complete outcome measures so suspect did not reach 1/10 drop in pain
Skljarevski V, Desaiah D, Liu-Seifert H, et al.
Efficacy and safety of duloxetine in patients with chronic low back pain.
Spine (Phila Pa 1976) 2010;35:E578–585.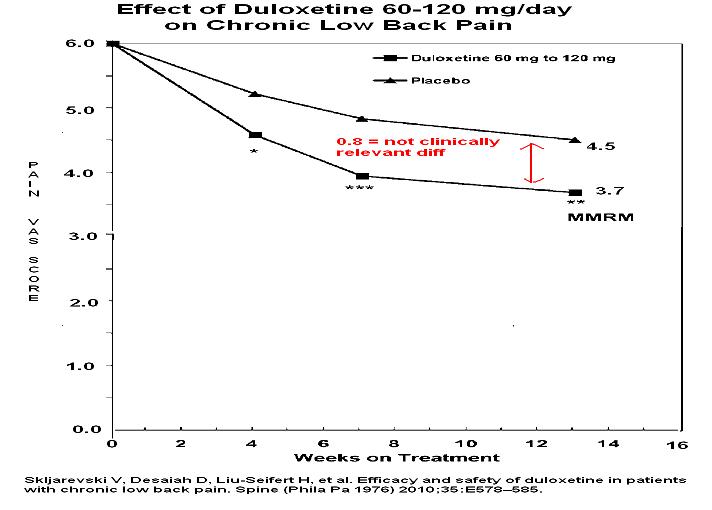 A metanalysis of studies concluded the benefits were "small"
Salerno, Stephen M., Robert Browning, and Jeffrey L. Jackson. "The effect of antidepressant treatment on chronic back pain: a meta-analysis." Archives of Internal Medicine 162.1 (2002): 19-24.
"In conclusion, adjunct antidepressant therapy at doses therapeutic for depression is associated with a small but significant reduction in the severity of chronic back pain but not improvement in activities of daily living." – the reason for latter is because less than a 1/10 drop in pain is not clinically significant
As for sciatica/radiculopathy, a recent conclusion states it all:
Pain 132 (Dec. 2007) 237–251
Review and recommendations Pharmacologic management of neuropathic pain: Evidence-based recommendations
Robert H. Dworkin et al
https://www.ncbi.nlm.nih.gov/pubmed/17920770?dopt=Abstract
"To date, no medications have demonstrated efficacy in lumbosacral radiculopathy, which is probably the most common type of NP(neuropathic pain)."
Comment – Teaching program for doctors suggests trial of antidepressants before tramadol or opioids – which century are they in? They also suggest topicals where the number of patients needed to treat to help one case was
Ketoprofen – one in 6.9 cases
Diclofenac (Voltaren) – one in 9.8 cases
back is a big  place and the cost would be prohibitive as well
They also suggest acetaminophen in acute back pain where it show little benefit:
Acetaminophen (paracetamol) does not work in acute Back Pain
http://painmuse.org/?p=3963
Also suggested was cyclobenzaprine 10 mg tid – trade name Flexeril came out with a 5 mg pill because once a day of that was all people could tolerate. No one is going to get up to 10 mg tid.