For Sciatica & spinal stenosis steroid epidurals are used but controversy exists over whether there is any benefit of particulate over soluble steroids. It would seem obvious that a steroid that last weeks would be better than one that last 6 hours. This study demonstrated just that.
Eur Radiol. 2017 Apr;27(4):1505-1511. doi: 10.1007/s00330-016-4498-9.
Is there a difference in treatment outcomes between epidural injections with particulate versus non-particulate steroids?
Bensler S et al
https://www.ncbi.nlm.nih.gov/pubmed/27436028
bit vague on what where their candidates but appeared to be usual indications of sciatica and spinal stenosis
40 mg triancinolone or 4 mg dexamethasone epidurally
Use CT guidance and dye injection to ensure placement which would go along way to ensure proper – there is a septum in lumbar region and dye may not make it to where it is needed.
RESULTS: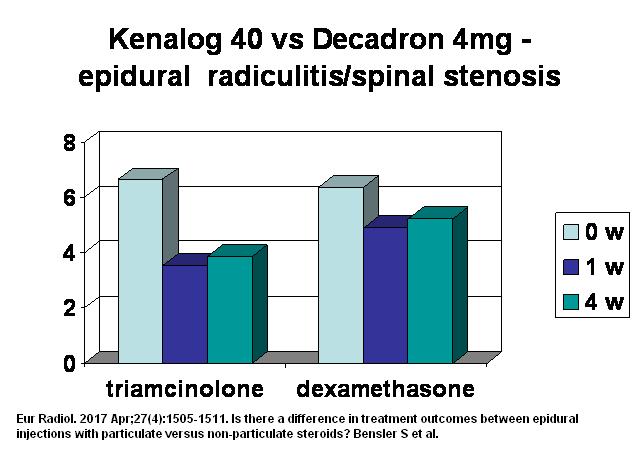 Comment – it also helps to lie down after with bad end down for 15 minutes:
Steroid Epidurals – Why Some Work And Some Not So Well
http://painmuse.org/?p=344
Using 40 mg appears that is all that is necessary:
Sciatica Back Epidural or Caudal – 40 mg Steroid as Good as 80 mg.
http://painmuse.org/?p=1693
With such a small dose, this could be repeated every 6 weeks. Otherwise, in between,
one could use Midazolam shot – I give them caudally and they last over 1 month.
Confirmed – Intrathecal (Spinal) Midazolam Gives 1-3 Months Relief in Chronic and Failed Back Pain
http://painmuse.org/?p=478
huarache pas cher huarache pas cher