Taking Alpha-Lipoic acid 800 mg/day for 40 days reduced pain and increased 2 point discrimination.  Some nerve operations are fought with problems (nerve transfer in cubital tunnel syndrome); now there is a help.
J Hand Surg Am. 2017 Feb 26.in press.
doi:10.1016/j.jhsa.2017.01.011.
Alpha-lipoic Acid After Median Nerve Decompression at the Carpal Tunnel:
A Randomized Controlled Trial.
Boriani F et al
https://www.ncbi.nlm.nih.gov/pubmed/28249792
ALA antioxidant  by increased glutathione peroxidase activity.
"a powerful and effective factor reducing oxidative stress, with neuroprotective and neurotrophic properties"
Intravenously, helps diabetic neuropathy
Comments – other agents have been found helpful in nerve pains:
J Pain Res. 2017 Feb 15;10:397-404. doi: 10.2147/JPR.S123045.
A double-blind, randomized, comparative study of the use of a combination of
uridine triphosphate trisodium, cytidine monophosphate disodium, and
hydroxocobalamin, versus isolated treatment with hydroxocobalamin, in patients
presenting with compressive neuralgias.
Goldberg H et al
https://www.ncbi.nlm.nih.gov/pmc/articles/PMC5317309/
Back pains, neck pains, and carpal tunnel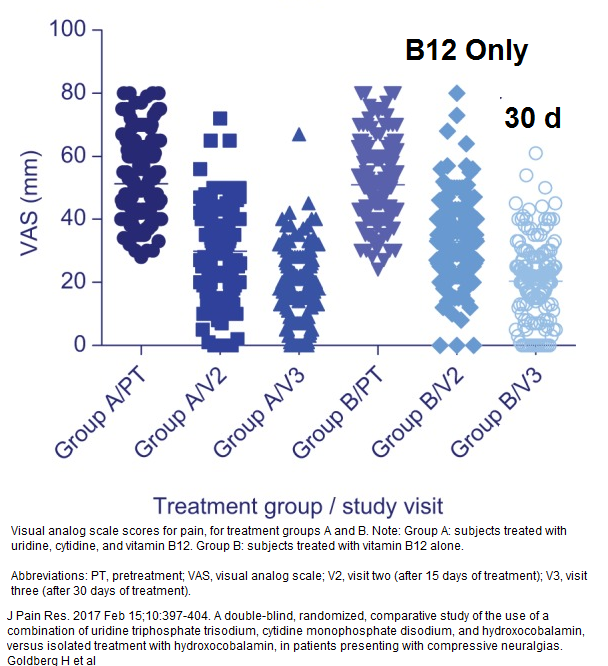 Comment – not impressed with difference and none after 30 days; if B12 had been given injectably, 30 day results could have been seen within 10 days and even better results.