A Fokl DNA gene polymorphism in the Vitamin D receptor would reduce its sensitivity to vitamin D. Vitamin D supports many metabolic processes beyond calcium and gene variations are even associated with certain cancers.  In athletes, the FF Fokl genotype is found in 58.3% of those with pain and only 27.8% without with an enormous relative risk OR= 5.78.
BMC Sports Sci Med Rehabil. 2017 Feb 7;9:4. doi: 10.1186/s13102-017-0069-x.
eCollection 2017.
Low back pain and FokI (rs2228570) polymorphism of vitamin D receptor in
athletes.
Cauci S et al
FF Fokl genotype is found in 58.3% of those with pain and only 27.8% without
However, athletes are younger and one author spoke succinctly about the age effect:
"Järvinen and Aho [25] stated that "environmental factors account for more than 80% of the etiology of sciatica. However, genetic factors were relatively more significant in individuals under 40 years of age"."
25. Järvinen P, Aho K (1994) Twin studies in rheumatic diseases. Semin Arthritis Rheum 24:19–28 The FF genotype has less evidence of disc deterioration with age:
Videman T, Leppävuori J, Kaprio J, et al (1998) Intragenic polymorphisms of
the vitamin D receptor gene associated with intervertebral disc degeneration.
Spine 23:2477–2485
ff has 6.9% increased disc degeneration versus ff (p= (with loss disc height, bulging etc.) p = 0.006  So why is it higher re back pain? – Could be a matter of age – disc degenerations would be more an issue over 40.
Back pain is worse in those with low vitamin D and replacement has major effects – this has been known for years and ignored:
Al Faraj, et al. Vitamin D deficiency and chronic low back pain in Saudi Arabia. Spine 28.2 (2003): 177-179.
http://www.marineessentials.com/research/assets/resources/28.pdf
As you can see, even those with normal Vit D mostly responded. I have wrote about the association of vitamin d and pain:
Low Vitamin D and Chronic Pain – What is the Evidence?
http://painmuse.org/?p=1938
This back study was confirmed by a new study:
Pain Physician. 2017 Jan-Feb;20(1):E99-E105.
Vitamin D Supplementation in Patients with Chronic Low Back Pain: An Open Label,
Single Arm Clinical Trial.
Ghai B et al
http://www.painphysicianjournal.com/linkout?issn=1533-3159&vol=20&page=E99
average age 44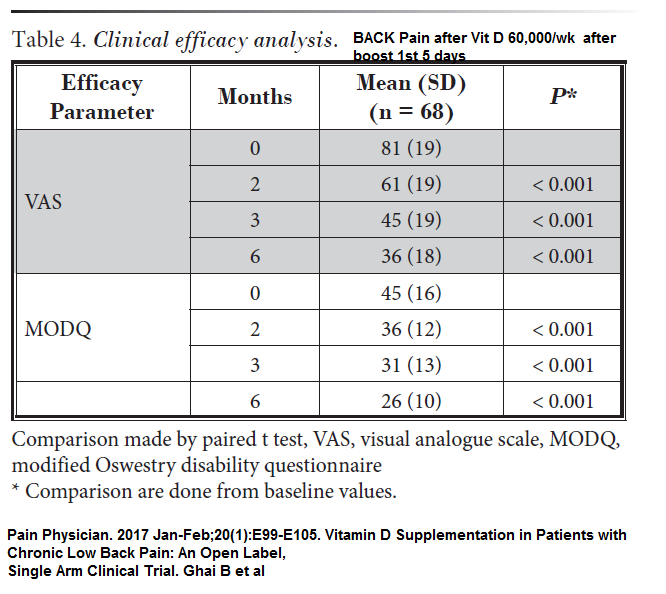 This was a 56% improvement.
Another recent article came out linking pain with low vitamin d with widespread pain with supplementation helping that:
Int J Rehabil Res. 2017 Mar;40(1):76-83.The effect of vitamin D supplementation on pain, quality of life, and nerve conduction studies in women with chronic widespread pain.
Akyuz G et al(1), Sanal-Toprak C, Yagci I, Giray E, Kuru-Bektasoglu P.
https://www.ncbi.nlm.nih.gov/pubmed/28030514
Helped pain but not nerve conduction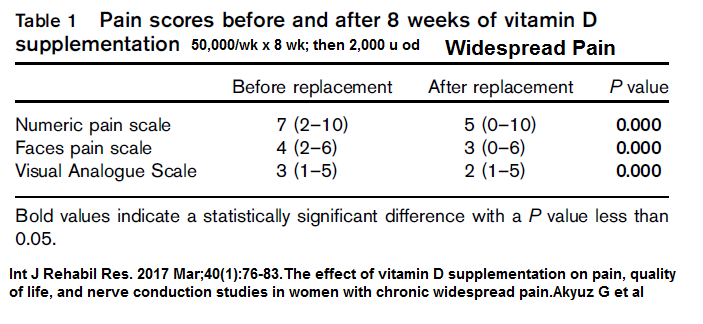 This is a 30 % improvement.
High does Vit D has been shown to help pain:
Vitamin D – Could High Doses Help Pains?
http://painmuse.org/?p=4168
Vit D has many non-bone functions:
Muszkat Patricia, et al.
Evidence-based non-skeletal actions of vitamin D. Arq Bras Endocrinol Metab  [Internet]. 2010  Mar ;  54( 2 ): 110-117.
http://www.scielo.br/scielo.php?pid=S0004-27302010000200005&script=sci_arttext
How frequent is low vitamin D? I check levels in my patients with physicals and they are ALL low unless they are on something. Immigrants are for sure. I put all my pain patients on Vit D2 – Osto-D2 50,000 u/weekly nike huarache homme pas cher nike huarache homme pas cher