Many years ago I was injecting enbrel paraspinously near the nerve exit of sciatica nerve location. I was using a full 25 mg and found it had minimal effects. I wrote E. Tobinick at times and wondered if it was irritating the nerve. He wrote back "Who are you?" and that was the end of it. Now they have found that any more than 0.5 mg injected near nerve transforaminally gave reduced benefits for treatment of sciatica. This irritative effect of higher doses could explain reduced effects in some studies.
Randomized, Double-blind, Placebo-Controlled, Trial of Transforaminal Epidural Etanercept for the Treatment of Symptomatic Lumbar Disc Herniation
Brian J. C. Freeman et al.
SPINE Volume 38 , Number 43 , pp  1986 – 1994; 2013
http://www.vitalmedic.edu.pl/events/ptchk2015/JC/Freeman-2013.pdf
45 cases persistent lumbar radiculopathy transforaminally injected with 4 different doses of etanercept and followed for 28 weeks
Results: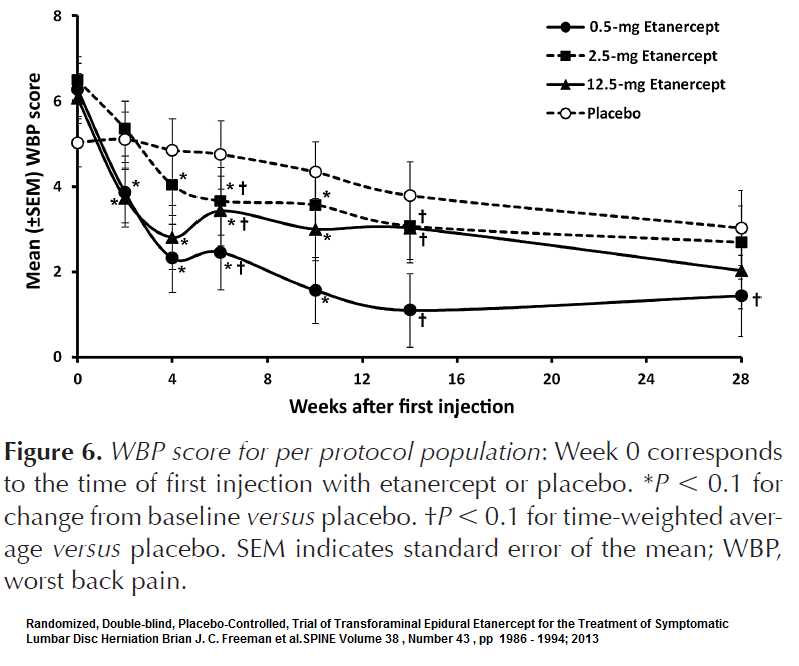 Comment – Original study was with 25 mg just given paraspinously anywhere. Maybe that is alright. Alternately if you are going to inject close to nerve, then cut dose to 0.5 mg. Initial Tobinick study found two injections a week apart gave best results and I think that should be used.  I would try two shots of enbrel paraspinously (not too close to nerve) to the overly expensive transforaminal . Mind you, results of initial study were aided by recent steroid epidural so a combination of treatments would work best.