Touching spinous processes in back can elicit pain, and may coexist with other problems so be easily missed. Cortisone injection is the first line treatment. I might have seen one lately that was puzzling that it was so localized – in an elderly patient that I was more concerned about rib impingement.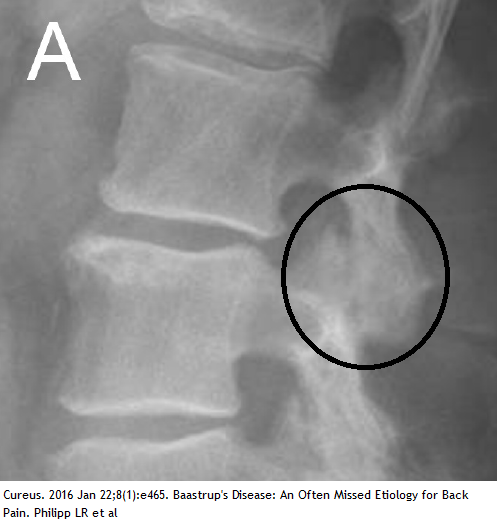 Cureus. 2016 Jan 22;8(1):e465. doi: 10.7759/cureus.465.
Baastrup's Disease: An Often Missed Etiology for Back Pain.
Philipp LR(1), Baum GR(1), Grossberg JA(1), Ahmad FU(1).
http://www.ncbi.nlm.nih.gov/pmc/articles/PMC4762769/pdf/cureus-0008-000000000465.pdf
I wrote about this before but the concern over this is still voiced. Wrote here:
Localized Cause of Back Pain – Inter-Spinous Process Bursitis "Baastrup's Disease"
http://painmuse.org/?p=282
a cause of localized back pain to spot between spinous processes where bursitis exists
Most commonly L4-5 – midline tenderness and often a single level
"some studies reporting an incidence as high as 81% in patients older than 80 years"
worse with extension – maybe much worse; and better with flexion
can see bone whitening (sclerosis) where spinous processes touch – inflamed.
"Extension of this inflammation through the ligamentum flavum may also contribute to central canal stenosis"
6.3% of college athletes – especially gymnasts
Causes:
poor posture
hyperlordosis
kyphoscoliosis
tuberculous spondylitis
stiff thoracolumbar transition
obesity
bilateral congenital hip dislocation
Symptoms – as above but also classic neurogenic claudication is comorbid with leg pain and weakness with standing or walking.
Plain and CT Imaging can often miss it, due to overexposure of films so MRI is most accurate and shows the soft tissue reaction.
Rx:
physio to reduce lordosis
injection with local and steroid – they gave a case that it helped
spinal excision though not well established as helping
Comment – Given that commonly occurs with other issues, and can be missed on plain films; you will only see it if you know about it. Hopefully now you do. maillot de foot pas cher maillot de foot pas cher