Program of twice daily 20 minute of specific music therapy dropped chronic pains from 6.3 to 3.2/10 over 6 weeks.
Effect of Music Therapy on Chronic Pain – a  Controlled Randomized trial
S. Guetinet et al.
IASP poster Montreal 2010
Music included various styles – classical, jazz, african, etc but involved specific pattern:
– started with a stimulating rhythm
– changed into a slow rhythm
– ended with a moderate rhythm
Subjects were lying down with black eyepad covers
results were compared to lying down with usual music.
specific music treatment reduced pains by 49%;
usual music reduced pain from 6.3 to 4.8 – 24%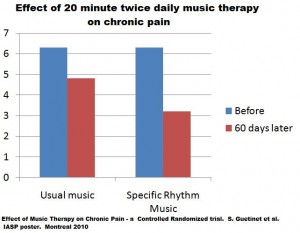 Comments – Poster is involved with a music company that I presume will be selling this. However, I can't stop thinking it wouldn't be to hard to put together something like this…
I'm impressed that the control group got a 24% improvement – a drop of 1.5 – they say any drop over 1 has some significance – so taking time for yourself 20 minutes twice daily has its rewards…
Any comments?