Have and elderly fellow that just persevered with severe left groin pain as was just something he should put up with. He had not been sleeping and daughter noted cognitive decline with it. Exam of hip was a bit sore but when I let go of the leg, you could see this expression of searing pain in his face. Turned out to be Obturator Neuralgia. I have trouble picturing the obturator nerve so I have included many pics…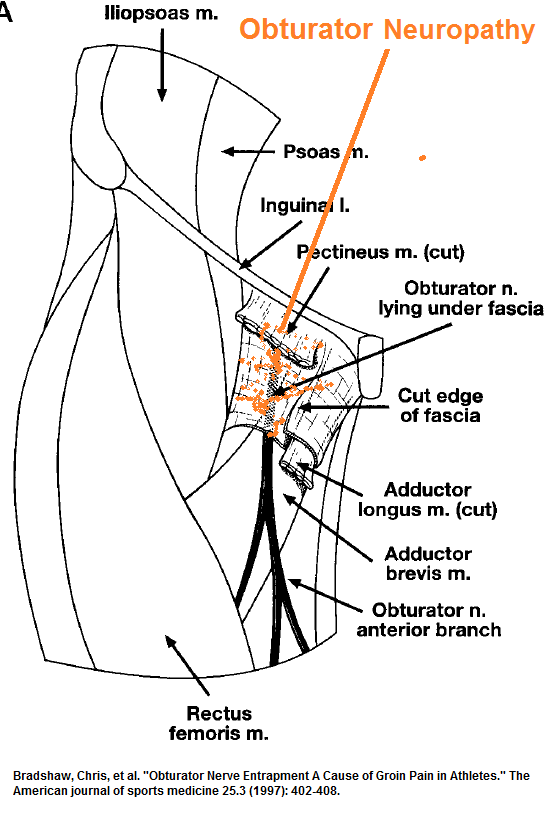 I have seen maybe 5 cases of obturator neuropathy – varying from vague out of proportion pain medial upper thigh down pain  to sharp neuralgic pains. None were diagnosable by the medical community. A simple nerve block helps suggest the cause.
Literature suggests:
 Comes from L3,L4 -distribution:
It comes out the Obturator Foramen
over the obturator externus muscle that is over lower half or pubic ramus
under the adductor longus and pectineus (latter not shown):

Most obvious cause would be a groin pull. Fractures, hematomas, tumor can all play a part
ultrasound has been suggested as a way to guide needles:
A Cadaveric Study of Ultrasound-Guided Subpectineal Injectate Spread Around the  Obturator Nerve and Its Hip Articular Branches
Thomas D. Nielsen et al.
Reg Anesth Pain Med. 2017 in press
https://www.ncbi.nlm.nih.gov/pubmed/28263244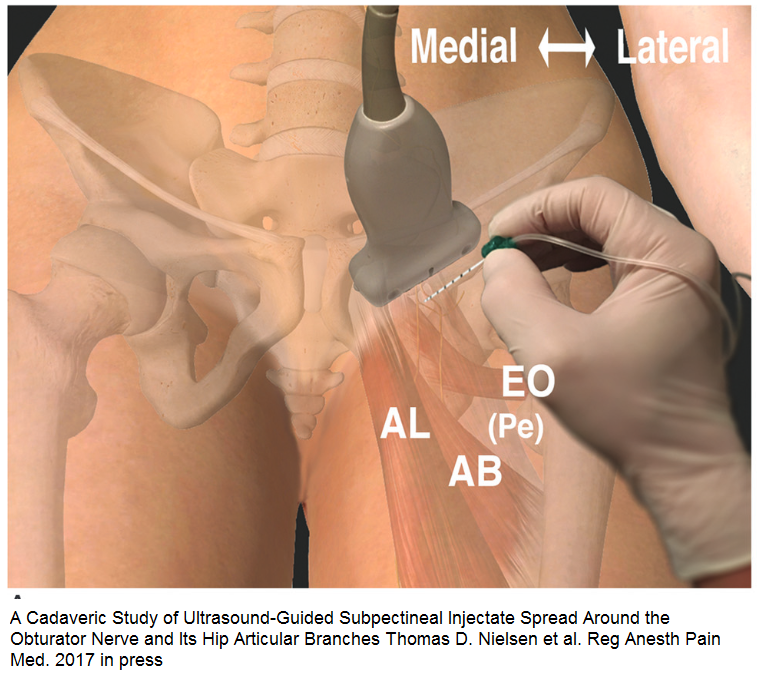 AL indicates adductor longus muscle; AB, adductor brevis muscle; (Pe), pectineus muscle (faded); EO, external obturator muscle.
On 13% of cases there is an accessory obturator nerve (AON)  that goes anteriorly to superior pubic ramus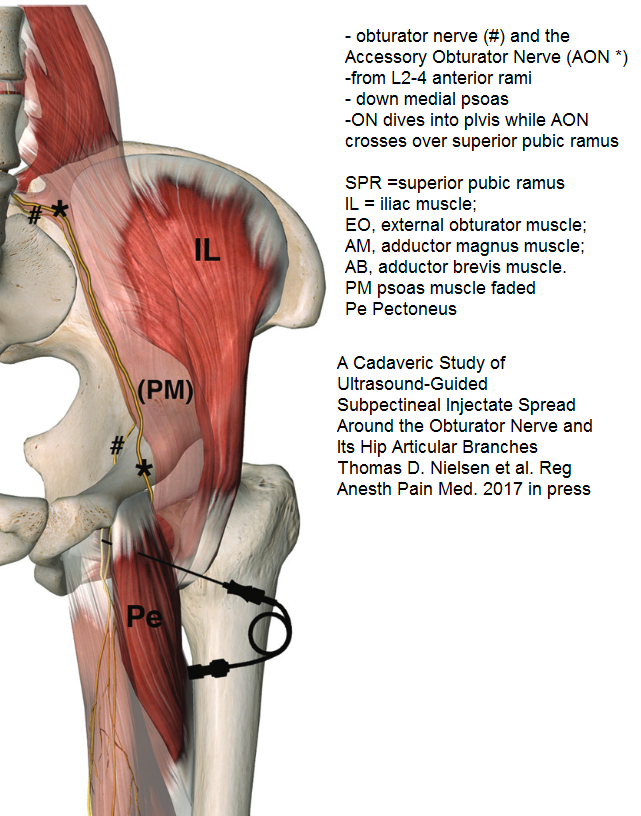 There seems to be various subtypes of the syndrome:
one is post-exercise groin and medial thigh pain, weakness pushing leg in, and paresthesias and sensory distribution shown above.
An adductor origin region deep ache at the pubic bone and maybe to the medial  thigh to the knee
The one I saw was more neuralgia with any muscle use or stretching giving him searing pains. Leg extension or lateral leg movement are supposedly the worst.
Locating nerve:
nerve block – Helpful to confirm diagnosis – usually people go up into the obturator canal and inject a large volume but I find that is quite uncomfortable.
With Ultrasound, you can find in as in comes out below superior pubic ramus and inject it below pectineus muscle.

I don't need a anesthetic level block to tell if it is useful so I just inject 10 mls 1% lidocaine in the upper inner aspect thigh at groin( below inner 1/3 of inguinal ligament) just underneath  first muscle layer. Works for me good enough to get relief.
EMG showing adductor deactivation would clinch the diagnosis
Treatment – they talk about conservative treatments _ the meds are standard for neuropathic pains. – I would use repeated blocks and skin nerve desensitization with D5W along any tender nerve tracts. It looks like the more severe should just go to surgery and neurolysis.
Fuller reviews here:
http://www.ncbi.nlm.nih.gov/pmc/articles/PMC2682412/
http://link.springer.com/article/10.1007/s12178-008-9030-7/fulltext.html
Haven't seen a great many cases so could use comments from  anyone with experience. – Also anyone who is suffering  or has recovered from this disease. huarache pas cher huarache pas cher