Over three minute pressure to occipital arteries can greatly relieve migraine pain in over 1/2 of cases; almost sounds too good to be true.
Yousef Hmaidan, Carlo Cianchetti
Effectiveness of a prolonged compression of scalp arteries on migraine attacks
J Neurol (2006) 253 : 811–812
http://www.researchgate.net/profile/Carlo_Cianchetti/publication/6976401_Effectiveness_of_a_prolonged_compression_of_scalp_arteries_on_migraine_attacks/links/0deec519fa760439f7000000.pdf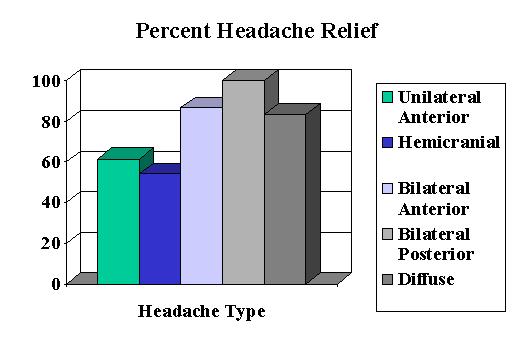 The protocol was as Follows:
1) Compression was enough to interrupt blood flow
2) Usually it took both front and back head pressure to get results
3) The temporal artery was compressed using firm digital pressure against the zygomatic arch in front
of the tragus and 1–2 cm downstream;  actually maybe just above TMJ joint might work better – just immediately in front to the ear tragus (outcropping in front of ear canal)


That would take several fingers to press on that length.
4) The occipital artery was pressed on near midline posteriorly
The artery is so midline if you grab the uppermost vertebral spine lilke grabbing the nap of your neck, the artery should be near under your fingers on either side. During a headache they should be pounding. Press it/them against your occiput.
5) Most often, arteries in temple and occiput need to be done together; though they say, start with one and start adding others every 1/2 minute as needed. They are held 4 minutes. If no relief, try both temple and occiput blood vessels for over 6 minutes.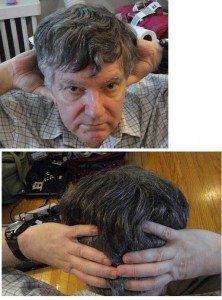 Comment – haven't had a chance to try this. Apparently this was noticed before and works best if done during an aura:
Ann Neurol. 1986 May;19(5):515-6.Lipton SA.
Prevention of classic migraine headache by digital massage of the superficial temporal arteries during visual aura.
A Cold Gel cap has been used prior to help with headaches:
Evidence-based Compl. and Alt. Medicine Volume 3, Number 4 p. 89-493; 2006;Levent E. Inan et al
Cold Therapy in Migraine Patients: Open-label, Non-controlled, Pilot Study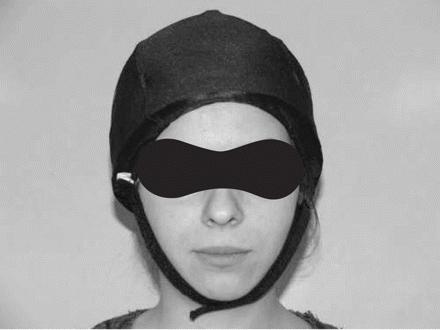 Their cap above. The response was: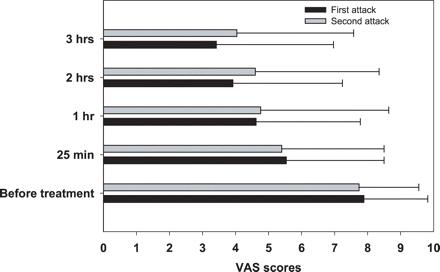 Closest I could come to this was something called a Migra – cap which they claim helps 8/10 migraines:
site here ; They do sell on ebay which might be cheaper…
Much cheaper is something called the headache relief band patented in 2005 here:
and available here:
http://www.headachereliefband.com/
Of course, face mask gel packs could do the trick as well…
One would think the combo of ice packs and blood vessel pressure would do the trick although I see hemicranias (only half head pains) only work about 1/2 the time by digital pressure.
I would be interested in other local therapies for migraines that people find helpful... I have tried intranasal lidocaine and cold and laser to the area about the upper back molar with some success but that is a whole other article…