Several case studies have shown that transforaminal steroids could relieve Post Herpetic neuralgia (PHN) but that procedure is under heavy scrutiny because of rare strokes, paralysis and death so use of soluble dexamethasone has been edicted.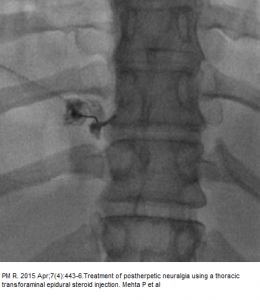 PM R. 2015 Apr;7(4):443-6. doi: 10.1016/j.pmrj.2014.11.009.
Treatment of postherpetic neuralgia using a thoracic transforaminal epidural steroid injection.
Mehta P(1), Maher P(2), Singh JR
http://www.ncbi.nlm.nih.gov/pubmed/25479280
68 year old man with burning pain 6-10 severity failed conventional treatment
Thought is, injecting drugs near to the affected dorsal root ganglion might interrupt "the inflammatory cascade that is directly responsible for the symptoms."
T10 right
"True anteroposterior imaging was obtained by squaring off the inferior endplate of T10. The junction of the lamina and transverse process was identified as the "armpit" of the lamina. The skin of the back was prepped in sterile fashion and a 25-g, 1.5- inch spinal needle was inserted targeting the "armpit" of the lamina. The lateral view was obtained to confirm posterior needle placement within the foramen" . Dye was then injected to confirm no blood vessel/CSF spread
"a test dose of 1% lidocaine test dose was performed without any changes.

Two minutes later, 20 mg of dexamethasone was injected." No mention of whether this  dexamethasone was crystalline or soluble though I would assume the latter.

near 100% relief on long-run.
Previous studies mentioned include:
66-year-old woman with severe refractory PHN at C5 with complete resolution pain with foraminal block.
Shakir A, Kimbrough DA, Mehta B.
Postherpetic neuralgia involving the right C5 dermatome treated with a cervical transforaminal epidural steroid injection: A case report.
Arch Phys Med Rehabil 2007;88:255-258
http://www.ncbi.nlm.nih.gov/pubmed/17270526
"test dose of 1mL of 1%preservative-free lidocaine without epinephrine was injectedslowly over 1 minute while observing for neurologic signs.Forty milligrams of triamcinolone was then injected slowly over 1 minute."
Conliffe TD, Dholakia M, Broyer Z.
Herpes zoster radiculopathy treated with fluoroscopically-guided selective nerve root injection.
Pain Physician 2009;12:851-853.
http://www.painphysicianjournal.com/2009/september/2009;12;851-853.pdf
"we performed a right L5 transforaminal epidural injection. The VAS was 7/10 and improved to 3/10 after the first injection. A second transforaminal epidural injection was performed 2 weeks later at the same level. The patient reported excellentrelief of his pain to a score of 1/10 and improvement of his weakness." Does not look like they added steroid but this needed two shots.
Recently transforaminal and epidural shots have come under scrutiny:
James P. Rathmell, M.D., Honorio T. Benzon, M.D., Paul Dreyfuss, M.D., Marc Huntoon, M.D., Mark Wallace, M.D., Ray Baker, M.D., K. Daniel Riew, M.D., Richard W. Rosenquist, M.D., Charles Aprill, M.D., Natalia S. Rost, M.D., M.P.H., Asokumar Buvanendran, M.D., D. Scott Kreiner, M.D., Nikolai Bogduk, M.D., Ph.D., D.Sc., Daryl R. Fourney, M.D., Eduardo Fraifeld, M.D., Scott Horn, D.O., Jeffrey Stone, M.D., Kevin Vorenkamp, M.D., Gregory Lawler, M.D., Jeffrey Summers, M.D., David Kloth, M.D., David O'Brien, Jr., M.D., Sean Tutton, M.D.(2015).
Safeguards to Prevent Neurologic Complications after Epidural Steroid Injections.
Anesthesiology in press
http://www.researchgate.net/profile/James_Rathmell/publication/272094788_Safeguards_to_Prevent_Neurologic_Complications_after_Epidural_Steroid_Injections_Consensus_Opinions_from_a_Multidisciplinary_Working_Group_and_National_Organizations/links/54dfe9260cf24d184b0a61ca.pdf
Note I have included all the authors so you can see that this is a consensus.
"catastrophic neurologic injuries, including stroke and spinal cord injury, have occurred with these injections."
"The first was to avoid particulate steroids, which have been implicated in all cases of severe neurologic complications from this procedure. The second was that studies have now shown that the effectiveness of dexamethasone is not significantly less than that of particulate steroids"
"Extension tubing was recommended so that once a needle had been placed, it would no longer be touched, and risk being dislodged when syringes for successive agents are connected."
"Topics that have been discussed by some experts but were not considered by the working group include the use of a local anesthetic test dose, placement of the needle at the inferior aspect of the intervertebral foramina instead of the superior
"safe triangle,"and use of specific needle tip types."
They did concluded epidurals should be done with imaging which might cause some difficulty
Comment – sounds like local and large doses of soluble dexamethasome are going to be commonplace. The results are life-changing and need to be applauded though they all used imaging.