Methylene blue injections were an exciting option after a Chinese article was published in PAIN glowingly detailed great responses to intradisc injections. Dr. N. Bogduk, at time, wrote an editorial suspicious that Chinese patients might be reluctant to admit they were not better. Since that time, there has not been much positive. Now it looks like at 3 months time, 47% will be at least 30% better.
Pain Pract. 2015 Mar 6. doi: 10.1111/papr.12283. [Epub ahead of print]
Efficacy, Safety, and Predictors of Intradiscal Methylene Blue Injection for Discogenic Low Back Pain: Results of a Multicenter Prospective Clinical Series.
Kallewaard JW(1), Geurts JW, Kessels A, Willems P, van Santbrink H, van Kleef M.
http://www.ncbi.nlm.nih.gov/pubmed/25753429
17 cases of chronic disc disease
Technique: "After antibiotic prophylaxis (2 gram s Cephazolin i.v.), a needle (with  double needle technique) was placed in the symptomatic disc. Anteroposterior and lateral plane fluoroscopy confirms needle position. A mixture of 1 mL methylene blue 10% and 1 mL lidocaine 2% was then injected, with pressure control, into the disc."
severe disc degeneration and extruded or sequestrated nucleus pulposus tissue cases excluded
Results: – at least 47% were 30% better at 3 months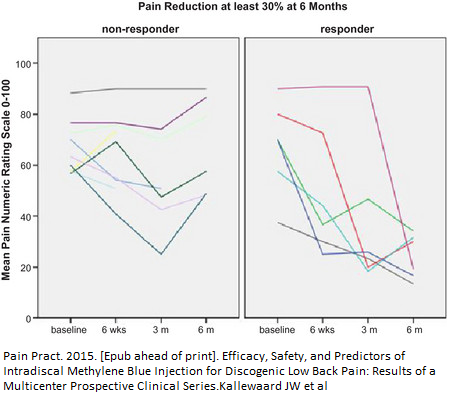 Comment – so 40% have the disc as a major part of the disease. A certain proportion of pain is going to be coming from Modic changes – only 1 of those got better though lacked statistical power for lack of cases.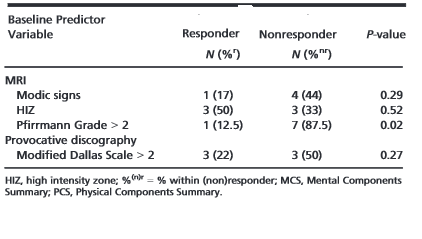 I start out by treating quadratus lumborum – sometimes injecting out from L3 transverse process with 40 mg kenalog can help that (discussed before)
pirifomis, sacroiliac,  gluteal,  thoracolumbar, psoas, and of course  lumbar facets need to be all work on repeatedly to maximize the benefits.