Minocycline is an IV tetracycline antibiotic known to inhibit glial cell changes at spinal cord level post injury and hence reduce post-injury nerve pain. In the rat model it reduces post burn pains.
Minocycline Attenuates Mechanical Allodynia and Central
Sensitization Following Peripheral Second-Degree Burn Injury
Yu-Wen Chang*,y and Stephen G. Waxman*
The Journal of Pain, in press 2010  abstract here
In this article, rats were subjected to second degree burns and results seen: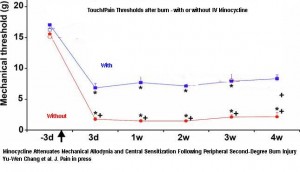 Comments – OK, it's still tender but at least it's not bottomed out so minimal touch hurts…
Addendum:
MINOCYCLINE DIFFERENTLY INFLUENCES THE ACTIVITIES OF MOR AND DOR AGONISTS UNDER NEUROPATHIC PAIN CONDITIONS.
J. Mika, K. Starowicz, W. Makuch, E. Rojewska, B. Przewlocka
IASP poster PM 299, Montreal 2010
Found after a nerve constriction injury,microgial cells have effects on in the superficial dorsal horn of the spinal cord such that they are less sensitive to effects of morphine like agents. Minocycline "significantly attenuated the allodynia and hyperalgesia" and prevented the lack of morphine senitivity.
I hope in the future, drug such as these are used after burns, nerve injury, spinal injury and shingles. A safer, oral form like minocycline would be doxycyline.
Addendum – at the Montreal IASP meeting 2010, there was a poster that suggested that doxycycline was actually better than minocycline in its anti glial inflammation effects. Minocycline in order to be effective had to be used at high dose IV.
For people in pain, it becomes an "if only"… nike air max nike air max