Steroid injection into hip with impingement or labral tear only gave relief for 10 days.
Knee Surg Sports Traumatol Arthrosc. 2014 Feb 1.in press
Limited therapeutic benefits of intra-articular cortisone injection for patients with femoro-acetabular impingement and labral tear.
Krych AJ, Griffith TB, Hudgens JL, Kuzma SA, Sierra RJ, Levy BA.
 http://www.ncbi.nlm.nih.gov/pubmed/24488223
Being a chart review, steroids were various and dose is not documented.
Relief didn't even last 2 weeks: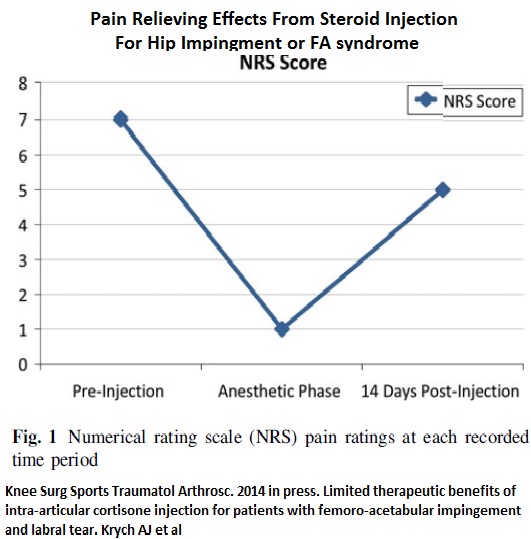 Relief at time from local injection did confirm joint was the issue which was helpful.
Comment – Prior studies didn't find much help either. Some of these people are in considerable pain and have to wait 6 month + for surgery in Canada.  I have tried steroid injection and found it didn't help much as well. This is really disappointing. Painkillers are the key…