Painful large and unresectable bone cysts responded rapidly to IV biphosphonate therapy within first cycle in 88% of cases. Adults received 4 mg of Zoledronic acid (Zometa®, Novartis), and children got IV pamidronate 1mg/kg.  Zoledronic acid, if more than one was needed, was cycled every 1-2.7 months; pamidronate was cycled every 2.7 – 6 months.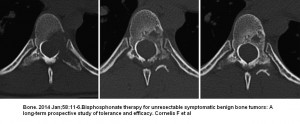 Bone. 2014 Jan;58:11-6.
Bisphosphonate therapy for unresectable symptomatic benign bone tumors: Along-term prospective study of tolerance and efficacy.
Cornelis F, Truchetet ME, Amoretti N, Verdier D, Fournier C, Pillet O, Gille O, Hauger O.
http://www.ncbi.nlm.nih.gov/pubmed/24120668
8 cases of painful bone cysts too large or poorly placed to be treated with resection or intralesional curettage
In children – IVwas pamidronate 1 mg/kg iv – 250 mls saline over 4 hours would do…
In adults Zoledronic acid (Zometa®, Novartis) waas infused – one protocol I found was 20 mls infused over 5 minutes
1-4 cycles were needed.
Pamidronate was given at 2.66, 3, 5.3, and 6 month intervals
Zoledronic acid was given either once or at 1 or 2.66 month intervals
3 – 4 cycles were common
88% (all but one) improvement with relief after 6 weeks
"Ossification of the bone lesion was observed for all patients but one, complete for two and partial for the five others."
side effects –  flu like symptoms are common in IV biphosphonates and patients need to be warned and take ibuprofen etc for discomfort; no serious reactions
Comment – makes dealing with painful bone cysts look easy. Zoledronic acid dos not have a Canadian DIN number so is not available here – pamidronate will have to do.  People with poor dentition would have to be eliminated as osteonecrosis of jaw is a concern.