Quite some years ago, NEJM published an article saying flushing of the knee did not help knee pains, putting an end to that procedure. Now an article has been published by same journal says that partial arthroscopic meniscetomy does not work because flushing with sham surgery alone will decrease pain by 50% in two months. Sorry, NEJM, you can't say both…
N Engl J Med. 2013 Dec 26;369(26):2515-24.
Arthroscopic partial meniscectomy versus sham surgery for a degenerative meniscal tear.
Sihvonen R, Paavola M, Malmivaara A, Itälä A, Joukainen A, Nurmi H, Kalske J, Järvinen TL
http://www.ncbi.nlm.nih.gov/pubmed/24369076
146 cases  – 35-65 yrs old with partial meniscus tears knee
cases had minimal OA in knee and were expected to benefit from surgery.
One group had arthroscopy; one group had arthroscopy and menisectomy
Results: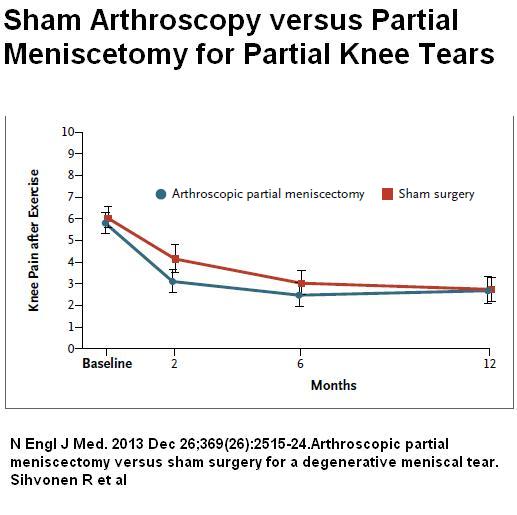 Prior Knee flushing article:
Moseley, J. Bruce, Kimberly O'Malley, Nancy J. Petersen, Terri J. Menke, Baruch A. Brody, David H. Kuykendall, John C. Hollingsworth, Carol M. Ashton, and Nelda P. Wray.
A controlled trial of arthroscopic surgery for osteoarthritis of the knee.
New England Journal of Medicine 347, no. 2 (2002): 81-88.
http://faculty.fortlewis.edu/burke_b/Criticalthinking/Readings/Moseley%20et%20al%20-%20placebo%20surgery.pdf
results: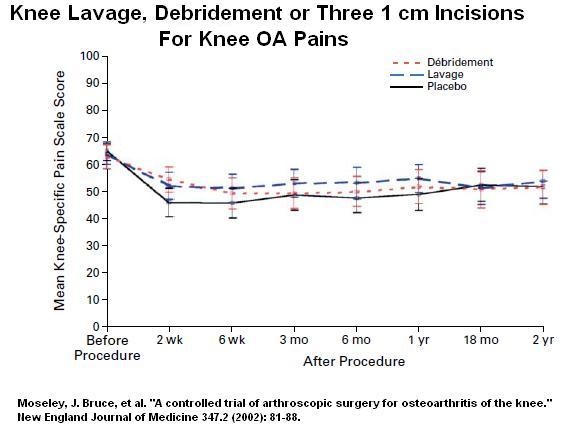 Comment:
For some reason or other, arthroscopy is considered an inert process. They do state the "use of standard anterolateral and anteromedial portals and a 4-mm arthroscope". They do not state is a trocar was introduced superiorly to flush or inspect as well though that wouls have been standard.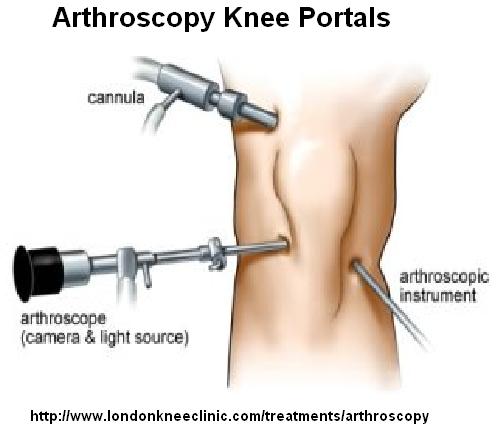 In both present study and the knee flushing study, the superior site would have had a direct effect of patellar innervation. Trocars are often 4 mm in size and could easily cut one of the nerve  leading to patella: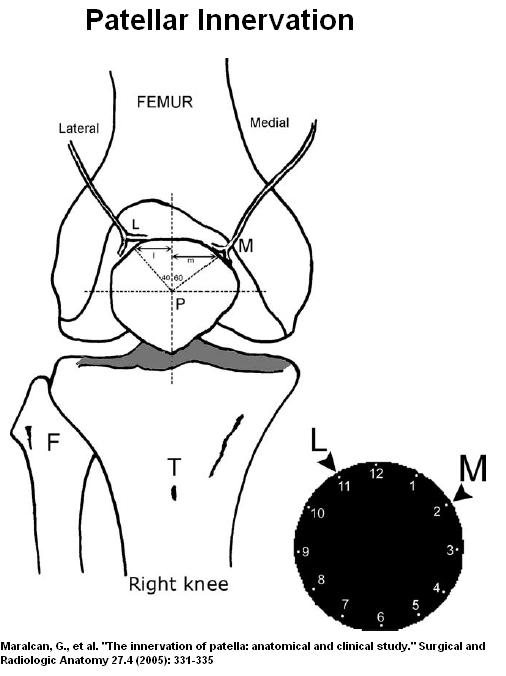 Beyond that, one is left with the distinct feeling that flushing the knee during arthroscopy must have had a therapeutic effect. This brings into question a previous NEJM article stating it  does not. Make up your mind NEJM! – you can't have both… I noticed they did not touch the issue of benefits with surgery except to consider "placebo effect" – something I doubt is the full story. Could be the degree of OA in lavage study prevented it from showing benefit…
Addendum:
Article published does put this in some perspective:
Curr Opin Rheumatol. 2013 Dec 26. [Epub ahead of print]
Knee osteoarthritis and role for surgical intervention: lessons learned from
randomized clinical trials and population-based cohorts.
Buchbinder R, Richards B, Harris I.
http://www.ncbi.nlm.nih.gov/pubmed/24378932
"large randomized controlled trial has demonstrated that arthroscopic partial meniscectomy followed by a standardized physical therapy program results in similar improvements in pain and function at 6 and 12 months in comparison to physical therapy alone in patients with knee osteoarthritis and a symptomatic meniscal tear, confirming the findings of two previous trials."
Having said that, people don't have access to much physiotherapy as much as coverage is sparse….
A warning is sounded:
"A majority of studies have indicated that for people with obesity the positive results of total knee arthroplasty may be compromised by postoperative complications, particularly infection."
Any comments?
" nike huarache pas cher nike huarache pas cher