50% reduction of pain was reported in about 1/2 of post shoulder and knee arthroplasty pain cases with Botox injections. This was sustained by repeated injections.
Br J Med Med Res. 2014 Jan;4(1).
Efficacy of Long-term Effect and Repeat Intraarticular Botulinum toxin in Patients with Painful Total Joint Arthroplasty: A Retrospective Study.
Singh JA.
http://www.ncbi.nlm.nih.gov/pubmed/24319672
http://www.sciencedomain.org/issue.php?iid=215&id=12
(can download article from there)
moderate to severe refractory prosthetic joint pain
ruled out implant infection, loosening or any surgically explainable cause of pain
used 100 – 300 u Botox in 5 mls saline
Confirmed joint penetration by ability to aspirate joint fluid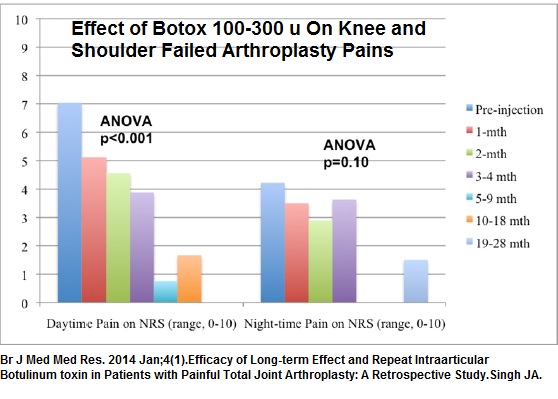 average 3 shots
if failed at 100 units worked up to 200-300
average 3 injections over average 1 year followup.
at 3 -4 months after injection, 57% patients reported 50% reduction in daytime pain
Comment – that, combine with work on retinaculum and muscles, should deal with post knee issues. Have not seen failed shoulder arthropjasty recently.