Distribution of pain originating in the hip was 89 % to the groin, 38 % to the buttock, 33 %  to the anterior thigh, 29 %  to the knee, 27 %  to the greater trochanter, 17 %  to the low back, and 8 %  to the lower leg.  The 5% that did not have groin buttock, or trochanteric pains were more difficult to diagnose.
Mod Rheumatol. 2013 Jan;23(1):119-24.
Distribution of hip pain in osteoarthritis patients secondary to developmental dysplasia of the hip.
Nakamura J, Oinuma K, Ohtori S, Watanabe A, Shigemura T, Sasho T, Saito M, Suzuki M, Takahashi K, Kishida S.
http://www.ncbi.nlm.nih.gov/pubmed/22492057
depending on Charnley OA hip type, referrals varied: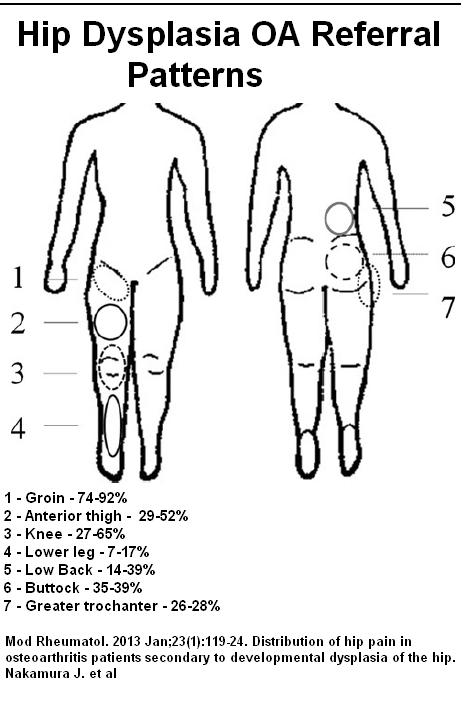 Gave couple cases knee pains – one that showed more hip on bone scan, and one that responded to hip steroid injection
They suggested doctors  "be of aware hip disease masquerading as knee pain or low back pain"
Comment – I am surprised by how much hip pain is missed in back pain sufferers – I guess knee is the same.
site canada goose pas cher fiable site canada goose pas cher fiable