At a recent conference, I was given free samples of Myer's Cocktail. Unfortunately, placebo controlled trial of 8 weekly infusions showed no benefit over placebo in Fibromyalgia. A trial of IV magnesium failed as well. Neither used glutathione so can't be 100% sure but doesn't look very useful…
Ali, A., Njike, V. Y., Northrup, V., Sabina, A. B., Williams, A. L., Liberti, L. S., … & Katz, D. L. (2009).
Intravenous micronutrient therapy (Myers' Cocktail) for fibromyalgia: a placebo-controlled pilot study.
The Journal of Alternative and Complementary Medicine, 15(3), 247-257.
http://www.ncbi.nlm.nih.gov/pmc/articles/PMC2894814/pdf/acm.2008.0410.pdf
5 mL of magnesium chloride hexahydrate (20%)
3 mL of calcium gluconate (10%)
1 mL of hydroxocobalamin (1,000 g/mL)
1 mL of pyridoxine hydrochloride (100 mg/mL)
1 mL of dexpanthenol (250 mg/mL)
1 mL of B-complex 100 containing  100 mg of thiamine HCl, 2 mg of riboflavin, 2 mg of pyridoxine HCl, and 2 mg of panthenol 100 mg of niacinamide, 2% benxyl alcohol
5 mL of vitamin C (500 mg/mL)
20 mL of sterile water.
Was given  over "10 minutes using a 25-gauge butterfly needle."
8 weekly infusions
Results: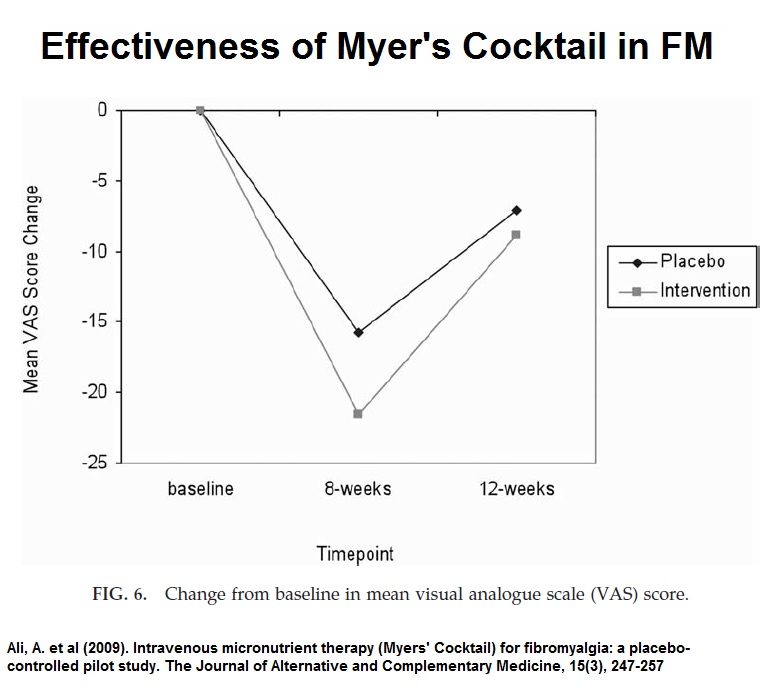 This in not a significant difference.
THE USE OF INTRAVENOUS MAGNESIUM FOR THE TREATMENT OF FIBROMYALGIA.
LCDR Erik P. Voogd, Robert J. Mendez, Michael A. Mazzilli, William A. Beckman, Thomas J. Moran
http://texaspain.org/Docs/abstract_voogd.doc
"received 600mg magnesium sulfate in 50 ml of normal saline infused intravenously over 20 – 30 minutes on two occasions two weeks apart."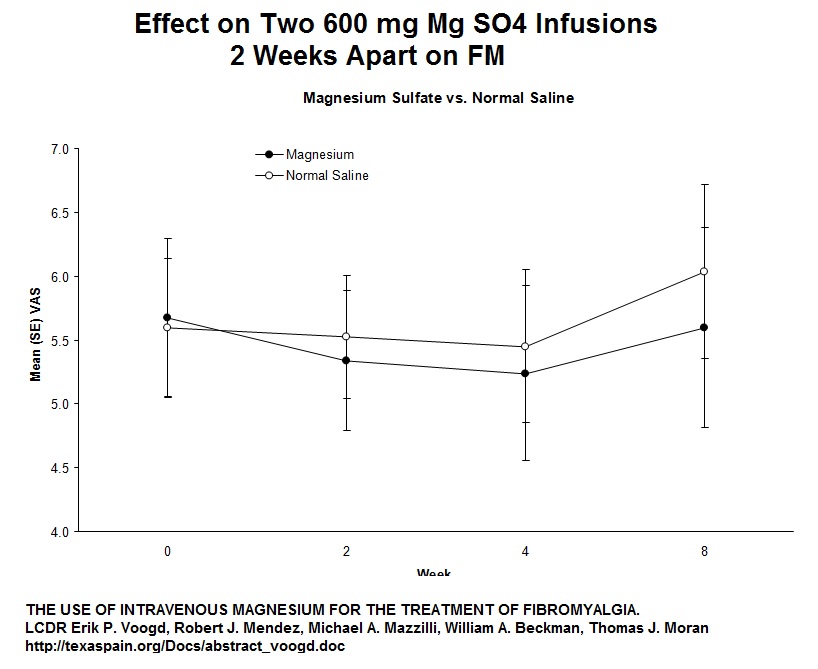 Am disappointed by dose – I used to give 2000 mg IV for migraines.  For neuropathy pain, daily infusions worked:
New Hope For Complex Regional Pain Syndrome I – 5 days Magnesium Infusions
http://painmuse.org/?p=186
Comment  – huge placebo effect. Have one patient who found free sample worked well for chronic fatigue and states protocol is for it to be used twice weekly –  maybe that could have made the difference?