FCE study shows it can predict working in short term but reinjury 
J Occup Rehabil. 2010 Feb 25. [Epub ahead of print]
A Short-Form Functional Capacity Evaluation Predicts Time to Recovery but Not Sustained Return-to-Work.
Branton EN, Arnold KM, Appelt SR, Hodges MM, Battié MC, Gross DP.
abstract here
Now, it depends what an FCE is being ordered for:
An indication a client can do the job without re-injury – it fails there as "The proportion of variance explained by the FCE ranged from 18 to 27%. FCE performance was not significantly associated with future recurrence."
An excuse to put victim back to work even when  s/he know s/he will reinjury – works great there and gives the employer an opportunity to fire the victim on some sort of excuse.
Time to close a case gives some idea of re-injury: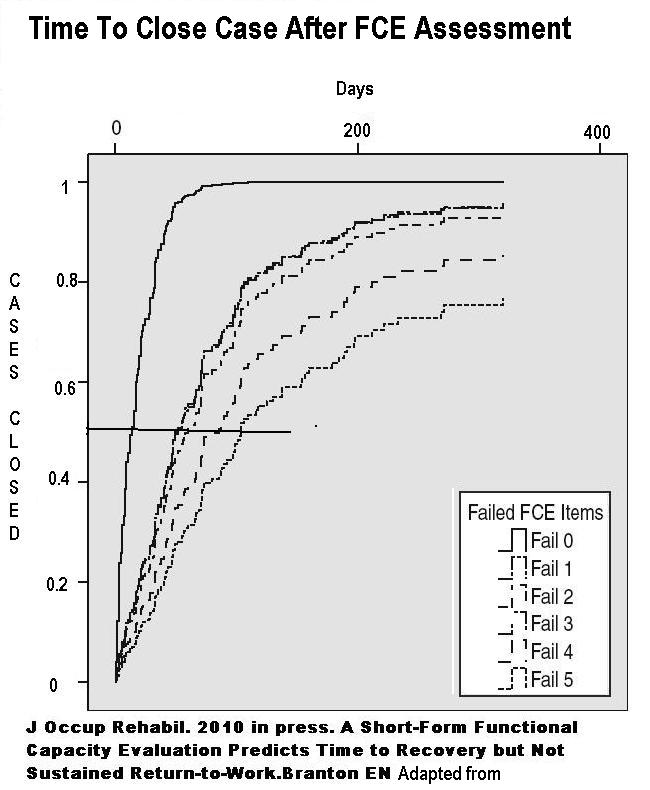 Those in pristine condition (didn't need a FCE) were OK on average in 20 days. However, the rest, some did not ever close. – Averaged between 5 – 15%.  It would be nice to get an accurate estimation on how many items one failed to keep tabs on that.
Comments – FCE do not give evaluation of long term reinjury rates, only short term success.
Any comments on that? pandora joyas pandora joyas