Recent study found variations of RA by latitude and suggested low vitamin D might be cause. I don't think it's that simple
Environ Health Perspect. 2010 Mar 25. [Epub ahead of print]
Association between Residences in U.S. Northern Latitudes and Rheumatoid Arthritis: A Spatial Analysis of the Nurses' Health Study.
Vieira VM, Hart JE, Webster TF, Weinberg J, Puett R, Laden F, Costenbader KH, Karlson EW.
free article here
For years, they suggested that influenza is worse in winters because there is lower vitamin D levels in winter. Now, there is good evidence it is that low humidity increases virulence and contagibility.
J Theor Biol. 2010 Mar 19. [Epub ahead of print]
Structural explanation for the effect of humidity on persistence of airborne virus: Seasonality of influenza.
Minhaz Ud-Dean SM.abstract here
"The model results indicate that direct modulation of influenza transmissibility by absolute humidity alone is sufficient to produce this observed seasonality."
—
PLoS Biol. 2010 Feb 23;8(2):e1000316.
Absolute humidity and the seasonal onset of influenza in the continental United States.
Shaman J, Pitzer VE, Viboud C, Grenfell BT, Lipsitch M.  free article here
"These findings provide epidemiological support for the hypothesis that absolute humidity drives seasonal variations of influenza transmission in temperate regions."
—
Proc Natl Acad Sci U S A. 2009 Mar 3;106(9):3243-8. Epub 2009 Feb 9.
Absolute humidity modulates influenza survival, transmission, and seasonality.
Shaman J, Kohn M.  free article here
"It has been hypothesized that high atmospheric humidity levels lead to surface inactivation of lipid-containing viruses, such as influenza"
OK now comes the Rheumatoid study. Here is the regional results: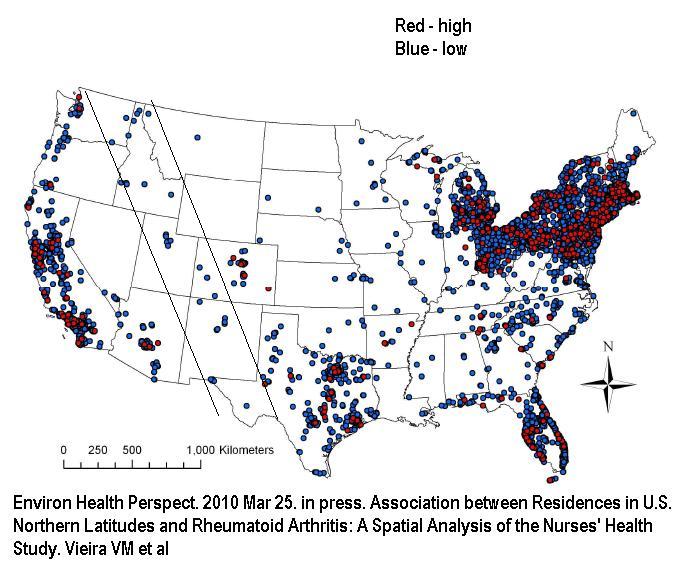 Are you seeing what I'm seeing? – Clusters as south as Florida. People living in populous areas are more likely to get infected with something. Now – lets take people living in a less populous inland area – I put bars over them – It didn't matter how north you were there…
It is true that low Vitamin D could be related; but then Blacks, who can't absorb sunlight, should be much worse off – wonder if that has been studied..

The model needs work. It would be more likely we are looking for a contagion, similar to C. pneumonia that is known to trigger certain rheumatic diseases, as a more likely suspect… Vit D will increase susceptibility so could be a modifying factor – and certain genotypes are going to be susceptible..
Orgiinal author did find vitamin D was low in SLE:
1. Osteoporos Int. 2009 Mar;20(3):427-33. Epub 2008 Jul 4.
Vitamin D deficiency in patients with active systemic lupus erythematosus.
Borba VZ, Vieira JG, Kasamatsu T, Radominski SC, Sato EI, Lazaretti-Castro M.  abstract
Any comments or opinions? airmaxonline airmaxonline