For Chronic back pain – Pamidronate 90 mg diluted in 250 mls saline and given over 4 hours – initially and in 4 weeks resulted in 85% getting 100% relief at 6 months versus very little response in the placebo group…..Initial good results of this nature were known 10 years ago – why is it just coming out now?
Pain. 2013 Sept [Epub ahead of print]
A Pilot Trial of Intravenous Pamidronate for Chronic Low Back Pain.
Pappagallo M, Breuer B, Lin HM, Moberly JB, Tai J, Noto C, Sanchez A, Manfredi
http://www.painjournalonline.com/article/S0304-3959(13)00513-7/abstract?rss=yes
Inclusions:
Chronic back pain for at least 3 months
MRI evidence of disc degeneration or xray evidence of degenerative disc disease/ spondylosis
Pain > 4/10
Exclusions
Spinal compression (out of scope for this study but pamdronate found to help compression fractures in another study)
pars defect/fracture/spondylilothesis >4 mm misalignment
radiculopathy/sciatica
history of hypercalcemia/high calcium
estimated glomerular filtration rate <60 mL/min (low renal function)
clinically significant cardiac, hematological, renal, hepatic, metabolic, endocrinological, psychiatric, or neurological disease
allergy to bisphosphonates
pregnant or nursing
abused alcohol or illicit drugs
insurance/legal cases were considered too complex to deal with
depressed with beck sore >26 (rather severe)
tooth extraction or any invasive dental procedure within 3 months
poor oral hygiene or inadequate dental care
currently receiving treatment for cancer
received systemic steroid therapy or spinal steroid injections within 4 months of study or were anticipated to need injections of steroids within 6 months (would confuse results)
Serum vitamin D deficiency < 20 ng/ml were  pretreated with 50,000 u for up to 5 days  and people were kept on calcium 600 mg and vitamin d 400 u throughout study
Treatment:
Varying stengths of pamidronate tried – each with 7 candidates and 16 subjects in placebo group.
The 90 mg IV Q1month had the best results
As mentioned pamidronate was given in 250 mgs saline over 4 hours – initially and in 1 month
Results: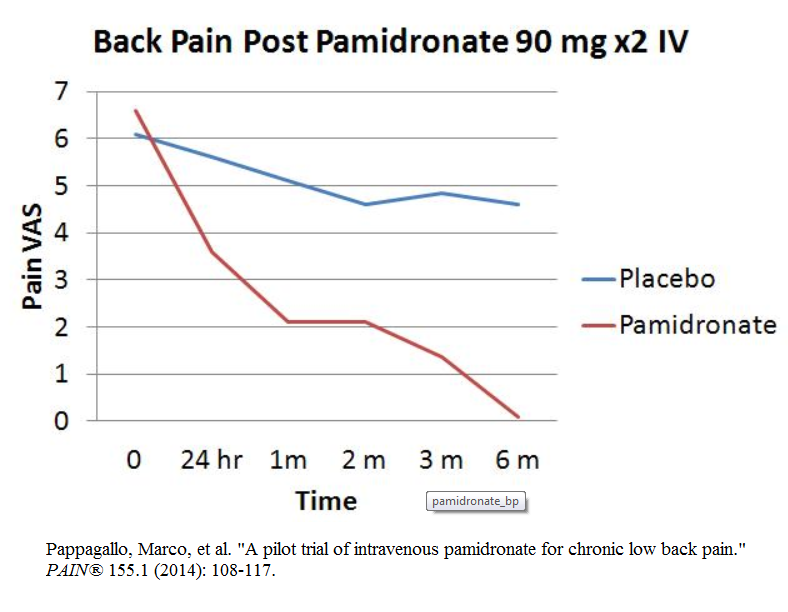 Already significantly improved with one infusion
1/2 developed fatigue, headache and flu-like symptoms for up to 2 weeks following first infusion and less so with second – prior studies have suggested all required ibuprofen or alternative treatments post-infusion
no calcium level changes were seen nor was there any jaw necrosis
1/7  had nausea/vomiting
Comment
Back in 2003, a poorly controlled chart review was done that showed  IV pamidronate had tremendous possibility for back pains:
Pappagallo, M., Breuer, B., Schneider, A., & Sperber, K. (2003).
Treatment of chronic mechanical spinal pain with intravenous pamidronate: a review of medical records.
Journal of pain and symptom management, 26(1), 678-683.
http://www.thblack.com/links/RSD/JPainSymptMngmt2003_26_678_SpinePain%26IV_Pamidronate.pdf
25 cases of disabling back pains
They used "90 mg of pamidronate dissolved in 10 cc of sterile water and 250 cc of 5% dextrose solution was infused intravenously over 4 hours"
All had 3 such infusions over 3 months
all were put on 1000 mg calcium/day to help avoid hypercalcemia
all were put on acetaminophen 500 mg or ibuprofen 400 mg three times a day from the day of the infusion through two days post-infusion
results: – "Pain rating scores decreased in 91% of patients: on a 0–10 numeric rating scale, the mean pain change was -3.6 points and mean percentage change was>41% (P < 0.0001)."
I  wrote about it but didn't force the issue because I waited for further replication. There was one study on erosive spinal disc disease that I missed because one can barely find anything but a citation for it (no abstract)
Poujol D, Ristori JM, Dubost JJ, Soubrier M.
Efficacy of pamidronate in erosive degenerative disk disease: a pilot study.
Joint Bone Spine 2007;74:663–4. (letter – no abstract)
http://www.ncbi.nlm.nih.gov/pubmed/17913553
10 cases with "inflammatory time pattern" and modic type I changes on MRI ( end plate thickening and vertebral body inflammatory changes on MRI)
modic type I changes were located at L5/S1 in 4 patients, L4/L5 in 3 patients, and L3/L4 in 3 patients.
modic II is just end plate(EP); modic I in runs into disc
10 cases
pamidronate 90 mg on day 1 and day 2
initial pain was 6.6/10
At 6 months it was  3.5/10;  in 1 year it was  3.2/10
"After 1 year, 8 patients rated their improvement as excellent or good. The pain no longer showed an inflammatory pattern in 9 of 10 patients, and significant improvements were seen in both the VAS pain score and the mean disability score."
More excitingly was a report finding it helpful in spinal stenosis:
Clin Rheumatol. 2009 Jun;28(6):715-7.
An open study of pamidronate in the treatment of refractory degenerative lumbar spinal stenosis.
Feld J, Rosner I, Avshovich N, Boulman N, Slobodin G, Rozenbaum M.
http://www.ncbi.nlm.nih.gov/pubmed/19219479
24 patients with neurogenic claudication
pamidronate "60 mg in 500 cc normal saline, over 4 hours. After 3 months, those patients reporting some clinical response received additional three monthly infusions." (15 had 6; 5 had 5;  6 and 3; 1 withdrew after 1)
allowed some renal decline subjects: "Patients with stable serum creatinine levels between 1.5 and 2.0 mg/dl received a reduced dose of pamidronate, 30 mg, with those
with more severe renal decline excluded."
VAS pain level went from average 7.6/10 to 4.6/10 by end treatment course (3-6 months) – mean improvement was 40%
side effects – 5/24 had flu-like symptoms that started within hours of infusion and continued for several days
6/9 people reviewed at 8 months had no recurrence.
Comments:
If it proves as efficacious as it sounds, it could change the landscape of back pain managment. Big money is being spent on "evaluation" of chronic pain patients with back pain, with very little done for them if there are no surgical options. Big money is spent spying on some of them to make sure they are not fakers. Money is spent making sure they are not opioid addicts. Pamidronate is not on the drug plan. Though the trade name is $500.00 per 90 mg, the generic is $170.00 per 90 gm plus dispensing fee. Ambulatory care at Pasqua hospital here in Regina will do infusion. Would like to see this money going where it could do the most good…
Big question I have is why, given the glowing results of the first report, did it take 10 years to get any traction on this at all…I'll tell you why – evidence-based medicine – Cohrane reviewed the double blind controlled trial on B12 in chronic pain and disallowed it because they did not do MRIs on all their subjects – are they kidding? -without drug sponsorship who can afford that?  I would expect Cochrane will do the same to this  "small study". There was a Canadian book published called Voltaire's Bastards – the illusion of rationality. I believe the tyranny of evidence-based medicine has kept people in pain and could be construed an immoral bastard. – any comments?
Addendum: – 14% of chronic back pains had facet bone marrow edema for which biphosphonates have been used.
Friedrich, K. M., Nemec, S., Peloschek, P., Pinker, K., Weber, M., & Trattnig, S. .
The prevalence of lumbar facet joint edema in patients with low back pain.
Skeletal radiology, 36(8), 755-760. (2007)
http://link.springer.com/article/10.1007/s00256-007-0293-7#page-1 maillot de foot 2018 maillot de foot 2018