Celiac Disease is associated with multiple problems – migraines, restless leg syndrome (RLS), and now prevalent subclinical sacroliitis. Low iron is implicated in RLS but results on iron supplementation is mixed.
Sacroliitis:
Rheumatol Int. 2010 Feb;30(4):455-60.
Back pain and sacroiliitis in long-standing adult celiac disease: a cross-sectional and follow-up study.
Vereckei E, Mester A, Hodinka L, Temesvári P, Kiss E, Poór G. abstract here
Found xray evidence in 70% of celiac cases of progressive sacroilitis – accumulation of synovial fluid, synovitis, erosion with concomitant sclerosis, sacroiliitis or calcification of the ligament. – follow imaging demonstrated progression
This could present with joint stiffness and pain although most were asymptomantic.
Migraine – discussed here
Migraines More Common in Celiac Disease (Which Could Still Have Normal Biopsy)
Restless leg syndrome:
Dig Dis Sci. 2009 Sep 3.
Celiac Disease Is Associated with Restless Legs Syndrome.
Weinstock LB, Walters AS, Mullin GE, Duntley SP. abstract here
At some time or other, 35% of celiac patients will have Restless legs compared to 10% of spouces.
50% of this will improve with 6 month gluten free diet
Iron deficiency was seen in 40% of celiac restless leg sufferers versus 6% of celiac subjects without restless legs
Low Iron is a potent clue for celiac disease especially in the elderly. Please see:
Older Celiacs With Iron Deficiency Anemia Missed
This has led some to suggest that restless legs with low iron could be celiac:
Sleep Med. 2009 Aug;10(7):763-5.
Celiac disease as a possible cause for low serum ferritin in patients with restless legs syndrome.
Manchanda S, Davies CR, Picchietti D. abstract here
Treating low iron is not easy – Some studies have not shown help from oral iron.
A Randomized, Double-Blind Placebo-Controlled Trial of Iron in Restless Legs Syndrome
Bradley J. Davisa Alex Rajputa Michele L. Rajputb Edward A. Aula Gerald R. Eichhorna
Eur Neurol 2000;43:70–75
Ferrous sulfate 325 mg b.i.d. or placebo for 12 weeks
Conclusions: Iron sulfate does not appear to be an effective empiric treatment for restless legs syndrome.
However, a most recent study found some benefit:
Sleep Med. 2009 Oct;10(9):973-5. Epub 2009 Feb 18.
Efficacy of oral iron in patients with restless legs syndrome and a low-normal
ferritin: A randomized, double-blind, placebo-controlled study.
Wang J, O'Reilly B, Venkataraman R, Mysliwiec V, Mysliwiec A. abstract here
Only those patients with a measured ferritin level of 15–75 ng/ml were included in the study.
ferrous sulfate 325 mg twice daily plus Vitamin C 100 mg twice daily (known to improve iron absorption)
HOLD THE PHONE HERE – is this even significant? – the answer comes at the end of the discussion "there is a nonsignificant trend in subjective improvement in quality of life in RLS patients treated with oral iron therapy" – which means nonsignificant improvement…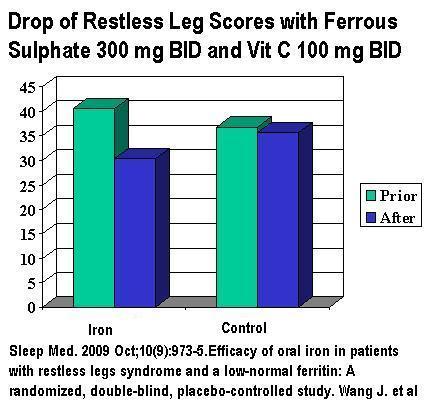 What about IV therapy?
Sleep Med. 2004 May;5(3):231-5.
The treatment of restless legs syndrome with intravenous iron dextran.
Earley CJ, Heckler D, Allen RP. abstract here
Single infusion of 1000 mg Iron Dextran – An initial 25 mg was infused, the patient monitored for one hour for allergic reactions (shortness of breath – if so stopped), and the remaining 975 mg infused at a rate of about 3–5 mg/min.
"After a single IV iron treatment, 60% of our patients showed complete remission of RLS symptoms and remained free of any other RLS medication for 3–36 months."
Following this success, the above authors gave supplemental infusions to those when the relapsed:
Repeated IV doses of iron provides effective supplemental treatment of restless legs syndrome
Christopher J. Earley, , Debbie Heckler and Richard P. Allen
Sleep Medicine Volume 6, Issue 4, July 2005, Pages 301-305 abstract here
If symptoms returned within two years(104 weeks) of the initial 1000 mg infusion
provided their ferritin was less than 300 mcg/l
supplementaltreatment was 450 mg of iron gluconate (Ferrlecit) given as a course of three separate, 150 mg infusions deliveredover a 5–10 day period. used iron gluconate safer but
required several administrations to achieve total dosage of 450 mg. They felt the safety outweighed the inconvenience.
too few subjects to make any conclusions
OK – what about placebo effect? – let see the double blind trials:
Am J Kidney Dis. 2004 Apr;43(4):663-70.
A double-blind, placebo-controlled trial of intravenous iron dextran therapy in patients with ESRD and restless legs syndrome.
Sloand JA, Shelly MA, Feigin A, Bernstein P, Monk RD.
End stage renal disease
IV iron delivered in a single dose of 1,000 mg of iron dextran diluted in 500 mL or normal saline control
a test dose of 30 mg (15 mL of a 500-mL solution containing 1,000 mg of iron dextran) over 3 minute
"If a drug reaction was observed, the infusion was immediately stopped and a physician/investigator was notified. Diphenhydramine, 50 mg IV; epinephrine, 1 mL of 1 to 1,000 concentration; and methylprednisolone, 60 mg, were available for administration at the patient's chair for all infusions."
Patients then were observed for 1 hour. If no reaction to the test dose occurred, the remaining solution was infused over a 3-hour period (<6 mg/min)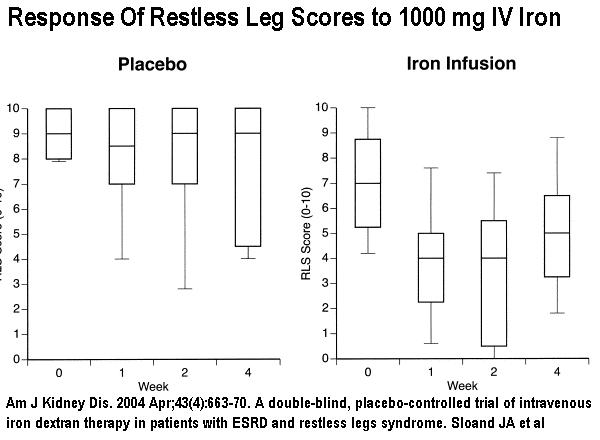 conclusions – "High-dose iron dextran infusion is associated with a significant, but transient, reduction in symptoms of RLS in patients with ESRD [end stage renal disease]."
Sleep Med. 2009 Feb;10(2):206-11. Epub 2008 Feb 14.
A randomized, double-blind, placebo-controlled trial of intravenous iron sucrose
in restless legs syndrome.
Earley CJ, Horská A, Mohamed MA, Barker PB, Beard JL, Allen RP. abstract here
free full article here
[on day 3]all subjects received a 500 ml NaCl intravenous infusion over 10 hours and a second 500 ml infusion over 12 hours on day 4. The solution contained either 500 mg iron sucrose (Venofer) or NaCl (placebo).
2 wks time – 57% (4/7) of the placebo and 46 % of the iron-treatment (5/11) group reported some improvements in symptoms sufficient enough not to go back on any RLS medications at that visit. "
Of those responders – The median numberof weeks off RLS medications was 41 weeks for the 4 placebo and 28 weeks for the 5 iron treatment responders."
On the other hand, only 2 subjects both in the iron-treatment group had a 50% or greater reduction on PLMS [periodic leg movements] at 2-weeks post treatment.
mediocre benefits there
well looks like can get some results but not great with iron supplementation.
any comments?