Spicule removal and later, metal bracing nail straight, has been shown equivalent to partial matrix excision
A recent review of foot problems recommended this treatment.
Original article here:
Partial matrix excision or orthonyxia for ingrowing toenails.
Kruijff S, van Det RJ, van der Meer GT, van den Berg IC, van der Palen J, Geelkerken RH.
J Am Coll Surg. 2008 Jan;206(1):148-53.
Protocol:
1) Spicule removed and healing allowed to occur – about a week
2)"A remanit metal thread with a thickness of 0.5 mm is bent in nail form, with an omega shape on the highest level and on both the lateral and medial sides, small U-shaped hooks, which are placed around both edges of the nail. The bent brace is put under tension and placed on the dorsum of the nail and attached with resin or gel." [?crazy glue]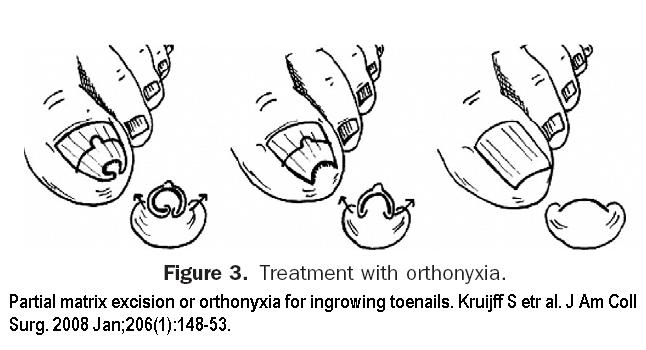 3) After 6 to 10 weeks, old removed and new brace inserted This is continued until "nail is shaped correctly."
Resuming activites and hobbies was faster with splint.
Where can you get it?
It's called the VHO-Osthold Brace and can be got here:
http://www.vho-osthold.com/en/produkte.php 
A different design  "NailEase" brace from here:
Comment – Verdict seems that chemical destruction of nailbed is easier but there are going to be some cases…
addendum – here is a pic of putting pledget under corner of nail as a treatment for ingrown toenails: – needs to be put in under some form or anesthetic.