Neuropathic faeture – electric shocks pain,  burning pain,, radiating pain with increased touch sensitivity to an area were commonly seen in joints.
Arthritis Rheum. 2013 Apr 1. doi: 10.1002/art.37962. [Epub ahead of print]
Neuropathic features of joint pain: A community-based study.
Soni A, Batra R, Gwilym S, Spector T, Hart D, Arden N, Cooper C, Tracey I, Javaid M.  abstract here
The used the PainDetect questionnaire to local possible neuropathic features: – Click on it to get bigger picture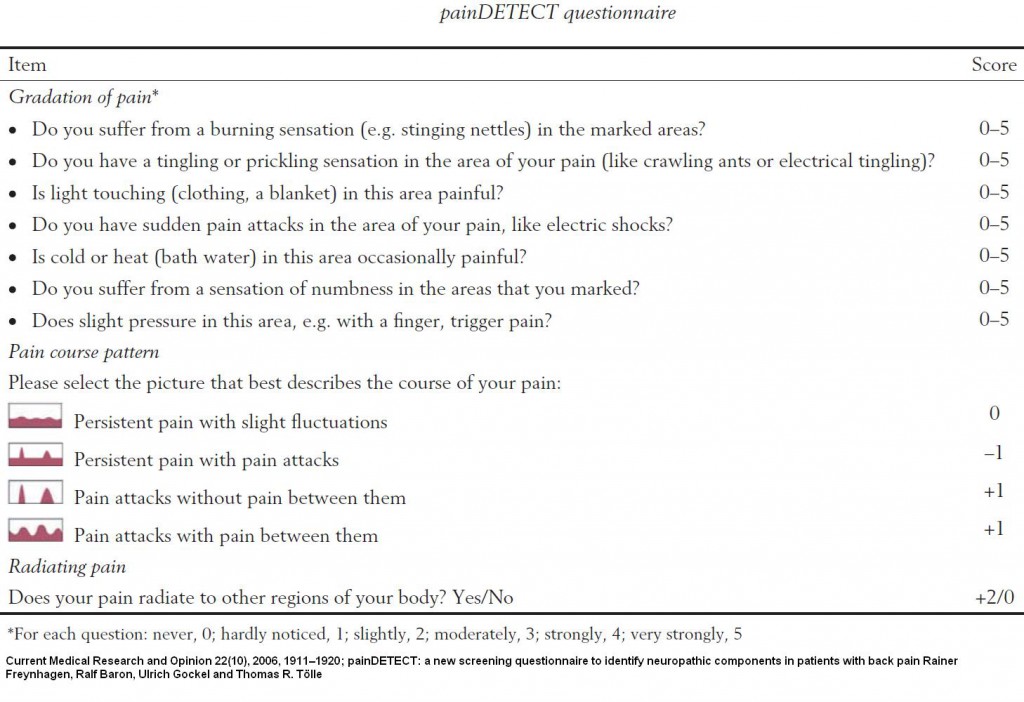 Results:
pain with light pressure (20.2%)
sudden pain attacks like electrical shocks (16.1%)
radiating pain (13.7%)
burning pain (13.2%).
They confirmed their results with Quantiative Sensory Testing (QST)
8.6% had significant neuropathic pains (PainDetect >12)
only 6% had no neuropathic features
20% of those on medications were likely neuropathic vs 2.5 if not
They refer to a study of severe OA knee by Hockman JR 2011:
Hochman JR, Gagliese L, Davis AM, Hawker GA.
Neuropathic pain symptoms in a community knee OA cohort. Osteoarthritis and cartilage / OARS, Osteoarthritis
Research Society 2011;19(6):647-54.  abstract here
His results were much higher:
radiating pain (59.2%)
electrical shocks (50.4%),
sensitivity to pressure (34.9%)
burning pain (33.3%
in:
Arthritis Care Res (Hoboken). 2010 Jul;62(7):1019-23.
The nerve of osteoarthritis pain.
Hochman JR, French MR, Bermingham SL, Hawker GA.  abstract here
They are described as occurring more in younger subjects with more pain, slightly more common in women.
Comment – am going to have to ask patients if there is electric shocks, radiating pain, and burning pain, and pain with light pressure. I suspect the saphenous nerve would be involved and blocks there helpful. maillot de foot 2018 maillot de foot 2018