20 mls of 2% Lidocaine Intravesically (into bladder) wil cause over a 50% relief of pain in patients with bladder pain syndromes – distinguishing it from other pelvic pain diseases.
In our location, there is no interest in diagnosing interstitial cystitis and related disorders. By cystoscopy, it requires one do a double distention of the bladder and then look for granulations. In cases I have referred, many times no distention is done at all – and certainly not a double one. Potassium Chloride instillations are not done in this province and from what I have heard are painful and difficult to interpret.
Int Urogynecol J Pelvic Floor Dysfunct. 2010 Mar;21(3):321-4.
Intravesical lignocaine in the diagnosis of bladder pain syndrome.
Taneja R. Pushpawati Singhania Research Institute, Press Enclave Road, Sheikh Sarai abstract here
Lidocaine 2% (Xylocard) 20 mls was instilled
"Thirteen out of these 15 women had features suggestive of BPS[bladder pain syndrome]/IC [interstitial cystitis] on cystoscopy"
"Out of the seven non-responders, two women were found to have endometriosis, four were diagnosed as pelvic inflammatory disease and one had diverticulitis."
Comment – wow – a simple test that could be done and could also be beneficial for the pain.
as per:
BJU Int. 2009 Apr;103(7):910-8. Epub 2008 Nov 13.
Intravesical alkalinized lidocaine (PSD597) offers sustained relief from symptoms of interstitial cystitis and painful bladder syndrome.
Nickel JC, Moldwin R, Lee S, Davis EL, Henry RA, Wyllie MG. abstract here
200 mg alkalinized to ph 8 (with 8.7 % bicarcarbinate to volume of 10 mls) 2% lidocaine
Not sure how that works as 10 mls 2% lidocaine (Xylocard) would be 10 mls to start with…
"alkalinized by sequential administration of sodium bicarbonate (to prevent precipitation of the
lidocaine in the syringe or urinary catheter)"
instilled daily for 5 days
instilled into an empty bladder
instillate and catheter were left in the bladder for 1 h before drainage.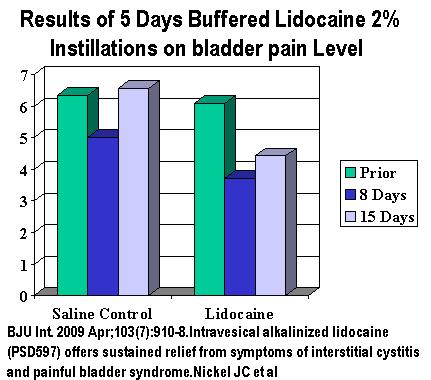 Comment – gives relief – wonder if adding heparin would be even better.. catalogo de pandora catalogo de pandora