Significant numbers of people are surprised to find themselves living in chronic pain after surgery. There are a growing number of options found helpful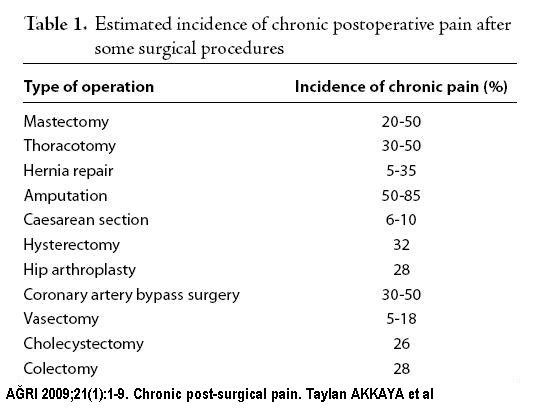 A good free review of Post Mastectomy pain is here:
Rev Bras Anestesiol. 2009 May-Jun;59(3):358-65.
Post-mastectomy pain syndrome: the magnitude of the problem.
Couceiro TC, Menezes TC, Valênça MM. free article here
This is a list I am accumulating of potential preventions: Having said that, several article were published in March 2010 Anesthesiology suggesting that genetics, age and sex were factors and that post surgical pain issues may not be avoidable. Here's what I came up with:
1) Don't have it done – "Vigilant waiting" has been suggested for asymptomatic inguinal hernias. I have one elderly fellow with bilateral inguinal hernias that manages well and I have suggested he not bother having surgery.
2) Have it done when older– oddly, older people have half the post surgical pain issues despite fact pain relieving DNIC is not as good…
3) Have any pain well controlled prior to surgery. Phantom limb is worse in subjects with considerable pain pre-operatively.
4) Get you Vit B12 levels checked and take 2000 mcg/day. I had one gentleman with a low B12 illness have chemotherapy with disasterous effects on nerves. Recent Chinese literature found B12 helped recovery from ulnar nerve surgery
5) Take Vitamin C:
Open Orthop J. 2010 Feb 17;4:62-6.
Clinical Results of 40 Consecutive Basal Thumb Prostheses and No CRPS Type I
After Vitamin C Prophylaxis.
Zollinger PE, Unal H, Ellis ML, Tuinebreijer WE. abstract here
Complex Regional Pain is severe pain that can inappropriately occur after trivial wrist fractures and surgery. Vitamin C has been shown to reduce incidence of this after wrist fractures by 2 -3 fold if taken for several month following surgery at 500-1000 mg twice daily. It has also been shown to help prevent post shingles severe pains as well. These effects are discussed here:
In the thumb surgery study, they used "the patients took 500 mg ascorbic acid once
daily two days before surgery [and] during a period of 50 days" . They had no cases of severe pain after, which is different from previous studies that found a 13% incidence.
I would suggest Vitamin C 500 – 1000 mg TWICE daily as Vit C has a very short half life in the body.
6) An article published in 2004 claimed Venlafaxine prevented post mastectomy pains but has since had to be retracted as it contained fabricated data. ah – rats..
7) Gabapentin:
There are some animal model experiments that suggest Gabapentin orally before and after surgery might be helpful. Doses varied with tolerance up to 2400 mg.
It has been found helpful in post traumatic nerve injury:
Pain 138 (2008) 255–266.
Gabapentin in traumatic nerve injury pain: A randomized, double-blind, placebo-controlled, cross-over, multi-center study
Torsten E. Gordh a, Audun Stubhaug b, Troels S. Jensen c, Staffan Arne`r d, Bjo¨rn Biber e,1,
Jo¨rgen Boivie f, Clas Mannheimer g, Jarkko Kallioma¨ki h, Eija Kalso abstract here
Lyrica is of the same family and would be more tolerable…
It was found helpful in post hysterectomy pains:
Eur J Anaesthesiol. 2006 Feb;23(2):136-41.
Gabapentin attenuates late but not acute pain after abdominal hysterectomy.
Fassoulaki A, Stamatakis E, Petropoulos G, Siafaka I, Hassiakos D, Sarantopoulos C.
abstract here
orally gabapentin 400 mg 6 hourly or placebo. "Treatment started 18 h preoperatively and continued for 5 postoperative days"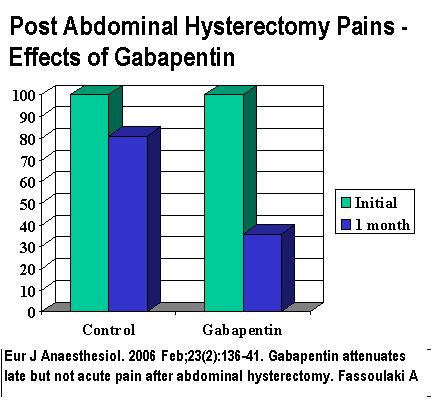 Unfortunately, everybodies experience hasn't been as good:
Fassoulaki A, Patris K, Sarantopoulos C. Hogan Q.
The analgesic effect of gabapentin and mexiletine after breast surgery for cancer.
Anesth Analg 2002;95:985–91.
No difference in overall post mastectomy pain – 58% placebo, 54% Gabapentin, and 45 % Mexiletine. However, the burning pain was much less (P=.001)
8) Pre-emptive anesthesia -injecting local in site or epidural anesthesia to prevent brain barrage of pain signals – a talk in itself… Also use of ketamine maybe
For a hernia repair that would mean a spinal or maybe better, a paravertebral block:
Acta Anaesthesiol Scand. 2010 Feb;54(2):246-51. Epub 2009 Oct 15.
Unilateral paravertebral block: an alternative to conventional spinal anaesthesia for inguinal hernia repair.
Bhattacharya P, Mandal MC, Mukhopadhyay S, Das S, Pal PP, Basu SR. abstract here
Paravertebral Block (by spine) at time of breast surgery was found to reduce chances of presistent pains:
Preincisional Paravertebral Block Reduces the Prevalence of Chronic Pain After Breast Surgery
Pekka M. Kairaluoma, MD, Martina S. Bachmann, MD, PhD, Per H. Rosenberg, MD, PhD and Pertti J. Pere, MD, PhD
A & A September 2006 vol. 103 no. 3 703-708  free article here
Used "0.5% bupivacaine 1.5 mg/kg at T3"
Pre-emptive anesthesia does not just mean having an epidural or caudal block
9) Good pain control before and after surgery with opioids:
Can opioids prevent post-operative chronic pain?
European Journal of Pain, Volume 9, Issue 2, Pages 153-156
A.Stubhaug abstract here
"Opioids have proven effect both in animal models, experimental human models, and in some clinical models"
10) L-Acetyl-carnitine – multiple studies have demonstrated its potential to prevent nerve damage in animal cases.
In Humans, most importantly, has been shown to prevent nerve damage from chemotherapy:
Neuroscience Letters Volume 397, Issue 3, 24 April 2006, Pages 219-223
Acetyl-l-carnitine prevents and reduces paclitaxel-induced painful peripheral neuropathy
Sarah J.L. Flattersa,Wen-Hua Xiaoa, Gary J. Bennetta, b, (a McGill, Montreal study) abstract here
also:
Delayed acetyl-l-carnitine administration and its effect on sensory neuronal rescue after peripheral nerve injury
Journal of Plastic, Reconstructive & Aesthetic Surgery, Volume 60, Issue 2, February 2007, Pages 114-118Andrew D.H. Wilson, Andrew Hart, Thomas Brännström, Mikael Wiberg, Giorgio Terenghi abstract
Acetyl-l-carnitine increases nerve regeneration and target organ reinnervation – A morphological study
Journal of Plastic, Reconstructive & Aesthetic Surgery, In Press, Corrected Proof, Available online 6 August 2009
The neuropathy-protective agent acetyl-l-carnitine activates protein kinase C-γ and MAPKs in a rat model of neuropathic pain
Neuroscience, Volume 165, Issue 4, 17 February 2010, Pages 1345-1352
L. Di Cesare Mannelli, C. Ghelardini, A. Toscano, A. Pacini, A. Bartolini
Protective actions of l-carnitine and acetyl-l-carnitine on the neurotoxicity evoked by mitochondrial uncoupling or inhibitors
Pharmacological Research, Volume 32, Issue 6, December 1995, Pages 383-389
M.A. Virmani, R. Biselli, A. Spadoni, S. Rossi, N. Corsico, M. Calvani, A. Fattorossi, C. De Simone, E. Arrigoni-Martelli
Pharmacological enhancement of peripheral nerve regeneration in the rat by systemic acetyl–carnitine treatment
Neuroscience Letters, Volume 334, Issue 3, 16 December 2002, Pages 181-185
Andrew McKay Hart, Mikael Wiberg, Giorgio Terenghi abstract
It may also partially help prevent impotence after prostatectomy:
Acetyl-l-carnitine plus propionyl-l-carnitine improve efficacy of sildenafil in treatment of erectile dysfunction after bilateral nerve-sparing radical retropubic prostatectomy
Urology, Volume 66, Issue 5, November 2005, Pages 1080-1085
Giorgio Cavallini, Fabio Modenini, Giovanni Vitali, Aleardo Koverech abstract
The dose is 500 mg twice daily – I got some from ebay as a powder – 500 mg is about 1/2 an empty large 00 gel capsule so you can make it up that way if you get powder...
11) Amitriptyline and desimpramine tricyclic antidepressants work in the animal model… so if you get a craving for cheese you are set…
Pain. 2009 Dec;146(3):308-14. Epub 2009 Sep 11.
Perisurgical amitriptyline produces a preventive effect on afferent hypersensitivity following spared nerve injury.
Arsenault A, Sawynok J. abstract here
12) Pre-op soya diet – OK another rat one… Rats that consume only soy for over 15 hours pre-op had much less nerve damage pain from sciatic nerve damage
Anesthesiology:November 2001 – Volume 95 – Issue 5 – pp 1238-1244.
Consumption of Soy Diet before Nerve Injury Preempts the Development of Neuropathic Pain in Rats
Shir, Yoram M.D.; Raja, Srinivasa N. M.D.; Weissman, Charles S. M.D.; Campbell, James N. M.D.; Seltzer, Ze'ev D.M.D.
read for yourself here:abstract here
13) Minocycline and hence perhaps Doxycycline 100 mg twice daily with food starting 1 week prior to surgery – found to prevent neuropathic pain in the animal model – two articles:
Attenuation of Pain After Spinal Injury May be Possible
Ounce of Prevention is a Pound of Cure For Neuropathic Pain
Also articles keep coming out theorically showing reduced neuropathy in animals while on:
recent article example:
Neuroscience. 2010 Feb 17;165(4):1420-8.
Minocycline reduces the injury-induced expression of prodynorphin and pronociceptin in the dorsal root ganglion in a rat model of neuropathic pain.
Mika J, Rojewska E, Makuch W, Przewlocka B abstract here
——–
14) Central acting NSAID's – even with good nerve blocking surgery induces central changes in inflammation promoting COX pathways. Shutting these circuits with a central acting arthritis pill would be helpful.
J Cardiothorac Vasc Anesth. 2002 Oct;16(5):607-11.
Comparison between repeat bolus intrathecal morphine and an epidurally delivered bupivacaine and fentanyl combination in the management of post-thoracotomy pain with or without cyclooxygenase inhibition.
McCrory C, Diviney D, Moriarty J, Luke D, Fitzgerald D. abstract here
central acting nimesulide, 100 mg twice daily;
peripheral acting nonselective COX inhibitor ibuprofen, 400 mg 4 times daily.
The top one has central acting effects and significantly reduced narcotic needs if started pre-op. Ibuprofen did not.
drug withdrawn due to liver damage
Another study found Vioxx (rofecoxib, 50 mg) and Ketamine pre-emptively worked well. Vioxx was lipophilic and went into the brain. It was great for migraines and worked in part centrally. It is no longer available due to liver/heart concerns. I miss that drug…
Preincisional Treatment to Prevent Pain After Ambulatory Hernia Surgery
D. Janet Pavlin, MD, Karen D. Horvath, MD, Edward G. Pavlin, MD and Kristien Sima, BS
Anesth Analg 2003;97:1627–32 free article here
14) Variety of other techniques all published by a Scott Reuben but have all been retracted due to fabricated data. (what was they guy thinking???) as per here
One bogus technique was injecting Morphine into iliac crest site where bone harvested for fusion. Recent study showed it did not work:
Anesth Analg. 2010 Mar;110(3):928-33. Epub 2009 Dec 30.
Local administration of morphine for analgesia after autogenous anterior or posterior iliac crest bone graft harvest for spinal fusion: a prospective, randomized, double-blind, placebo-controlled study.
Wai EK, Sathiaseelan S, O'Neil J, Simchison BL. abstract here
15) For Breast cancer, it is imperative to take care of lymphedema. Some measures include:
avoid trauma to area – this includes scratches, and excessive heat or cold
pace activity
wear loose fitting garments
Special compressive garments
Manual lymphatic drainage – self and therapist
One link I have is the National Lymphedema Network Here
16) Not exactly a prevention, but prompt injection of tender scars can help prevent persistent pain from them. There is a whole school of Neural therapy in part based on this treatment. One recent example of results here:
Clin Ter. 2009 Nov-Dec;160(6):445-9.
Our experiences in chronic benign pain by injecting local anaesthetic into scars
Barbagli P, Bollettin R. abstract here
17) Measures to reduce scar – primarily experimental
discussed here;
Oral Surg Oral Med Oral Pathol Oral Radiol Endod. 2010 Mar;109(3):357-66.
Scar less: a review of methods of scar reduction at sites of peripheral nerve
repair.
Ngeow WC. abstract here
One promising technique was amniotic fluid:
"Ozgenel and Filiz71 reported that human amniotic fluid reduced scarring and enhanced nerve
regeneration at a nerve repair site. They suggested that hyaluronic acid and hyaluronic acid–stimulating activator were the main components in the human amniotic fluid that reduced scar formation.71"
good luck with that one…
addendums:
2 hours more sleep per day starting 1 week prior to surgery reduced opioid use after surgery by 37% (painweek 2013 post operatve pain talk)
I would be interested in expanding list – please send additional…
relaxation traing after surgery:
Int J Nurs Pract. 2013 Oct;19(5):462-70. doi: 10.1111/ijn.12088. Epub 2013 May 28.
Effect of systematic relaxation techniques on anxiety and pain in older patients undergoing abdominal surgery.
Rejeh N, Heravi-Karimooi M, Vaismoradi M, Jasper M.
SourceDepartment of Nursing, Faculty of Nursing and Midwifery, Shahed University, Health of the Elderly Research Group, Tehran, Iran.
http://onlinelibrary.wiley.com/doi/10.1111/ijn.12088/abstract;jsessionid=452018D606FD7F5B74D29262761B347F.f02t02?deniedAccessCustomisedMessage=&userIsAuthenticated=false
intervention was slowly reading relaxing sentences after surgery – decrease anxiety and opioid consumption
Use of relaxation is nothing new and has been reported some years ago:
Roykulcharoen, V., & Good, M. (2004).
Systematic relaxation to relieve postoperative pain.
Journal of advanced nursing, 48(2), 140-148.
http://onlinelibrary.wiley.com/doi/10.1111/j.1365-2648.2004.03181.x/abstract?deniedAccessCustomisedMessage=&userIsAuthenticated=false
Use of music postoperatively
Good, Marion.
"Effects of relaxation and music on postoperative pain: a review."
Journal of advanced nursing 24, no. 5 (1996): 905-914.
http://onlinelibrary.wiley.com/doi/10.1111/j.1365-2648.1996.tb02925.x/abstract
and
Good, M., Stanton-Hicks, M., Grass, J. A., Cranston Anderson, G., Choi, C., Schoolmeesters, L. J., & Salman, A. (1999).
Relief of postoperative pain with jaw relaxation, music and their combination.
Pain, 81(1), 163-172.
Hypnosis
Blankfield, Robert P.
"Suggestion, relaxation, and hypnosis as adjuncts in the care of surgery patients: a review of the literature."
American Journal of Clinical Hypnosis 33, no. 3 (1991): 172-186.
http://www.tandfonline.com/doi/abs/10.1080/00029157.1991.10402927
would be interesting to see if hypnosis could prevent some persistent post-surgical pain….