DEMS – dry eyes and mouth syndrome; SAPS – sicca asthenia polyalgia syndrome
These cases do not qualify for sjogren's syndrome but have "Sicca [dryness] symptoms and "nonspecific musculoskeletal pain". They were found to have 59.2% thyroid peroxidase antibody rate compared to 20.4% controls P= .0009.
J Rheumatol. 2009 Jul 15. [Epub ahead of print]
Increased Prevalence of Antibodies to Thyroid Peroxidase in Dry Eyes and Mouth Syndrome or Sicca Asthenia Polyalgia Syndrome.
Mavragani CP, Skopouli FN, Moutsopoulos HM  abstract here
Most complained more of "arthalgias" – joint aches
Muscle biopsy showed "presence of mild lymphocytic infiltrates in MSG biopsies without fulfilling  histopathological criteria for Sjogren's syndrome"
"Abnormal SchirmerI test was evident in 9 out of the 24 patients tested (37.5%), while Rose Bengal stain of the conjunctiva, suggestive of keratoconjunctivitis sicca, was present in 9 out of the 23 patients tested (39.1%)"
diabetes mellitus, drug side effects, preexisting lymphoma,previous head and neck irradiation, and sarcoidosis – all which can cause dryness – were not evident.
Raynaud's phenomenon (white hands in response to cold) was seen in 14.8% – no difference than seen in Sjogren's
many were already on thyroid replacement.
Comment  –
here is another possible explanation of "Fibromyaglia"(FM) like symptoms with dryness symptoms
it, however, does not explain the other 40%
So how does one not miss cases of Sjogren's syndrome?:
Early criteria were developed in 1986:
Sjögren's syndrome. Proposed criteria for classification
Robert I. Fox, Charles A. Robinson, John G. Curd, Franklin Kozin, Francis V. Howelly
Arthritis & Rheumatism Volume 29, Issue 5, pages 577–585, May 1986  abstract here
This was modified in 2002:
Ann Rheum Dis 2002;61:554-558
Classification criteria for Sjögren's syndrome: a revised version of the European criteria proposed by the American-European Consensus Group
C Vitali, S Bombardieri, R Jonsson, H M Moutsopoulos, E L Alexander, S E Carsons, T E Daniels, P C Fox, R I Fox, S S Kassan, S R Pillemer, N Talal, M H Weisman
free article here
Their criteria is based on a large study done previously:
Assessment of the European classification criteria for Sjogren's syndrome in a series of clinically defined cases: results of a prospective multicentre study
Claudio Vitali et al
Annals of the Rheumatic Diseases 1996; 55: 116-121 free article here
The criteria for Sjogren's encludes:
1) keratoconjunctivis sicca(dry eyes), as documented bySchirmer's test (strip of paper put in lower eyelid without anesthesia – look to see if <5 mm in 5 min); Can otherwise  see it wets  rose bengal or fluorescein dye staining etc. –  As mentioned above, however 39% of DEMS cases would fail this test. Must be persistent fopr over 3 months.
2) )Objective evidence of diminished salivary gland flow(dry mouth – xerostomia) – well, dry mouth is almost universal in Fibromyalgia cases, particularly those on Amitriptyline. Allergies is common in FM; and with it, mouth breathing from allergic rhinitis –  and with that, a dry mouth. To make matters worse, the stuffy nose can be a cause of nocturnal disordered breathing which is implicated as a cause in certain cases of Fibromyalgia.
3) salivary gland imaging 
3) Minor  lip or salivary gland biopsy, obtained through normal mucosa, with the specimen abnormal- a check with a rheumatologist here has suggested that this has fallen out of favor and not very reliable.
4)Blood tests:
RA factor
ANA
?ESR
2002 review stated anti – SS antibodies -presence of Ro(SS-A) or La(SS-B) antibodies-"were present in 79 of 81 patients initially classified as having primary SS (sensitivity 97.5%), but in only seven of 121 non-SS controls (specificity 94.2%)."
A copy of the 2003 criteria: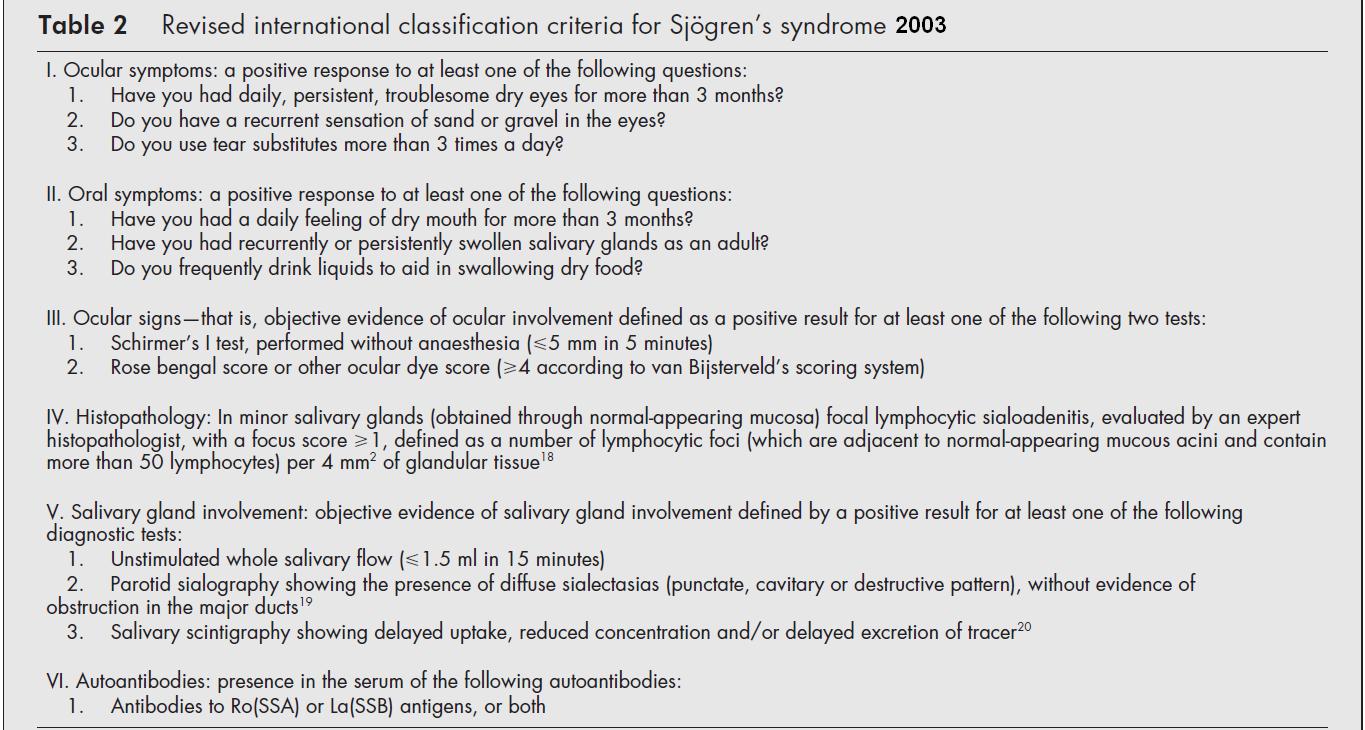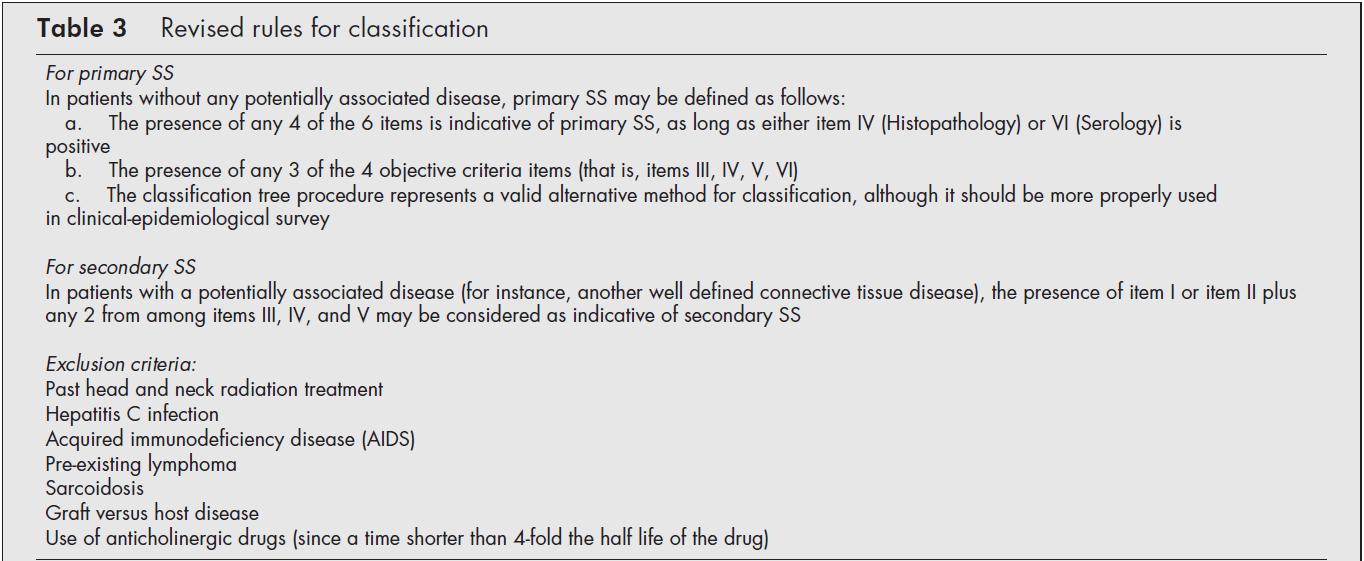 However, a more recent article:
Beijing Da Xue Xue Bao. 2012 Feb 18;44(1):51-4.
Clinical assessment of oral diagnostic items in 2002 classification criteria for primary Sjogren's syndrome.
Yan ZM, Wei P, Qiang L, Hua H.  abstract here
Found blood testing only "79.7% of the patients had positive anti-SSA antibody, and 75.0% of them had elevated globulin [gammaglobulin] level"
Also only "60.1% had positive parotid sialography"
They had "20.3% of the patients were finally diagnosed by performing the lower lip biopsy".
In 1996, a chinese group also  proposed different criteria:
PRELIMINARY DIAGNOSTIC CRITERIA FOR PRIMARY SJOGREN'S SYNDROME IN CHINA
Dong Yi,Zhao Yan,Guo Xiaoping, et al.
Chinese Journal of Internal Medicine 1996-02  garbled abstract here
"a major with at least three of the nine minor items
or at least five of the minor items should be presented.
The major item is anti-SSA/SSB(+) and the minors are:
(1)dry eyes ordry mouth (3months, persistently),
(2)swolen salivary glands(recurrently or persistently),
(3)rampant dental caries,
(4)Schirmer test(5mm in 5min.)or corneal staining (+),
(5)unstimulated salivary flow (0.03ml/min) or abnormal parotid sialography,
(6)minor salivary gland biopsy (≥1focus),
(7)renal tubular acidosis,
(8)hypergammaglobuminemia (γglobulin≥30%) or hypergamma-globuminemic purpura,
(9)RF1∶20orANA1∶20.
Other connective tissue diseases,pre-existinglymphoma,AIDS,sarcoidosis,graft vs host disease must be excluded.
The criteria we proposed had a high specificity of 98.2% and sensitivity of 94.1%.
Any comments? michael kors handtasche michael kors handtasche