Botox reduced pain in chronic neck pains (average 9.1+ years) for at least 2 month versus placebo -randomized and blind !! 150 – 300 unit was used per sesssion.
Pain Med. 2009 Jul 6. [Epub ahead of print]
Botulinum Neurotoxin-A for Treatment of Refractory Neck Pain: A Randomized,
Double-Blind Study.
Miller D, Richardson D, Eisa M, Bajwa RJ, Jabbari B
100 units Botox dissolved in 1 ml saline
20 u = 0.2 ml given to each trigger
Splenius capitis and cervicis, trapezius and upper rhomboids were mentioned but included areas in picture below.
40% were done bilaterally. (all the Botox ones were bilateral)
mean age 52.6
70% had a history of trauma – Motor vehicle accidents, falls, work related or assaults
"In 45 of the 47 patients, the anatomical diagnosis was confirmed by MRI, which showed
cervical spondylosis, canal stenosis, foraminal encroachments, and chronic disc protrusions. …
Sixteen patients had subtle neurological deficits consisting of dermatomal sensory loss [6], mild
muscle weakness [5], and reflex asymmetries [8]."
No litigation or WCB cases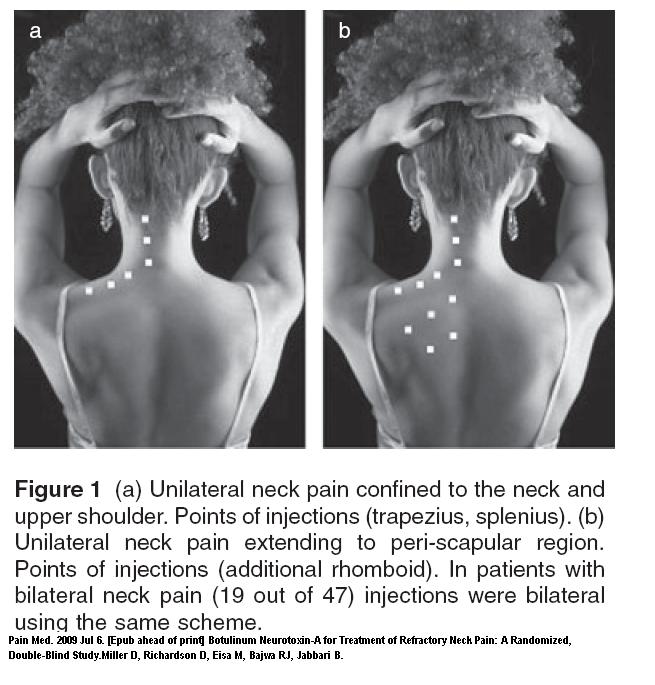 Results: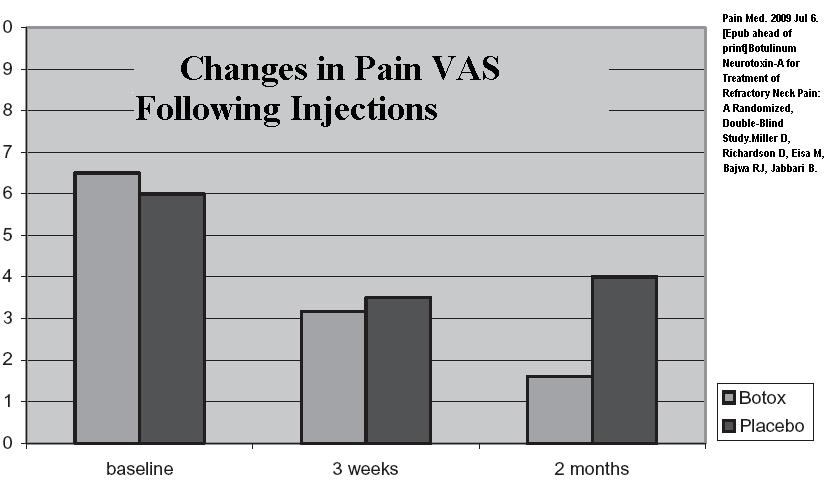 Comments –
it was interesting how ONE shot of saline reduced pains by 50% for 3 weeks. A series of saline shots combined with neck mobs might have a more induring effects for just saline.
Botox injection would cost $600-$1200 per 2 months. A good compromise would to do saline injections and then hit any spots refractory to this with Botox, and hit any subsequently missed spots with saline to prolong its effect. Temporary response to saline might also be a good indication Botox could work as well.
Temporary neck weakness is a side effect of Botox; they have 1/25 cases and it resolved after 4 weeks.
a 50%-75% reduction in pain is a mouth watering proposition!
Use of local in the neck is NOT sanctioned by our College unless done in a hospital setting – so the use of saline or Botox alone is encouraging.
Any Comments?
michaeltaschen
michaeltaschen