In the neck, imaging can be next to useless in many cases of unresolved neck pain. Incredibily, some people are told nothing showed on imaging so it has to be in their head. Now functional (multipositional) upright MRI is demonstrating some abnormalities.
WOMEN WITH FIBROMYAGLIA!
NEED HELP WITH SURVEY. PLEASE  CLICK HERE FOR SURVEY
————————
1) The potential value of Multi-Position MRI: A prospective study of 59 patients suffering of neck and arm pain
Elsig J.P., Boutier V., Naxera J., Wenker K., Kaech D.L., fmri Zentrum, Zürich, Switzerland, www.fmri.ch whole article free here
Found that although recumbent (laying down) MRIs were normal, multipositional unright FMRI showed significant foraminal (nerve outlet) stenosis. The most common position for functional stenosis was extension: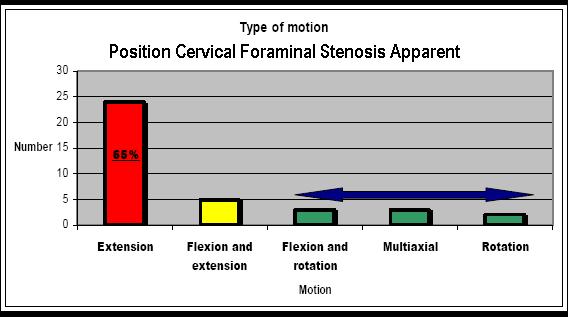 "Results: The most frequent position is the cervical extension. A bilateral lesion is usual. C4/C5 and C5/C6 are the more often concerned levels. Predominance of C5/C6 C6/C7 for the in extension stenosis and C3/C4 C4/C5 in flexion."
Finding static cervical stenosis (neck spinal canal narrowing) was unusual so cannot go on that as a sign of trouble.
I have a case like that – static laying down imaging was useless – yet he knows if he looks up he's in trouble. Now there is a reason for it.
———-
2) Functional MRI imaging has helped delineate upper cervical damage – often with instability totally unappreciated:
Pain Res Manag. 2006 Autumn;11(3):197-9.
Whiplash injuries can be visible by functional magnetic resonance imaging.
Johansson BH
full article here (with permission)
3 cases, despite neurological findings – had numbness side of tongue, dizziness on neck rotation and so on. These cases were spurred as malingerers and cut off any insurance funding because their MRIs were normal. Functional MRI showed horrific instability, dens and facet cracks, and scar that went right across the spinal canal and impinged on spine when neck was rotated. They all had immediate stabilizing neck surgery. Dr. Bogduk, the father of interventional pain therapy, wrote a scathing editorial on the stupidity of specialists in regard to these cases and it is fun to read:
read here (with permission)
There has been a case series now done with MRI sine showing instability requiring treatment:
MRI video diagnosis and surgical therapy of soft tissue trauma to the craniocervical junction.
Eckhard Volle et al
3) There is a whole new syndrome of Fibromyalgia caused by functional cervical stenosis:
J Pain. 2008 Jul;9(7):613-22. Epub 2008 May 22.
Positional cervical spinal cord compression and fibromyalgia: a novel comorbidity with important diagnostic and treatment implications. Holman AJ. abstract here
This was discussed in greater detail here. In 71% cases, the cervical stenosis only showed up in upright extension.
Where does one get a functional MRI?
Came across an article which describes use of "high resolution MRI" in normal MRI neck cases:
article here
According to a recent Canadian chiropractic article on Dynamic MRI  free article here
states:
"There are approximately 150 upright MRI scanners worldwide. There is currently only one in Canada, located in Kamloops, British Columbia."
their url is
www.welcomebackclinic.com
Anyone know a good place to get these done? michael kors handtasche sale michael kors handtasche sale