Since they have found the gene for Myotonic Dystrophy, they have found a subgroup not having that gene but having another gene deficit instead that is associated with milder disease. Randomly selecting Fibromyalgia cases found 2/63 cases though none of 200 controls had the gene. Another subgroup of FM patients have been found to have cervical spinal stenosis and surgery helps them. A cervical implanted stimulator is also getting good results in FM.
————————
Arthritis Rheum. 2008 Oct 30;58(11):3627-3631.
Myotonic dystrophy type 2 found in two of sixty-three persons diagnosed as having fibromyalgia.
Auvinen S, Suominen T, Hannonen P, Bachinski LL, Krahe R, Udd B.
free article here
They quote an unpublished study that found MD 2 in 5/36 cases!!
Clinical profile is the following: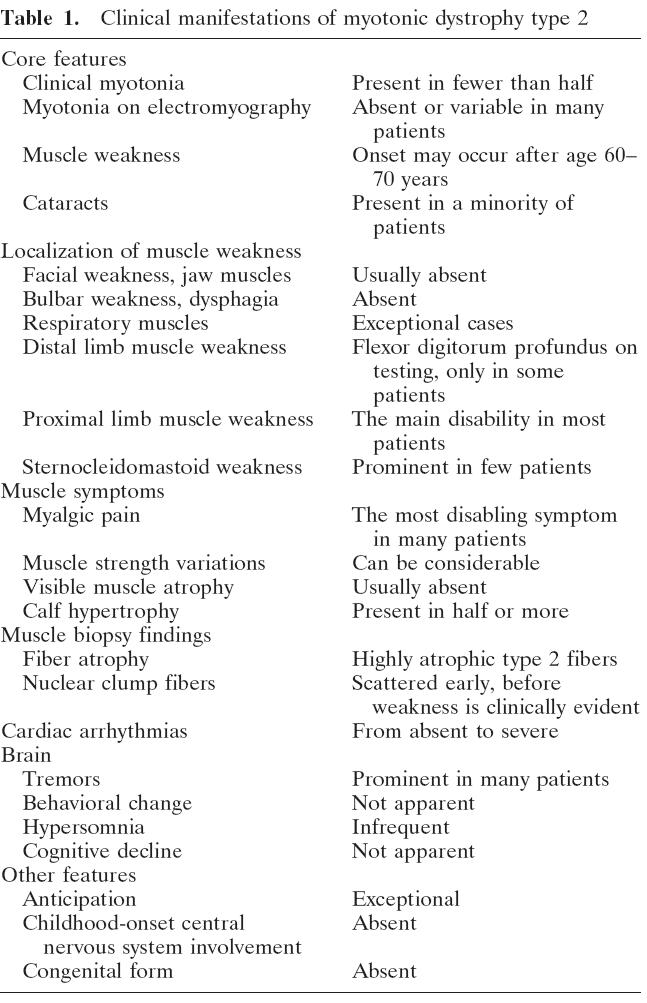 Symptoms:
Muscle pain and stiffness particularly in people doing demanding manual work
Daignosis of Fibromyalgia was made at age 39 and 45
Subjective muscle weakness – stairs, working with arms over head
CK (Breakdown products of muscle test) was elevated to 411 in one but normal at 60 in other ( normal range 35-210)
GGT was slight up in 1/2 – 76
Clues?
widely fluctuating muscle pains dependent on exercise
Clinical Myotonia – muscles won't relax – like grip hard to release – not seen in 2 case though
EMG – myotonia in 1/2 but could take multiple needle insertions to locate
Proximal lower limb weakness
elevated CK or GGT
Muscle symptoms in family
adult onset muscle stiffness
early onset cataracts personally or in family – though not in their cases
"in adult patients with myalgia and elevated CK levels, referral for genetic testing for DM2 should be considered."
Comment – I have one younger patient who had cataracts out and various pains that would be worth testing. In Saskatchewan that means sending to the genetic councelling center at Royal University Hospital in Saskatoon and waiting 1+years. The symptoms are so non-specific in one case it woudl be hard to diagnose. These cases had the typical irritable bowel problems and fatigue markers that go with Fibromyalgia.
I believe that when the dust settles, many cases of FM will be found to have other disorders. A certain subgroup have been found to have cervical spinal compression at C1. Gait abnormalities and arm pains are clues. MRI could be normal as 71% of time the compression only shows when neck is in spinal extension (looking up) – MRI cervical extesnion views are indicated.
J Pain. 2008 Jul;9(7):613-22. Epub 2008 May 22.
Positional cervical spinal cord compression and fibromyalgia: a novel comorbidity with important diagnostic and treatment implications. Holman AJ. abstract here
Clin J Pain. 2002 May-Jun;18(3):171-9.
Functional abnormalities of the cervical cord and lower medulla and their effect on pain: observations in chronic pain patients with incidental mild Chiari I malformation and moderate to severe cervical cord compression.
Thimineur M, Kitaj M, Kravitz E, Kalizewski T, Sood P. abstract here
Eur Spine J. 2004 Oct;13(6):516-23. Epub 2004 Apr 9.
Clinical evidence for cervical myelopathy due to Chiari malformation and spinal stenosis in a non-randomized group of patients with the diagnosis of fibromyalgia.
Heffez DS, Ross RE, Shade-Zeldow Y, Kostas K, Shah S, Gottschalk R, Elias DA, Shepard A, Leurgans SE, Moore CG. abstract here
subjects included:(quoted)
"Eighty-six percent of the patients were women.
Ninety-seven percent were Caucasian.
The mean age was 44 years (SD=11 years).
The mean duration of symptoms was 8 years (std dev 67.3 yrs).
Fifty-nine percent of patients reported antecedent craniospinal trauma within 3-6 months of the onset of symptoms.
On average, the patients had consulted 10 different medical specialists during the course of their illness.
Patients were taking a mean of 4.8 medications, (including but not limited to opiate and non-opiate analgesics, benzodiazepines, antidepressants, sedative hypnotics and muscle relaxants), for the relief of symptoms related to fibromyalgia.
Forty-one percent of patients had at least a college education.
Sixty-eight percent of patients had left their job as a direct result of their illness"
They give symtoms of cervical spinal stenosis as:
exertional fatigue (96%),
cognitive impairment (92%),
instability of gait (85%),
paresthesiae (funny or numb feelings)(80%),
Signs included:
upper thoracic spinothalamic sensory level (83%),- "An upper-thoracic spinothalamic sensory
level (T3–T6) was the most prevalent finding, noted in 83% of patients. Typically, we detected hyperalgesia and allodynia to a cold or lightly applied pinprick stimulus below a dermatome level. Rarely, a suspended band of hypesthesia to cold or pinprick stimulus was detected between the third and seventh thoracic dermatomes." – sore, numb or cold at shoulder blade level
hyperreflexia (64%), "often asymmetrical in distribution and involving any combination of limbs."
inversion of the radial periosteal reflex (57%), – "felt to be virtually diagnostic of myelopathy due to extrinsic compression of the spinal cord at the level of the fifth or sixth cervical vertebra"
positive Romberg sign (28%),
ankle clonus (25%),
positive Hoffman sign (26%),
impaired tandem walk (23%),
dysmetria (15%) – under/over shooting on movement
dysdiadochokinesia (13%)
"Neck extension and neck flexion resulted in immediate accentuation of abnormal pyramidal track findings in 88% and 73% of patients, respectively, suggesting a mechanical etiology for the abnormal neurological findings." – hence "The patients were examined first with the neck in the neutral and subsequently in the flexed and then in the extended positions. "
It has even gone so far is that Fibromyalgia patients with these findings have gone to surgery, and compared to control group of those with same symptoms, are significantly better off one year later:
Eur Spine J. 2007 Sep;16(9):1423-33
Treatment of cervical myelopathy in patients with the fibromyalgia syndrome: outcomes and implications. Heffez DS, Ross RE, Shade-Zeldow Y, Kostas K, Morrissey M, Elias DA, Shepard A abstract
free article here
Concomitantly with that, It was discovered that implanted electrical stimulation of C2 could give significant pain relief and with it "Visual Analog Scale (VAS) pain levels for FM-related pain decreased significantly at 6 months, and pain-drawing total area and number of areas colored in also decreased dramatically. Chronic fatigue and depression as assessed by the Beck Depression Inventory and Fatigue Impact Scale were markedly improved. Overall quality of life as assessed by the Health Survey Short Form 36 (SF-36) was markedly improved."
Pain Med. 2007 Nov-Dec;8(8):639-46.
C2 area neurostimulation: a surgical treatment for fibromyalgia.
Thimineur M, De Ridder D. abstract here
If one of the new implants were used, this would be an easy procedure blog link
Comment – I have found attempt to do manual traction of such an individual will either give significant relief or aggravate it. Releasing could be OK or give a sudden resurgence of pain. Symptoms referred to legs or distant elsewhere during this are obvious signs. I had one case with flagrant symptoms of paralysis and syringomyelia which is common with the chiari (brain herniated out overcrowed skull base out hole where vertebrae are by 3-5 mm) – which is mentioned with the Cervical stenosis.
in:Is cervical myelopathy overlooked in patients with fibromyalgia? Dan S. Heffez, et al
here
He states [re cervical myelopathy]"The only consistent finding was the caudal displacement of the cerebellar tonsils. The mean position of the cerebellar tonsils as measured on the mid sagittal MFI image was 1.1 mm (SD=4.4mm) below the rim of the foramen magnum. In 38% of patients the tonsillar herniation exceeded 3mm, (mean 5.6, SD=2.1 mm). In 20% of patients tonsillar ectopia exceeded 5 mm (mean=7.1, SD=1.8mm)." This is a chairi feature!
"In 20% of our patients a radiological diagnosis of the Chiari 1 malformation could be made based on tonsillar ectopia in excess of 5mm. Meadows et al (J Neurosurgery 2000; 96:920-926)"
It was totally undiagnosable here and had to be handled by a doctor in Florida initially. MRI's were either of poor quality or poor quality readings. I doubt very much whether that diagnosis can be made here although they have lowered the amount of brain herniation "normal" to 3 mm now, I think.
I had a psychiatrist mention they were all poor copers – perhaps he was seeing that specific subgroup – attitudes like that are common among doctors- there is still alot to be learnt about this disorder.