Case reports have found lithium carbonate an effective in chronic pain but these results have been ignored because of lack of a reliable study, Now a a double-blind, randomized, placebo-controlled clinical trial was done and showed benefit in Chronic  Spinal cord injuries.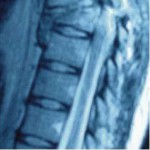 Spinal Cord. 2011 Nov 22. doi: 10.1038/sc.2011.126. [Epub ahead of print]
Efficacy and safety of lithium carbonate treatment of chronic spinal cord injuries: a double-blind, randomized, placebo-controlled clinical trial.
Yang ML, Li JJ, So KF, Chen JY, Cheng WS, Wu J, Wang ZM, Gao F, Young W.  abstract here
20 in lithium and 20 in placebo
Injury unchanged for minumum of 6 months
"Lithium eliminated severe neuropathic pain of two [/20] patients, one with a thoracic and the other with cervical spinal cord injury.
Initially on three 250 mg tab/day
Serum level maintained at 0.6-1.2 mmol/l – maybe adding additional 250mg pill
One lithium patient stopped because of nausea and gi complaints, another because of diarrhea;  however 2 dropped out from placebo too.
Did not help numbness, motor function or disability level
Results re pain: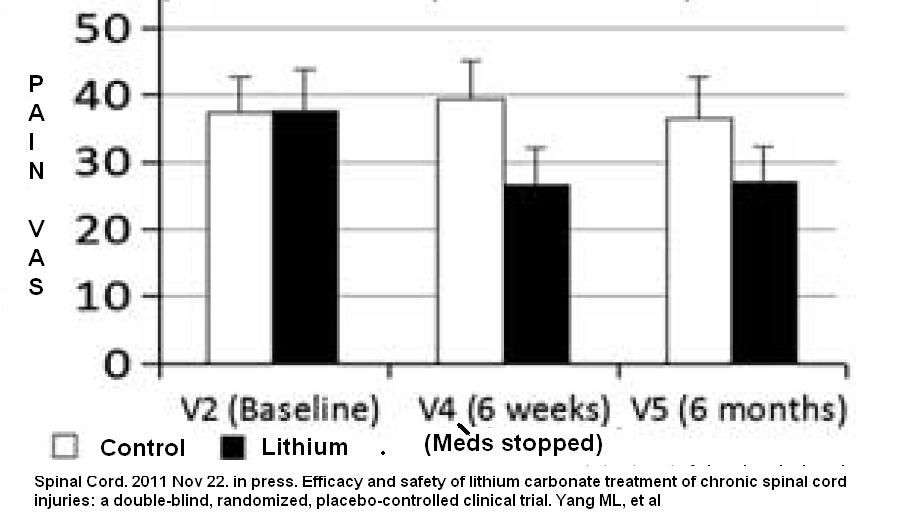 (change in lithium pain level p = 0.013)
Comment – Mood disorders are common among the worst effected pain cases. Lithium could provide double benefits. It is known to "grow"  gray matter by 3% in couple months which can't be bad. I think it has significant potential. Any experiences?
Addendum: – recent study in rats confirms its pain killing effects:
Lithium attenuates pain-related behavior in a rat model of neuropathic pain: Possible involvement of opioid system
Hamid R. Banafshe, Azam Mesdaghinia, Meysam Noorani Arani, Mehdi Honarkar Ramezani, Azhdar Heydari, Gholam A. Hamidi
Pharmacology, Biochemistry and Behavior 100 (2012) 425–430 abstract here
Lithium has been found to:
neuroprotective effects of lithium against cell injuries so may  attenuate neuropathic pain through "up-regulation of cell survival molecules and down- regulation of proapoptotic activity." – keeping regulatory cells and molecules alive.
reduce morphine tolerance and dependence
increases mu-opioid receptor expression in rats' forebrain with chronic use.
stimulates brain release  of beta-endorphin, met-enkephalin and dynorphin
increases rat basal ganglia dynorphin and prodynorphin mRNA
their study suggested "effect of lithium is anti-hyperalgesic rather than analgesic" – prevents pain expression but but not mask it.
enhancement of opioid system activity – though not all reversed by opioid naloxone blocking