Study finds in cases that meet the criteria for actual osteoarthritis in TMJ responded equally as well to Diclofenac and splint althought the former worked faster
J Oral Rehabil. 2008 Oct;35(10):729-38. Epub 2008 May 9.
Diclofenac sodium and occlusal splint therapy in TMJ osteoarthritis: a randomized controlled trial. Mejersjö C, Wenneberg B. abstract
OA based on Tomography
They did TMJ temperature readings (affected vs not affected side) but found them unreliable
Diclofenac 50 2-3 x/day depending on tolerance
The occlusal splints were adjusted to a stable fit and good retention, a stable occlusion in the centric relation, a cuspid raise on laterotrusion and a frontal contact on protrusion.
Results: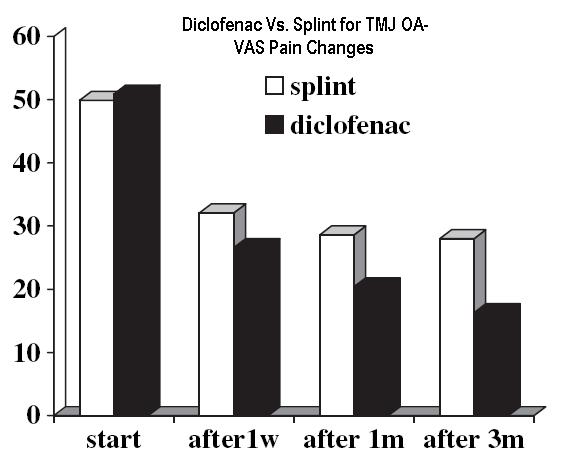 Comment – MOst TMJ problems are Not OA – looks like Diclofenac works better. For just night-time use, a retiring orthodontist suggested that just an mouth guard splint might do – a boil and bite one from a sports goods store. Instructions I got from here:
http://www.answerbag.com/q_view/505772
Boiling should be no more than 10 seconds. Three minutes will melt your mouthpiece.
Boil water and let stand for 30 seconds
Place mouth piece in water for ten seconds
After 10 seconds, remove from water and place in your mouth
Bite and suck water and air out of mouth piece (leave in mouth for thirty seconds)
You may use fingers to press mouth piece against your teeth.
Remove and place in cold water to set.
Diclofenac can be given topically with Pennsaid (add gabapentin for additional benefit as per other blog note). If you want quick response, tape a cotton ball to TMJ area and soak ball with Pennsaid (note: tape first – the DMSO in Pennsaid is a good solvent – will never stick if soaked first). Be prepared for irritation and use 0.5% hydrocortisone cream you can buy over the counter. Apply up to 4 times a day – diclofenac accumulates in tissues.
Any TMJ OA advice? canada goose jacke herren canada goose jacke herren