Achilles Tendonitis is one condition I hate and any treatment program is welcome. This is an upgraded eccentric program that does not involve dorsiflexion (foot pushed up from normal)
New regimen for eccentric calf-muscle training in patients with chronic insertional Achilles tendinopathy: results of a pilot study P Jonsson,H Alfredson,K. Sunding, M Fahlstrom, J Cook Br J Sports Med 2008;42:746–749. abstract
Note this exercise program called the Alfredson exercise program has been found superior to another method called Stanish exercise program:
Br J Sports Med. 2013 Jul;47(10):e3. doi: 10.1136/bjsports-2013-092558.91.
Comparing two eccentric exercise programmes for the management of achilles tendinopathy. A pilot trial.
Stasinopoulos D, Manias P.
http://www.ncbi.nlm.nih.gov/pubmed/23757719
"Alfredson exercise programme group produced the largest effect (p<0.0005, independent t-test)"
Comorbidities:
27/34 had Haglund deformity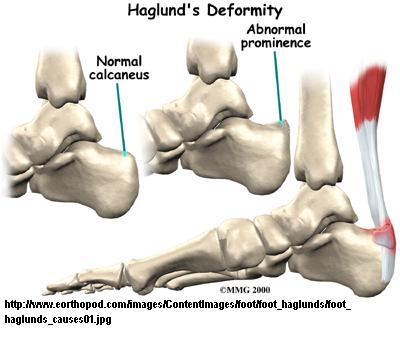 23/34 had bursitis
25/34 had bone spurs
Treatment Program:
standing; leg straight
Heel raise uninjured side first with leg up I presume
Then plant the bad side down with the foot dorsiflexed (I guess you cannot raise up with the bad foot)
"then all body weight was transferred to the injured side and from the heel raised position the patients slowly lowered the heel to the floor level (with the good leg raised up this time)
No load; "This was done 3 times for 15 repetitions, twice a day, 7 days/week for 12 weeks."
Participants with bilateral symptoms performed a leg press while standing on a box to get up to the start position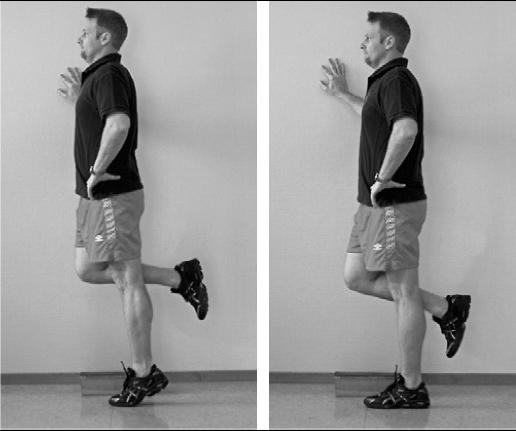 Figure 1 A. Start position for the eccentric insertional Achilles exercise. The patients stand with a straight leg, all weight on the affected side. From this position the heel is slowly lowered to floor level. To get up to the start position, the patients performed a heel-raise on the unaffected side. B. End position for the eccentric insertional Achilles exercise.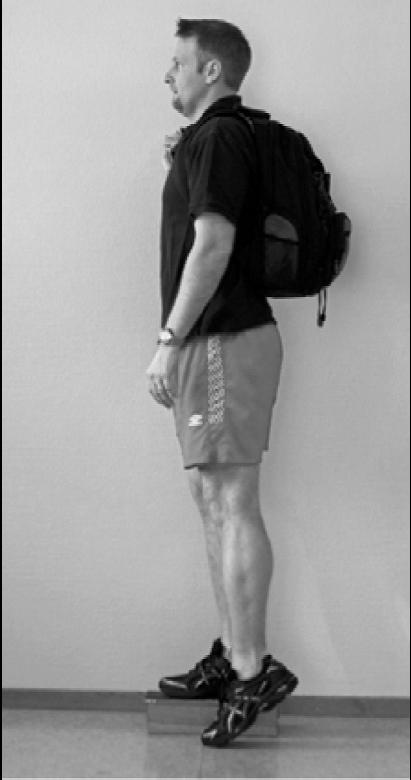 Figure 2 If there were bilateral symptoms the patients performed a leg press while standing on a box or a staircase to get up to the start position. This was done to avoid as much as possible concentric because of contraction in the calf muscle.Pain VAS went down from 7.2/10 to 3.3/10 at 4 months. 67% were "responders" and their scores dropped from 7/10 to 2.1/10.
Other treatments suggested were:
Rest
NSAID's
high-energy extracorporeal shock-wave therapy
Strength training
"ultrasound and Doppler guided sclerosing polidocanol injections, targeting the area with increased vascularity in the Achilles tendon insertion"
A recent uptake to my old blog note on sclerosant to achilles is here:
Knee Surg Sports Traumatol Arthrosc. 2008 Sep;16(9):859-64. Epub 2008 Jul 17. Sclerosing injections to treat midportion Achilles tendinosis: a randomised controlled study evaluating two different concentrations of Polidocanol. Willberg L, Sunding K, Ohberg L, Forssblad M, Fahlström M, Alfredson H.
52 cases – half given Pliodocanol 5 mg and half 10 mg/ml . Average age about 49. Pick cases with midportion tendonitis rather than insertional. Max 3 treatments with 6-8 weeeks in between. Those not satisfied were given the 10 mg/ml up to 5 treatments. At 16 month followup 18/26 or 19/25 were satisfied with threatment. With the addtional 5 treatments this was up to 26/26 for each group.
"Very small volumes 0.1–0.2 ml (maximum 2 ml) of the substances were injected into the areas of local
neovascularisation outside the ventral part of the Achilles tendon, corresponding to the tenderness in the tendon, until the vessels were no longer visible at all."
This suggests to me the treatments should probably be more than 3 in many cases.
Other measures that had been tried prior included:
Old style eccentric training
ultrasound
heel lift
laser
acupuncture
shock wave therapy:
J Bone Joint Surg Am. 2008 Jan;90(1):52-61.
Eccentric loading compared with shock wave treatment for chronic insertional achilles tendinopathy. A randomized, controlled trial.
Rompe JD, Furia J, Maffulli N. abstract here
steroid injection (dangerous)
I would include calf muscle massage/needling.
Often wondered about heel lifts – just how high do you go?
addendum:
It appears in mid Achilles tendonopathy, women do not benefit from eccentric treatment as much as males…:
Knee Surg Sports Traumatol Arthrosc. 2009 Dec 9. [Epub ahead of print]
Gender and eccentric training in Achilles mid-portion tendinopathy.
Knobloch K, Schreibmueller L, Kraemer R, Jagodzinski M, Vogt PM, Redeker J.
abstract here
"Eccentric training resulted in a morning resting pain reduction by 44% in males (P = 0.001) and by 27% in females (P = 0.08)… Symptomatic females suffering Achilles tendinopathy do not benefit as much as symptomatic males from 12 weeks of eccentric training.Would be interested in any successes treating this condition."
Addendum:
I guess ONE shot platelet rich plasma does not benefit mid belly Achilles tendonitis over eccentric training:
JAMA. 2010 Jan 13;303(2):144-9.
Platelet-rich plasma injection for chronic Achilles tendinopathy: a randomized controlled trial.
de Vos RJ, Weir A, van Schie HT, Bierma-Zeinstra SM, Verhaar JA, Weinans H, Tol JL.
G.. help us – not another one-shot-wonder study – seriously, what treatment for chronic would ever go away with just one shot???
Interestingly, Nitroglycerin patch has been shown to help – Nooo, not after one patch – after 8 weeks plus of patches:
Clin J Sport Med. 2005 Mar;15(2):116-7.
Topical glyceryl trinitrate for chronic Achilles tendinopathy.
Hunte G, Lloyd-Smith R.
Foot Ankle Int. 2007 Oct;28(10):1064-8.
Three-year followup study of topical glyceryl trinitrate treatment of chronic noninsertional Achilles tendinopathy.
Paoloni JA, Murrell GA.
"Nitro-Dur 5 [Schering-Plough] glyceryl trinitrate patch), which delivered 1.25 mg of glyceryl trinitrate over 24 hours, or a placebo patch. Patients were required to cut the patches into quarters and apply 1/4 to the site of maximal tenderness for the 24-week duration of the study."
rehabilitation program included:
rest from aggravating activities,
heel-raise wedges,
prolonged daily stretching of the gastrocnemius and soleus musculature,
eccentric calf muscle-strengthening program.
" The groups did not differ in pain with activity, night pain, or local tenderness until the 12-week assessment when participants in the glyceryl trinitrate group reported less pain on each measure (mean scores, 0.9 vs. 1.6 [P = 0.02]; 0.2 vs. 0.7 [P = 0.04]; and 0.9 vs. 1.6 [P = 0.02], respectively). The difference was maintained at 24 weeks for pain with activity (mean scores, 0.4 vs. 1.0 [P = 0.03]). At 24 weeks the glyceryl trinitrate group reported less pain on the 10-hop test than the placebo group (mean scores, 0.5 vs. 1.6 [P = 0.005])"
Treatment benefits lasted over 3 years followup. michael kors tasche jet set michael kors tasche jet set