I am used to doing an arm raised adduction test (bringing arm over chest) to see if it elicits pain.  Alarmingly , this crossed arm adduction test may only be positive 67% of the time. More sensitive tests have been devised.
First of all, the pain has to be in the area in question: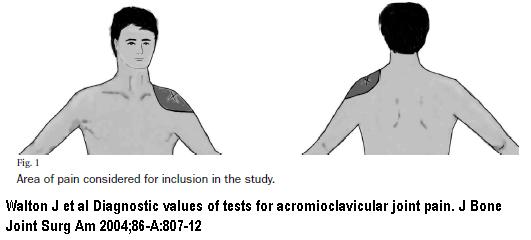 I have found plenty of AC joint tests that are positive in the posterior deltoid muscle and not on top of shoulder – they don't count to me.
The standard test has been the crossed adduction test: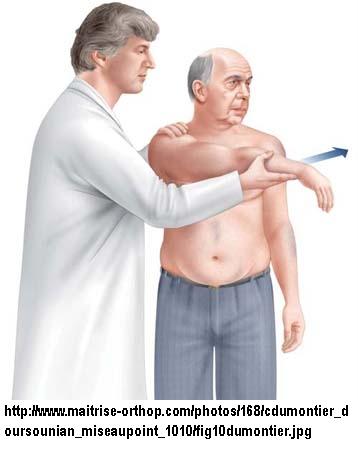 J Shoulder Elbow Surg. 2010 Sep 16. [Epub ahead of print]
Clinical evaluation of acromioclavicular joint pathology: Sensitivity of a new test.
van Riet RP, Bell SN.  abstract here
Used bone scan and response to injection of local and steroid as a guide
Found this classic test only positive 67% of time
O'Brien's test – An improvement of this test was to adduct 10-15 °, turn arm so thumb down, and have them push up – this should hurt – then do it with palm up – this should hurt less. If the pain is felt on top – the it is AC joint, If it is felt inside and may clunk – then it's a labral tear: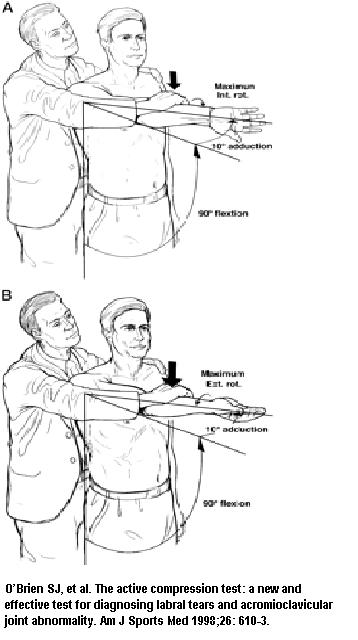 Present article pegged this at 83% sensitivity but felt the could do better…
The Bell-van Riet Test – They used same position as above with full adduction (as far as would go across chest  – then the had them push up – they found a 98% sensitivity.
Another way to test is the Paxinos test which reminds me of the Vulcan Nerve Pinch:
– Thumb on posterior acromium, index finger on mid-clavicle – and pinch the movement would be in the AC joint and so would the pain:
in : Walton J et al. Diagnostic values of tests for acromioclavicular joint pain. J Bone Joint Surg Am 2004;86-A:807-12.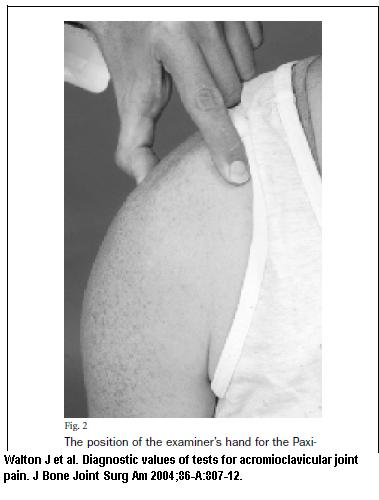 found a 79% sensitivity and a 50% specificity. The did say that a Paxinos test and a negative bone scan combined had a great predictive value eliminating AC joint.
Probably the most sensitive test has to be direct pressure on the joint. "Local AC tenderness"
Any comments on tests?