At least in low back, it looks like after 3 months, it gets as good as it gets.. Almost 1/3 might end up poorly so thoughts of IV pamidronate or vertebro/kypho plasty might need consideration.
Inose H, Kato T, Shirasawa S, et al. Time Course of Acute Vertebral Fractures: A Prospective Multicenter Cohort Study.
J Clin Med. 2021;10(24):5961. Published 2021 Dec 19.
https://www.ncbi.nlm.nih.gov/pmc/articles/PMC8704362/
40 patients followed for 5.3 years; Chinese study
rigid or soft braces were used
risk factors included prior fracture and low bone density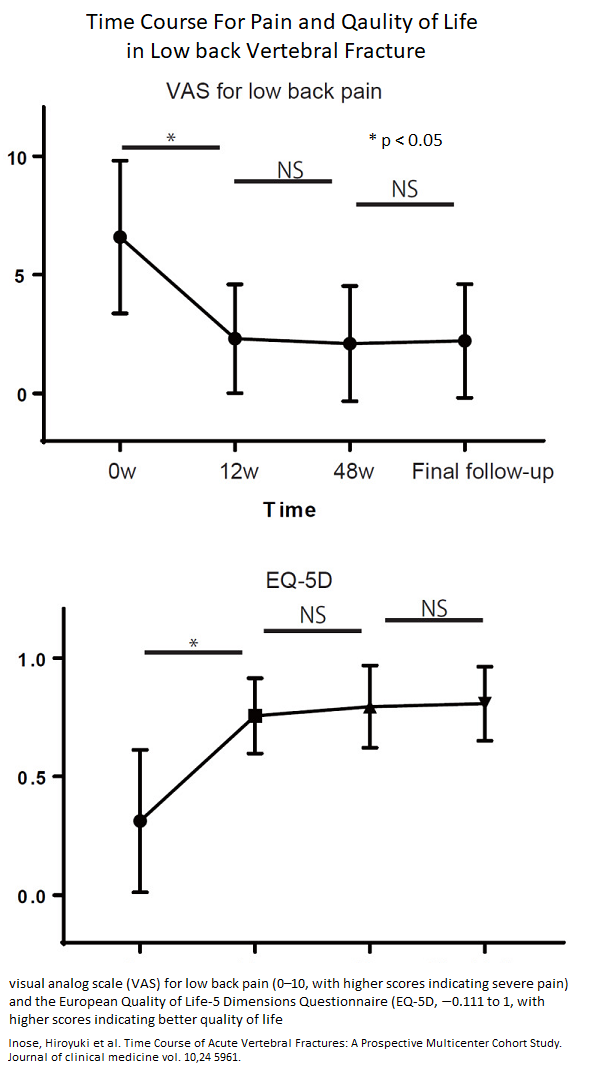 Another study:
Klazen, Caroline AH, et al.
Clinical course of pain in acute osteoporotic vertebral compression fractures.
Journal of Vascular and Interventional Radiology 21.9 (2010): 1405-1409.
https://www.researchgate.net/profile/Willem-Jan-Van-Rooij/publication/45282087_Percutaneous_Vertebroplasty_Is_Not_a_Risk_Factor_for_New_Osteoporotic_Compression_Fractures_Results_from_VERTOS_II/links/00b7d51a4661599ccd000000/Percutaneous-Vertebroplasty-Is-Not-a-Risk-Factor-for-New-Osteoporotic-Compression-Fractures-Results-from-VERTOS-II.pdf#page=17
no significant improvement in pain after 6 months
very little use of back braces in this American study

"almost two years after an acute vertebral compression fracture (VCF),

31% of the patients did not have significant pain relief"
Looks like from first article, it is going to be as good as it gets after 12 week (not 6 months like above article suggested). They suggest if pain is still bad, kyphoplasty / vertebroplasty should be considered.
In:
Vertebroplasty versus conservative treatment in acute osteoporotic vertebral compression fractures (VERTOS II): an open-label randomised trial
C.A.H. Klazen et al
Lancet 2010;376:1085-1092
IV pamidronate also helps but required good teeth( can get tooth loss or osteonecrosis if teeth bad) and requires 3 infusions of 30 mg /wk  x3.
pain out of vertebral compression fractures – NOTE it took THREE infusions.
There was initially a pilot study in 2000: article here

Then came the confirmatory study:

Armingeat, T., et al.
Intravenous pamidronate for pain relief in recent osteoporotic vertebral compression fracture: a randomized double-blind controlled study.
Osteoporosis international 17.11 (2006): 1659-1665.
https://link.springer.com/article/10.1007/s00198-006-0169-z
INTRODUCTION: We performed a randomized, double-blind, controlled clinical trial comparing intravenous pamidronate and placebo for pain relief in recent osteoporotic vertebral compression fractures (VCF).
METHODS: Patients suffered from recent (30 mg pamidronate for three consecutive days (total pamidronate: 90 mg). The main criterion for efficacy was improvement in standing pain on a 100-mm visual analogical scale (VAS) at day 7. Secondary criteria were standing pain at days 3 and 30; supine pain at days 3, 7, and 30; patients' overall assessment of improvement; mobility index; and number of "20% responders" and "50% responders" (respectively, 20% and 50% improvement in standing pain at days 7 and 30). Statistical analysis with non-parametric tests was carried out on an intention to treat basis.
RESULTS: Thirty-two patients were enrolled in the study; 16 were given placebo and 16 pamidronate. Thirty-one patients were evaluated at day 7 and 26 patients at day 30. VAS pain decreased significantly in both groups at day 7 (placebo -23 mm, pamidronate -42 mm, p<0.01). The difference in pain scores between groups was -23.25 mm (confidence interval (CI) [-42.3; -4.2], p=0.018) at day 7 and -26 mm at day 30 (p=0.03), in favor of pamidronate. At day 7, there were 4 versus 12 "50% responders," respectively, in the placebo and in the pamidronate groups (likelihood ratio: 8.372; p=0.004) and 9 versus 14 "20% responders" (likelihood ratio: 4.038; p=0.044). At day 30, there were 5 versus 10 "50% responders," respectively, in the placebo and in the pamidronate groups, and 7 versus 11 "20% responders." Patients' overall assessment of improvement at day 7 was 37+/-26 mm in the placebo group and 59+/-30 mm in the pamidronate group (p=0.019), and 42+/-26 mm and 72+/-21 mm at day 30 (p=0.07). The two groups did not differ significantly at days 7 and 30 for supine pain, Schober index, or finger-ground distance. No significant adverse reaction related to treatment occurred.
CONCLUSION: Pamidronate provides rapid and sustained pain relief in patients with acute painful osteoporotic VCF and is well tolerated. Further investigations are needed to better define the place of pamidronate in the management of painful recent osteoporotic collapse.
Comment –
What do do with Vertebral fracture?
If bad, consider IV pamidronate or jump to a "plasty"
If still bad at 12 weeks or very bad to start, then one of "plasty's". If concerns it is actually an active lesion, then bone scan might help.
There is considerable facet loading in vertebral compression fractures and facet blocks/rhizotomies are helpful.
Nikolai Bogduk, MD, John MacVicar, MB, ChB, James Borowczyk, MB, ChB, The Pain of Vertebral Compression Fractures Can Arise in the Posterior Elements, Pain Medicine, Volume 11, Issue 11, November 2010, Pages 1666–1673,
Raj Mitra, MD, Huy Do, MD, Todd Alamin, MD, Ivan Cheng, MD, Facet Pain in Thoracic Compression Fractures, Pain Medicine, Volume 11, Issue 11, November 2010, Pages 1674–1677
Could use any other suggestions.