I got the following email:
"I had knee replacement about 3 years ago, got along famously, no problems. Now I have severe pain at night and cannot sleep. It starts at my knee on the outside and extends up to my hip. Sometimes it even goes down the leg to my calf. I am active, do light exercise and walk about half a mile a couple of times a week. I don't know where this pain is coming from."
I'm presuming this is a total knee replacement because a half knee one could change everything…
There are considerable problems that can occur after a TKR:
The management of patients with painful total knee replacement
A D Toms; V Mandalia; R Haigh; B Hopwood
Journal of Bone and Joint Surgery(Br); Feb 2009; 91,(2); 143-150 unhelpful abstract
The Differential list they give includes:
Generalized pain issues – Neuropathic pain or Complex Regional Pain more generalized in nature – would not fit this case as just laterally – amitriptyline (extinct in Canada at the moment) or Nortriptyline followed by gabapentin or Lyrica plus painkillers are suggested for the neuropathic. Sympathetic Nerve blocks and a multidisciplinary approach for the latter.  Intra-articular Botox has been tried for this sort of issue:
Intraarticular Botulinum Toxin A for Refractory Painful Total Knee Arthroplasty: A Randomized Controlled Trial
Jasvinder A. Singh, Maren L. Mahowald and Siamak Noorbaloochi
Journal of Rheumatology in press 2010   abstract here
Scar Neuroma – suggests "conservative treatment" followed by selective denervation of nerve. They report a 86% satisfaction rate though hypersensitivity from collateral sprouting can occur 40% of time which apparently is minor. The pain in the above case started later so that is out.
Infection – this is a post-op issue and not pertinent here.
Instability – this can be early post-op or late. The late variety is due to "secondary to malalignment leading to progressive stretching of the ligaments, wear of polyethylene, loosening of the component and collapse".  A sense of instability and giving way should be noticed.
Subluxing (slipping out) kneecap(patella) – this apparently is common and occurs in 10-35% of cases after knee replacement. – this would give more patellar pain rather than described lateral knee pain. In older TKR there is something called a patellar clunk syndrome – which obviously is noisy and more obvious. Arthroscopic resection works for the latter.
Rupture of Quadracep muscle or patellar tendon; fracture of patella(kneecap) – again, we are looking of something more lateral
Stiffness and "Malrotation of tibia or Femoral components" – this would be there from the start one would think
Impingement of popliteus muslce – Ok,  this can be lateral but this is a posterior structure and apparently hard to diagnose: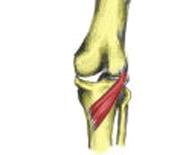 It is associated with lateral knee pains:
The Knee Volume 9, Issue 3, Pages 249-252 (September 2002)
Osteophyte impingement of the popliteus tendon as a cause of lateral knee joint pain
William J Gaine, Aslam Mohammed   abstract here
By running one's hand up and down the back of the knee one can feel the muscle and its tenderness – and perhaps temporarily remit the pain by strumming (by rubbing) up and down 120 times. Arthroscopic release from femoral insertion is the treatment.
Fabella impingement or fracture –  behind the knee some people have another little kneecap like bone in the calf muscle. (Fabella after TKR below)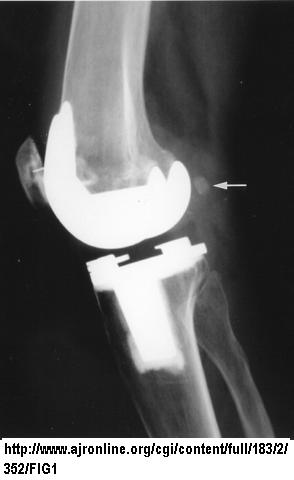 "This should be considered in patients with discrete postero-lateral pain after TKR".
Ok – this can be lateral but should also be posterior: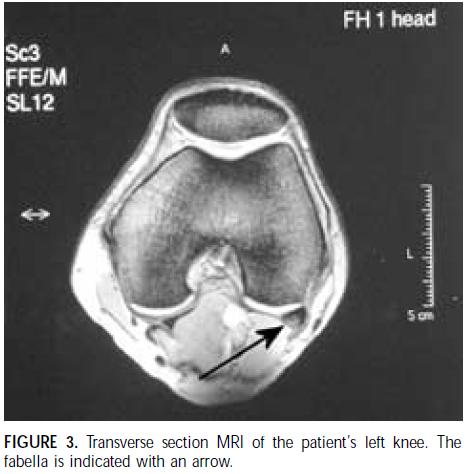 Xrays don't always initially show it:
This can be troublesome – see Knee guru story here:
free story
Reports of this occur:
J Bone Joint Surg Am. 1988;70:613-616.
FF Jaffe, S Kuschner and M Klein
Fabellar impingement: a cause of pain after total knee replacement. A case report
free article here
AJR Am J Roentgenol. 2005 Nov;185(5):1141-4.
Painful stress fractures of the fabella in patients with total knee arthroplasty.
Theodorou SJ, Theodorou DJ, Resnick D.
free article here
Journal of arthroplasty Volume 8, Issue 1, Pages 95-97 (February 1993)
Fabellar impingement in total knee arthroplasty: A case report
MD Jeffrey E. Larson1, MD Douglas A. Becker1  abstract here

A treatment has been developed  for this condition:
Treatment of Fabella Syndrome With Manual Therapy: A Case Report
J. Tim Zipple, PT, MS1 Roger L.
J Orthop Sports Phys Ther. 2003;33:33–39.  free article here
Often forgotten is another upper joint – the proximal tibio-fibular joint the proximal tibio-fibular joint – which could cause trouble.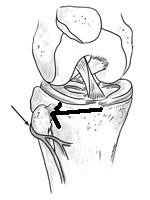 It is actually a bit lower than the knee joint. A cortisone injection under antibiotic cover could be attempted if it is not an instability issue.
It discussed here:
Proximal Tibiofibular Joint: An Often-Forgotten Cause of Lateral Knee Pain
Bruce B. Forster1, Jimmy S. Lee, Sarah Kelly, Mariana O'Dowd, Peter L. Munk, Gordon Andrews and Lorie Marchinkow
AJR 2007; 188:W359-W366    free article here
There is also the iliotibilal band that goes from knee to hip laterally – but I have never heard of it being that painful by itself unless there is radiating back pain as the cause. Its lower end can develop tendonitis:

There are many causes to this pain  – perhaps best managed by  the surgeon who did the original operation.
Anyone else have ideas?
addendum – book reviews approach postoperatively to failure: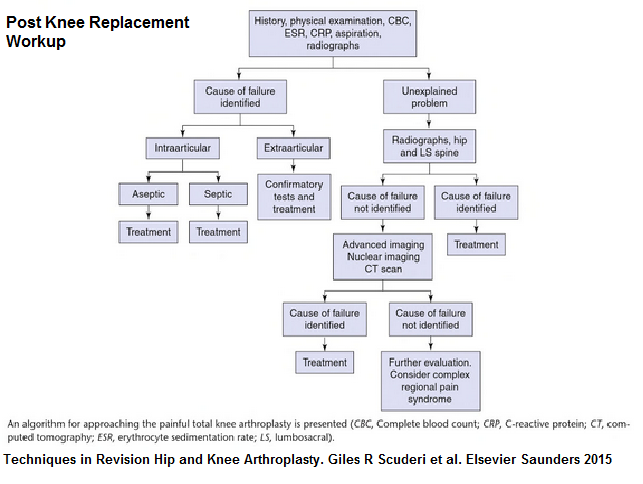 makes the point of looking eslewhere like in hip or spine if not clear. nike air max 90 mujer nike air max 90 mujer