Capsaicin 8% patch was compared to pregabalin (lyrica) for effects on non-diabetic peripheral neuropathy.  A treatment with Capsaicin can cut skin sensitivity (dynamic mechanical allodynia) in half and render 29% free of sensitivity. Was embarrassed to publish this once I found out how much the patch costs ($800/patch in 2012)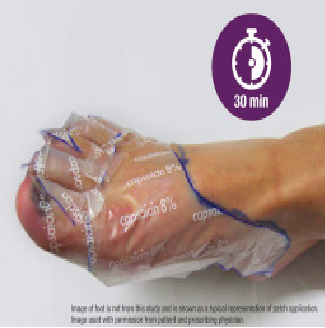 Eur J Pain. 2018 Apr;22(4):700-706.
doi: 10.1002/ejp.1155
Superiority of capsaicin 8% patch versus oral pregabalin on dynamic mechanical allodynia in patients with peripheral neuropathic pain.
Cruccu G et al
https://www.ncbi.nlm.nih.gov/pubmed/29194851
253 case of nerve injury or non-diabetic peripheral neuropathy with pain >/= 4/10
half group was put on pregabalin 150 – 600 mg/day
area involved determined by lightly brushing edges – marked
can use up to 4 patches to area marked
instructions are here;
http://www.qutenza.com/_docs/qutenza_full_PI_.pdf
medical office treatment
apply a topical numbing gel – lidocaine was recommended but not convinced works that well – maybe occlude  and have on 30-60 minutes
take a painkiller -plus I would use ketamine 10 mg M deltoid once or twice every 15 minutes as I am comfortable  used to using it
wear gloves
apply to affected areas and cover
have on 30-60 minutes
removed by slowly rolling edge
apply cleansing gel and wipe off
avoid touching eyes
skin will be sensitive a few days
do every 3 months
results at week 8: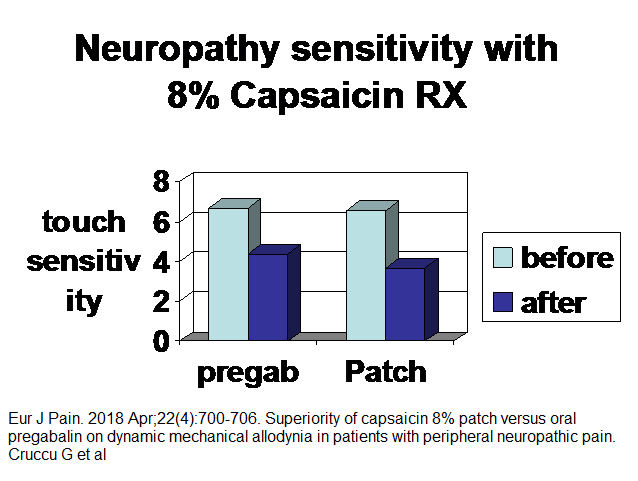 Complete resolution of pain in 24.1% of patches and 12.3% of pregabalin at 8 weeks side effects were pain and eythema at time of treatment but were manageable.
Comment – would be a great addition to treatment except the cost
"One capsaicin 8% patch costs approximately $800 (US) in 2012
as per:
Groninger H, Schisler RE. Topical Capsaicin for Neuropathic Pain #255. Journal of Palliative Medicine. 2012;15(8):946-947. doi:10.1089/jpm.2012.9571.
https://www.ncbi.nlm.nih.gov/pmc/articles/PMC3462404/
If you need cheap, start with amitriptyline hs and work up.