Pisiform instability can cause nondescript pain over lateral hand eminence, and in some cases present with ulnar nerve damage. It is little recognized.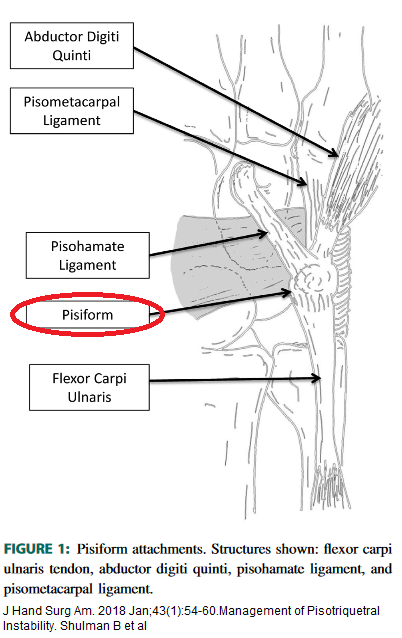 J Hand Surg Am. 2018 Jan;43(1):54-60.
doi: 10.1016/j.jhsa.2017.10.020.
Management of Pisotriquetral Instability.
Shulman BS et al
https://www.ncbi.nlm.nih.gov/pubmed/29169722
Hypothenar eminence nonspecific pain.
feelings of clicking or locking, especially during active
wrist motion.
pain with direct pressure like weight lifting
Testing:
pisiform ballottement or shuck test. – move pisiform from side to side and see if hurts (do with wrist flexed and relaxed)
Xrays -semisupination view –  wrist in 30 degrees supination
Treatment
Immobilization- short-arm cast or removable wrist brace
for 4 to 6 weeks
NSAID's
steroid injection
above works 1/3 of time
I would add prolotherapy as a given for instability treatment
surgery involves removal- Pisiformectomy with 75-93% pain free following
Comment – another condition I will know now if I see.