Results from simple measures such as heel cup and ankle dorsiflexion night splint are not vigorous so am forced to look further. Steroid injection in the 21st century is out because it thins the heel pad making further problems more likely. I came across this protocol for PRP that is simple and could be done by anyone with a centrifuge. All PRP studies of plantar fasciitis only talk about long term results so I suspect immediate gratification like one gets from steroids, is not likely. It uses small amounts (from 10 mls blood) weekly x3.
Nerve radiofrequency abaltion of Inferior Calcaneal nerve gives spectacular results and so could chemical ablation
Martinelli, Nicolo, et al. "Platelet-rich plasma injections for chronic plantar fasciitis." International orthopaedics 37.5 (2013): 839-842.
https://www.ncbi.nlm.nih.gov/pmc/articles/PMC3631509/pdf/264_2012_Article_1741.pdf
40 cases forced to quit sport due to plantar fasciitis
underwent 3 months of  icepacks, stretching of the Achilles tendon and NSAID medication
Treatment: – they used an "Arthrex ACP Double Syringe System™" but it could be adapted to following PRP:
in a 12-20 ml syringe have 2 cc of sodium citrate 40 40/ml
draw up 8- 10 mls blood and put a 10 ml red top tube
centrifuge down at 1500 rpm for 5 minutes (I just use high on my machine)
using a spinal needle, skim off 1.5 mls from just above buffy layer – maybe part of buffy layer top.
local to skin
consider nerve block Inferior Calcaneal Nerve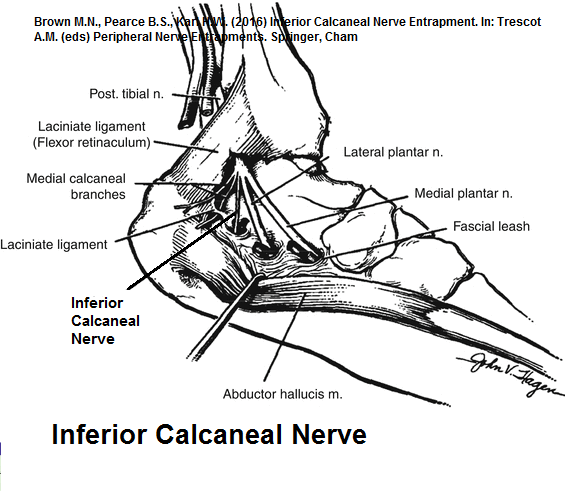 inject medial tubercle calcaneum where tender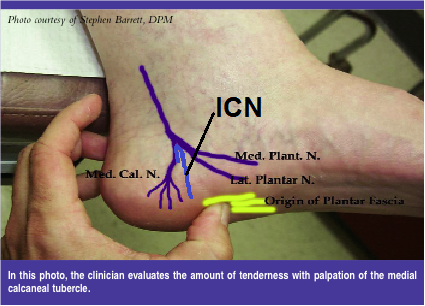 Results – looks like describing 12 month followup:
"Using a visual analog pain scale, the average preinjection pain in patients of was 9.1 (range 8–10). Prior to injection, 72 % of patients had severe limitation of activities, and 28 % of patients had moderate limitation of activities."
Average post-injection pain decreased to 1.6.
"Twenty-two patients (88 %) were completely satisfied, two patients (8 %) were satisfied with reservations, and one patient (4 %) was unsatisfied with using the visual analog scale."
"Fifteen patients (60 %) had no functional limitations post-injection and eight patients (32 %) had minimal functional limitations. Two patients (8 %) had moderate functional limitations post-injection."
Comment:
Pain area is fed by the Inferior Calcaneal Nerve and ablation of that nerve has given very good results:
Foot Ankle Int. 2014 Feb;35(2):95-103.
doi: 10.1177/1071100713509803.
Prospective study of percutaneous radiofrequency nerve ablation for chronic
plantar fasciitis.
Erken HY, Ayanoglu S, Akmaz I, Erler K, Kiral A.
https://www.ncbi.nlm.nih.gov/pubmed/24165571
"RFNA of the calcaneal branches of the inferior calcaneal nerve on 35 feet in 29 patients with plantar heel pain"
Foot pain pior was 9.2 ± 1.9/10
After,  0.5 ± 1.3 at 1 month;  1.5 ± 2.1 at 1-year follow-up, and 1.3 ± 1.8 at 2-year follow-up (P < .001).
85.7%  good-very good results
Ablation can be gotten by using 5-10% lidocaine   and I think I might use that and see.
Addendum; Dry needling has some effect:
Int Orthop. 2018 Jan;42(1):109-116.
doi: 10.1007/s00264-017-3681-1.
Comparison of dry needling and steroid injection in the treatment of plantar fasciitis: a single-blind randomized clinical trial.
Rastegar et al
https://www.ncbi.nlm.nih.gov/pubmed/29119296
results were compared to steroid injection: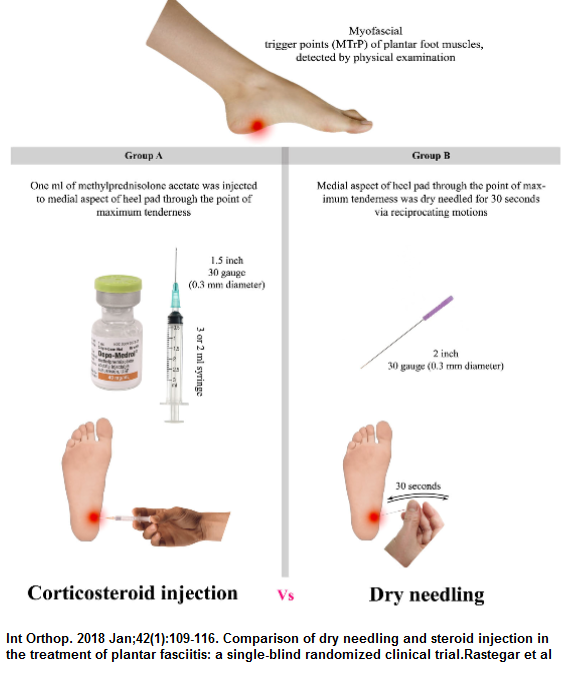 Only needled once – which should allow me to enter them into my one shot wonder category
Results: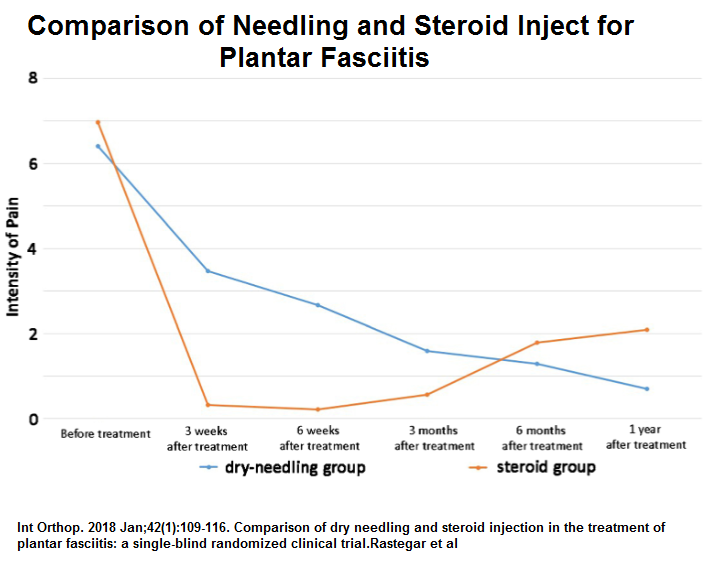 Lack of a control group which could have looked like the needle once group but who knows?
addendum:
another study technique;
Acosta-Olivo, Carlos, et al.
Plantar Fasciitis—A Comparison of Treatment with Intralesional Steroids versus Platelet-Rich Plasma: A Randomized, Blinded Study.
Journal of the American Podiatric Medical Association 107.6 (2017): 490-496.
http://www.japmaonline.org/doi/full/10.7547/15-125?code=pmas-site
40 mls blood
3.8% sodium citrate as an anticoagulant (BD Vacutainer; Becton, Dickinson and Company, New Jersey)
lower centrifugation speed (1,200–1,500 rpm)to  separate the plasma and platelets from the white and red cell – 10 min
take off all above buffy coat
higher centrifugation speed (4,000–7,000 rpm) to increase the concentrations of PRP – 12 min
take off platelet poor plasma leaving 3 mls PRP
in 3 mL of PRP add 0.45 mL of 10% calcium gluconate to activate it.
inject into infiltration in the anteromedial zone of the calcaneus (zone of greatest pain)
Compared it to "8 mg of dexamethasone (Alin Depot; Chinoin, Aguascalientes, Mexico) plus 2 mL of lidocaine as a local anesthetic". – into same spot – not quite the same as triamcinolone 40mg – would have needed 10-12 mg to be equivalent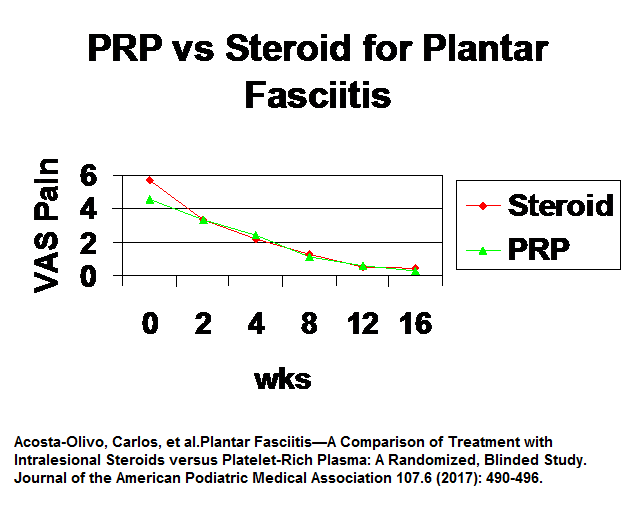 Comment – on wonders if steroid inject was proper in second study as first study got near cure in first 3 weeks with steroid. dexamethasone dose could have been bit low. Having said that results with PRP are good  in last study but technically more difficult with double spin cheap nike air max 97 cheap nike air max 97