I have a patient with psoriatic arthritis that had widespread pains. His rheumatologist told him it was "fibromyalgia" He developed such bad bronchitis I had to put him on steroids – at which point his "fibromyaglia" pains went away. He was so mad he went back to his rheumatologist and told him what he thought of his diagnostic ability.  Enthesitis is  inflammation where tendons, ligaments and capsules attach to bone. Psoriatic arthritis is thought to start there.
Rheumatology (Oxford). 2018 Jan 1;57(1):32-40.
doi: 10.1093/rheumatology/kex079.
The problem in differentiation between psoriatic-related polyenthesitis and fibromyalgia.
Marchesoni A et al
https://www.ncbi.nlm.nih.gov/pubmed/28387854
Many entheses are deep making diagnosis more difficult
and I quote: "Finally, another result of the peculiar anatomical structure of entheses is the lack of correlation with acute phase reactants" – ie blood tests are useless – I might want to repeat that one –  reliance on elevated ESR/CRP results is a fools errand.
owing to "lack in medical literature" people with entheses in areas like interspinal ligaments could have a widespread pain appearance similar to Fibromyalgia (FM)
some widespread issues related to posture/ overuse and osteoarthritis might be entheses as well
Biologic agents that target Tumor Necrosis factor, IL-23 and IL-17  are available for active arthritis and hence this is important
Current International recommendation include active treatment of enthesis not controlled by NSAIDs or local steroid injections. I am going to repeat that "International recommendations for the treatment of PsA [42, 43] suggest biologic therapy for enthesitis when it is severe enough and not controlled by NSAIDs or local steroid injections."
42 Coates LC, Kavanaugh A, Mease PJ et al.
Group for research and assessment of psoriasis and psoriatic arthritis 2015 treatment recommendations for psoriatic arthritis.
Arthritis Rheumatol 2016;68:106071.
http://onlinelibrary.wiley.com/doi/10.1002/art.39573/full
43  Ritchlin CT, Kavanaugh A, Gladman DD et al.
Treatment recommendations for psoriatic arthritis.
Ann Rheum Dis 2009;68:138794.
http://ard.bmj.com/content/annrheumdis/68/9/1387.full.pdf
I have a whole subgoup of entheses driven pain patients forced to rely on steroids because access to rheumatologists is so limited, and then when seen, dismissed as FM. Where I practice, only rheumatologists can get drug coverage access to biologic drugs.  Our system does not work.
article goes on to say, "Patients eligible for biologic therapy usually experience
significant benefits on signs and symptoms of synovitis when treated with biologics"
Pic  of Psoriatic arthritis features: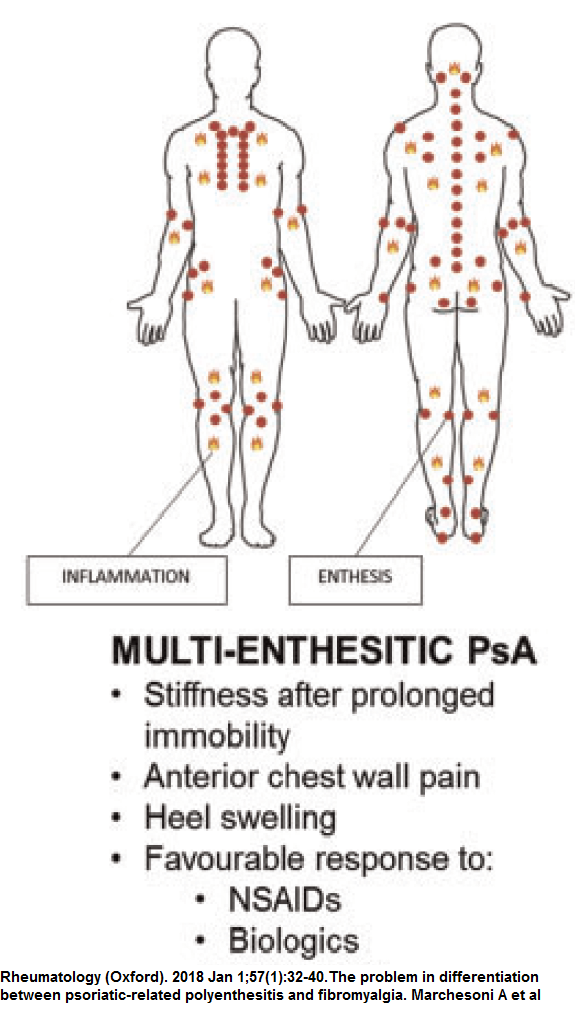 pic of Fibromyalgia in comparison: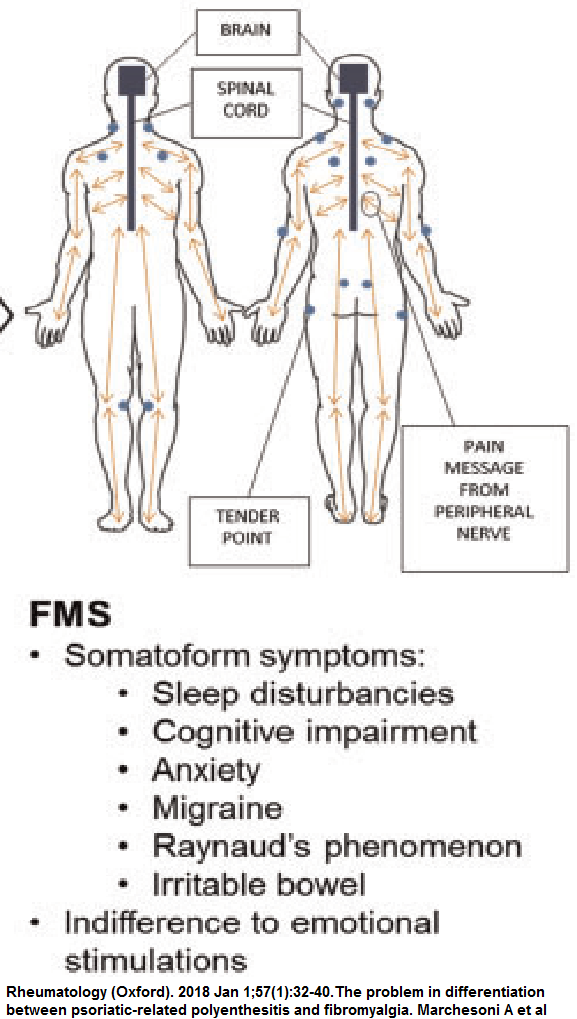 Getting a diagnosis of psoriasis is of upmost important. I had one patient with scalp psoriasis that I delayed treating until a dermatologist would give and unequivocal diagnosis of psoriasis.
long lasting morning stiffness
response to NSAID's or Steroids . I've had cases of this ignored by rheumatologists I presume because osteoarthritis can also response …
they mention fact that enthesis hurt at specific places while FM hurts more all over but I think that distinction can be blurred – pain over time always generalizes.
ultrasound rarely show increase blood vessels; MRI are some help but take superior imaging and interpretation I haven't seen here. Bone scans could be helpful though they done go into it. PET scans are apparently sensitive and since we have a cyclotron nearby are available in the region..
"conventional DMARDs seem to be poorly effective in genuine multi-enthesitis" – I'll say – I have not had much like with methotrexate…
However, there is no good answer as "not all PsA patients with enthesitis improve upon anti-TNF-alpha therapy."
Further evidence of enthesial pains:
Godfrin, Bertrand, et al.
Spondyloarthropathy with entheseal pain. A prospective study in 33 patients.
Joint Bone Spine 71.6 (2004): 557-562.
http://www.sciencedirect.com/science/article/pii/S1297319X0300229X
Puts the problem succinctly: " some patients with psoriatic arthritis or other forms of inflammatory spondyloarthropathy present with entheseal pain responsive to nonsteroidal antiinflammatory drugs (NSAIDs), no other symptoms,and normal radiographs."
suggests isolated active spinal enthesis called " "entheseal spondyloarthropathy"
33 patients  with entheseal pain.
6 had psoriatic arthritis; 7 had  ankylosing spondylitis
"20 remaining patients, in whom entheseal pain was the only symptom, 11 responded to nonsteroidal antiinflammatory drugs (NSAIDs) and were diagnosed with entheseal spondyloarthropathy whereas the nine unresponsive patients were diagnosed with fibromyalgia." – I'm not sure that is very sensitive – some of the casse I've seen have been left to "fester" for sometime and their pain has centralized and peripherally sensitized. A more sensitive test involves prednisone 50 mg x2 weeks ( I give a alprazolam to help with sleep and agitation).\
"In our experience, flurbiprofen in a dosage of 300 mg/day is effective in relieving entheseal pain." – It is one highly recommended by a rheumotologist I respected.
Enthesis cases -Psoriatic symptoms in enthesis cases as was heel pain (p=0.05); higher HLA B27 though generally not helpful in women in my opinion
IN FM group – more women (p=0.02); Irritable bowel, migraines and other somatic issues(p = 0.008). More widespread sore spots were evident (p = 0.01- 0.02)
ESR and CRP were not helpful
MRI and Bone scans were not that helpful: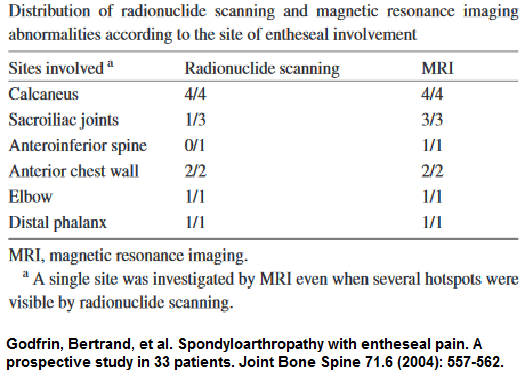 MRI sensitivity was 50% or less: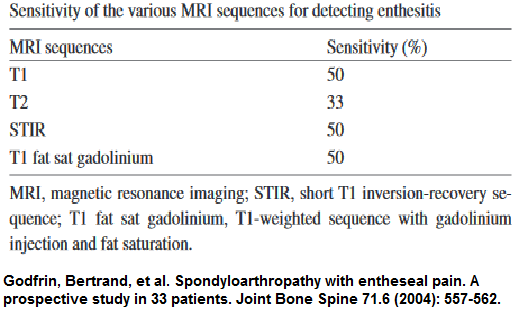 A further point in its importance is the recent  MRI finding 10 % of supposed FM cases have spinal enthesis:
Ablin, Jacob N., et al.
Prevalence of Axial Spondyloarthritis Among Patients With Fibromyalgia: A Magnetic  Resonance Imaging Study With Application of the Assessment of SpondyloArthritis International Society Classification Criteria.
Arthritis care & research 69.5 (2017): 724-729.
http://onlinelibrary.wiley.com/doi/10.1002/acr.22967/full
Sacroiliitis in 8 patients (8.1%)
Axial SpA were met in 10 patients (10.2%).
Comment -Active  Inflammatory pain is scary – it is not like osteoarthritis pain -it can cut like a knife and total disable someone. I have cases untreated at 7-9/10 pain level. In an Ankylosing Spondylitis flare only high dose prednisone works:
Haibel, H., et al.
Efficacy of oral prednisolone in active ankylosing spondylitis: results of a double-blind, randomised, placebo-controlled short-term trial.
Annals of the rheumatic diseases 73.1 (2014): 243-246.
http://ard.bmj.com/content/73/1/243
"Oral prednisolone 50 mg per day, but not low dose prednisolone [20 mg/day], showed a short-term response that was significantly higher than placebo." – for 2 weeks