It has always been vague on the fine points of this techique. A beautiful account for this procedure is available in this newsletter:
http://www.asra.com/content/documents/nov-13_asra_news.pdf
on pages 14-17
I have included a summary for those who can't reach it.
Ultrasound-guided Interventions for Calcific Tendinosis of the Rotator Cuff.
Peter H. Cheng, Philip Peng.
American Society of Regional Anesthesia and Pain Medicine Newsletter Nov 2013;14-17
http://www.asra.com/content/documents/nov-13_asra_news.pdf
In supraspinatus, close to insertion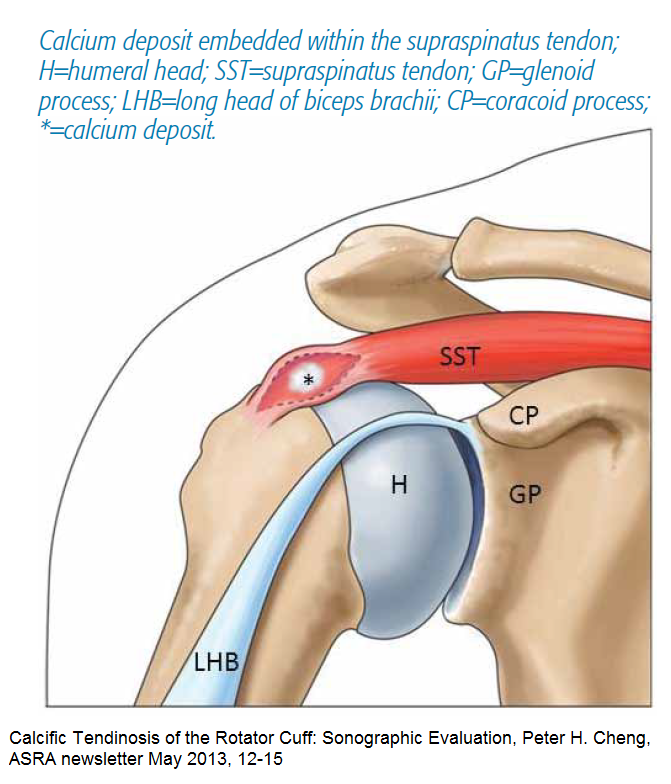 skin and tissue local with 25 gauge needle local
16 or 18 gauge Tuohy needle (epidural less pointy needle) into the calcium deposit.
might meet stiff resistance as the needle fractures the dense calcium.
Multiple "passes"  – less resistance; hitting it from difference angles helps
Rotating the needle helps
Barbotage = Repeatedly inject and aspirate saline though if gets plugged will have to remove and re-insert
Can be done with 2 needles which saves time. Hint- have bevels face each other so fluid in one and out other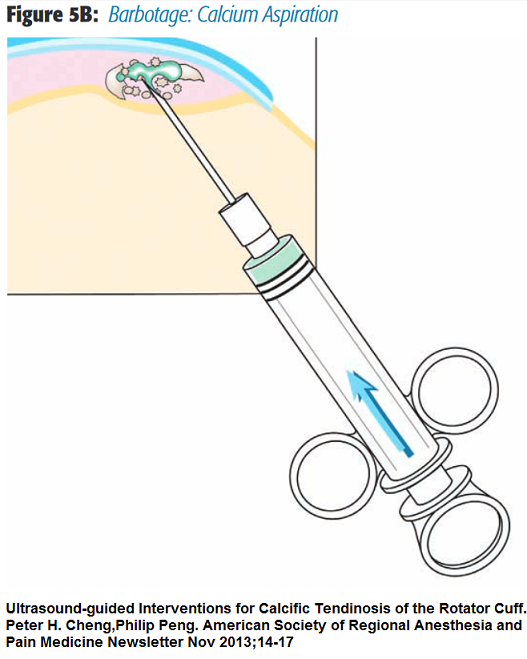 Afterwards, inject subacromial bursa with triamcinlonone
Use of steroid found efficacious:
Acta Radiol. 2017 Aug;58(8):964-970. doi: 10.1177/0284185116678275.
Efficacy of triamcinolone acetate and methylprednisolone acetonide for intrabursal injection after ultrasound-guided percutaneous treatment in painful shoulder calcific tendonitis: a randomized controlled trial.
Battaglia M et al
https://www.ncbi.nlm.nih.gov/pubmed/27856801
Article did this under ultrasound control.
They did refer to one article that said it was not necessary to remove calcifications but 2 authors found elsewise.