Mortons's Neuroma can cause severe foot pains often between the bases of the 3rd-4th toes. Cortisone injection may lead to atrophy of tissues and more rubbing of area as result so options are needed. Injection 0.5 mls of 0.1% Capsaicin lead to pain reduction from 5.9 to 2.4/10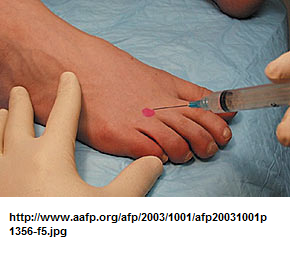 PAIN Publish Ahead of Print 2016
DOI: 10.1097/j.pain.0000000000000544
A randomized, double blind, placebo controlled trial of injected capsaicin for pain in Morton's neuroma
Claudia M. Campbell et al
http://europepmc.org/abstract/med/26963851
Pain 3rd intermetatarsal space with numbness 3rd and 4th toes
Treatments include steroid injection, thermal lesioning (hot and cold), and neurectomy – the latter might leave persistent uncomfortable numbness.
Capsaicin might destroy C fibers
28 placebo; 30 cases capsaicin
pre-treated with 2 mls lidocaine injected 5 minutes before
capsaicin (0.2 mg/mL) – 0.5 mls injected into site
Ice packs and Percocet like pain killers.
Results: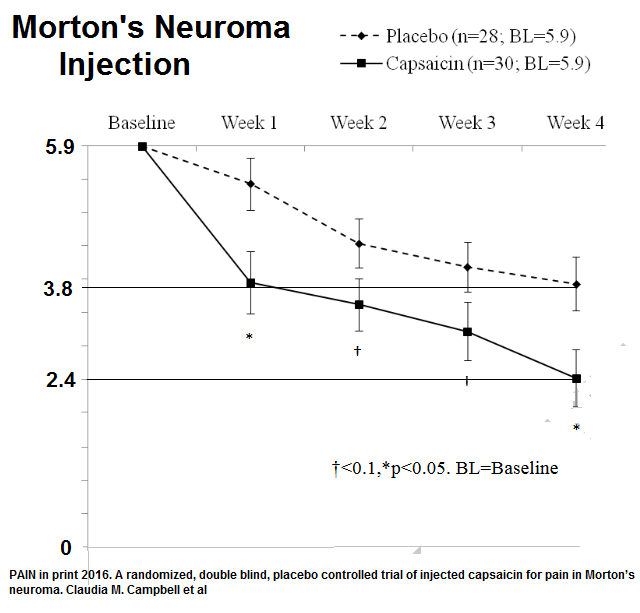 Comment – does cut the pain by more than 1/2 but does not get rid of it. I use a combination of 5% lidocaine to kill off nerve fibers and kenalog 10-40 mg injected more on top so not to thin out foot pad and it gives good relief. Wearing high heels is a no-no.
Prolotherapy injection offers possibilities for resistant cases:
Dextrose Prolotherapy Treatment for Unresolved "Morton's Neuroma" Pain
Ross A. Hauser
The Foot and Ankle Online Journal 5(6) 1; June 2012
https://faoj.files.wordpress.com/2012/06/prolotherapy.pdf