Calcinosis Cutis is a disease of abnormal calcium skin deposits. Found in Connective tissue diseases like Dermatomyositis and CREST syndrome, in some  cancers, in genetic disorders,  and with infections and injury.  It presents with hard nodules that can be painful, ulcerated and non-healing. Therapy can be problematic but a recent study showed topical 25% sodium metabisulfite could be effective.
Br J Dermatol. 2016 Jan 22. doi: 10.1111/bjd.14412. [in press]
Topical sodium metabisulfite for the treatment of calcinosis cutis: A promising new therapy.
Del Barrio-Díaz P et al.
http://www.ncbi.nlm.nih.gov/pubmed/26799451
Serum calcium is normal in the usual forms
There will be har nodules
Xrays will show calcification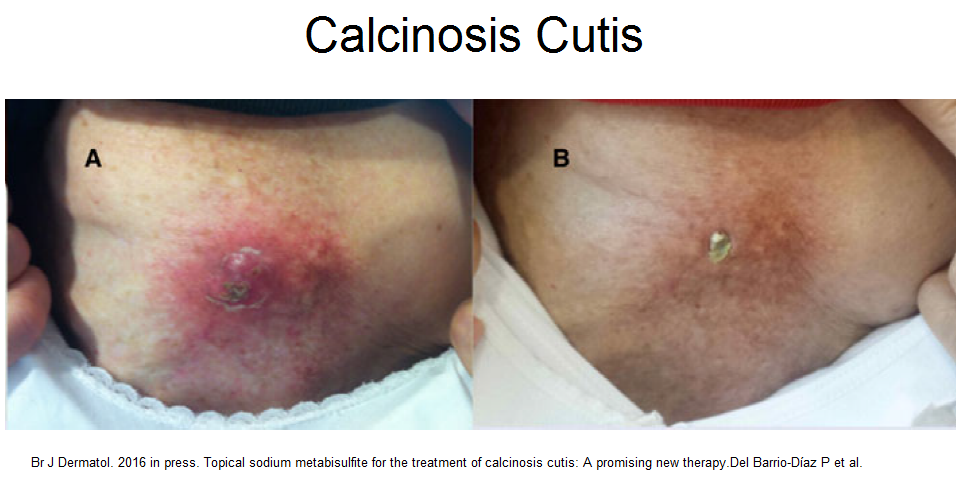 They suggested either 25% sodium thiosulphate or 25% sodium metabisulfite in a cream base could be used – depending on what is cheaper
Applied twice daily for 6 weeks with resolution of pains and healing like in above.
Comment – sodium thiosulphate is old style fixative used in black and white photography and might be cheaply gotten. They used the sodium metabisulfite because it was cheaper for them.