Both clonidine 0.1% gel and capsaicin 0.75% cream three times daily can drop pain by 40% in 12 weeks though clonidine causes less skin irritation.
A randomized clinical trial of efficacy and safety of the topical clonidine and capsaicin in the  treatment of painful diabetic neuropathy.
Javad Kiani et al.
J Res Med Sci 2015;20:359-63.
http://jrms.mui.ac.ir/index.php/jrms/article/view/10205/4884
Clonidine gel 0.1% made by dissolving the clonidine "in hydro alcoholic solution and then gelling agent (carbomer 941) was added under stirring (400 rpm). In the end, triethanolamine was added slowly until clonidine gel formed."
Applied three times daily
Results: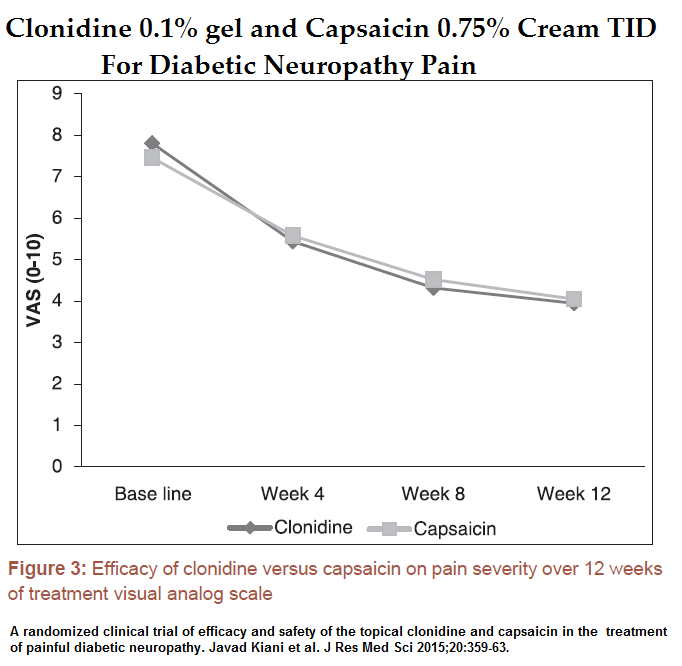 Comment – Clonidine was much more acceptable because of lack of skin irritation. Note, it can take weeks for significant pain reduction. Dropping to level of 4 is a level of pain people might be able to ignore. Mannitol 30% has been promoted by Dr. Helene Bertrand of UBC in Vancouver is field testing 30% mannitol for its soothing properties that apparently last 12 hours. Sample worked well so I am putting 5 tablespoons mannitol powder in 250 mls of uremol lotion (got the powder off ebay). Unfortunately one person said it was "sticky" and given it's a sugar that could be right. In Uremol it was a gooey mess so might be better in some vanishing cream like PLO gels or Lipoderm. You could put a tablespoon in a tube's worth of Voltaren cream though that would be pricey.