Only study on Pine bark for migraine I could find used 1200 mg/day and did get impressive results on resistant migraines. But the best price I could get for that was $4/day..
Efficacy of Pinus Radiata Bark Extract and Vitamin C Combination Product as a Prophylactic Therapy for Recalcitrant Migraine and Long-term Results
Sirichai Chayasirisobhon
Acta Neurol Taiwan 2013;22:13-21
http://www.ant-tnsjournal.com/Mag_Files/22-1/003.pdf
Pinus radiata bark extract  1200 mg daily in combination with vitamin C 150 mg daily – not sure why latter but one could easily just take a vitamin c capsule. Some migraine sufferers get worse on corn and citrus so might have to take rosehip vitamin C.
No response to least two prophylactic medications of beta-blockers, antidepressants, or anticonvulsant.
Open label so not greatest plan
44 females, 6 males
1200 mg/day –  now the highest strength Pycnogenol bark extract is $0.33/100 mg so comes to about $4/day for 12. A recent study checking for toxic effect did not find any:
Li, Ying-Ya, et al.
Pine Bark Extracts: Nutraceutical, Pharmacological and Toxicological Evaluation.
Journal of Pharmacology and Experimental Therapeutics (2015): jpet-114.
http://jpet.aspetjournals.org/content/early/2015/01/16/jpet.114.220277.short
Results:- must be a 45% reduction in headache frequency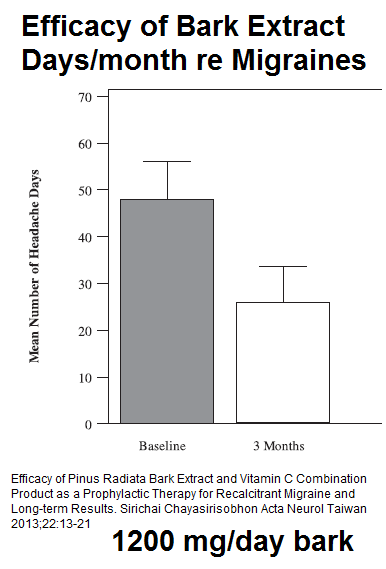 What did other placebo controlled trials find :
Magnesium – no reduction in migraine hours in either group
Cephalalgia. 1996 Oct;16(6):436-40.
Magnesium in the prophylaxis of migraine–a double-blind placebo-controlled
study.
Pfaffenrath V et al
http://www.ncbi.nlm.nih.gov/pubmed/8902254
Homeopathic – 16% or 18% reduction in headache frequency
Cephalalgia. 1997 Aug;17(5):600-4.
Double-blind randomized placebo-controlled study of homoeopathic prophylaxis of migraine.
Whitmarsh TE et al
http://www.ncbi.nlm.nih.gov/pubmed/9251877
Thioctic acid:- no change in placebo group re headache frequency
A Randomized Double-Blind Placebo-Controlled Trial of Thioctic Acid in Migraine Prophylaxis
Delphine Magis et al
Headache: The Journal of Head and Face Pain Volume 47, Issue 1, pages 52–57, January 2007
http://onlinelibrary.wiley.com/doi/10.1111/j.1526-4610.2006.00626.x/abstract
Transcranial DC stim – no decrease in attacks
Migraine Prophylaxis by Anodal Transcranial Direct Current Stimulation, A Randomized,
Placebo-Controlled Trial
Paradee Auvichayapat et al
J Med Assoc Thai 2012; 95 (8): 1003-12
http://www.researchgate.net/publication/232245025_Migraine_prophylaxis_by_anodal_transcranial_direct_current_stimulation_a_randomized_placebo-controlled_trial
Low-frequency (16 Hz),pulsed (5 μTs) magnetic wave.  -"All patients wore the device on a ribbon around the neck not more than 12 inches away from the head for 4 weeks. In pilot studies, a therapeutic effect was often visible after 1 to 3 weeks." –  active cut frequency in half but control no difference
Impulse Magnetic-Field Therapy for Migraine and Other Headaches: A Double-Blind, Placebo- Controlled Study
Rainer B. Pelka et al
Advances in Therapy 18(3) May 2001, 101-113
http://link.springer.com/article/10.1007%2FBF02850298

with a 555 timer chip and a 9 volt battery I think I could always make one of those but how to measure magnetic field…
Ok, I'm willing to accept a 45% reduction in headache frequency is probably not placebo.
Comment –  treatment would cost $4/day and require taking 12 caps of Pycnogenol 100 mg.  So those living in a pine forest might take note:
Antioxidant, immunomodulatory and anti-breast cancer activities of phenolic extract from pine (Pinus massoniana Lamb) bark
Limei Yu et al
Innovative Food Science & Emerging Technologies Jan. 2008 9(1) 122-128
air dry pine bark
ground powder
60% alcohol-?vodka
1:20 w/v – extract 200 gm each in ?4 liters – maybe try 2
2 hours at 50º C
filtered through muslin ?cheesecloth
dry –  Have to find someway to recycle vodka but then you'd need a still…
If I'd missed any studies using less dose, let me know.